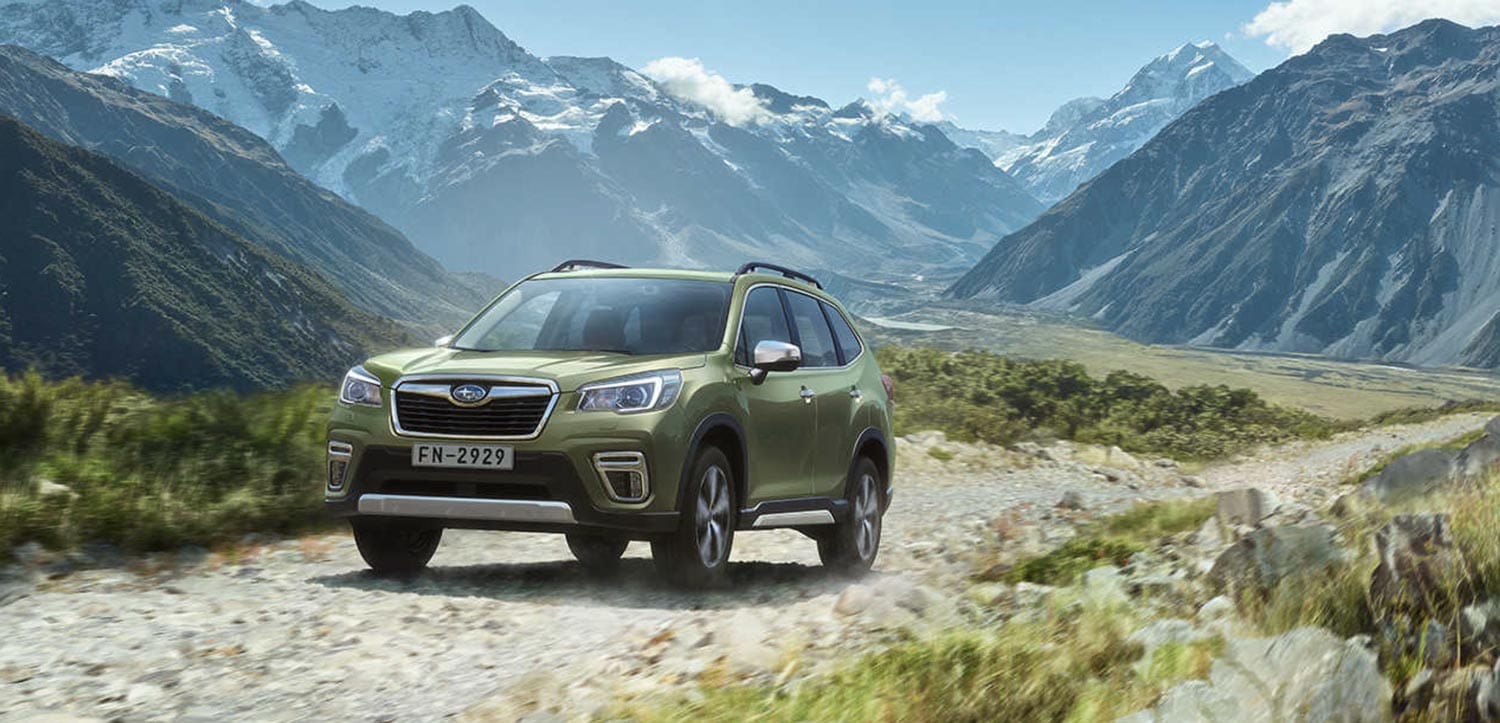 The Subaru Forester is a compact SUV. It has seating for five people in two rows, but this vehicle also offers you a lot of great cargo capacity. You also have plenty of great safety features and some nice technology in this vehicle. The reliable, capable performance of the Forester is another reason people choose this SUV. 
Below, we are going to take a closer look at the 2019 model of the Subaru Forester. Reach out to us at Granite Subaru with any questions you may have. 
What's the difference between the 2019 and other Forester model years?
If you are looking into a used Forester that is a few years old, the 2019 Forester is a great option. This SUV was completely redesigned for the 2019 model year, so it adds features like Apple CarPlay, Android Auto, and plenty of safety technologies that were not as readily available in older model years. However, the 2019 Subaru Forester does only have one engine option, whereas some older models have a few different engine options. Learn more about the specific features that can be found on the 2019 Forester below. 
Performance and Engine Options
First, let's take a look at the performance of this SUV. Subaru vehicles are known to be reliable and able to get you where you need to go, and the Subaru Forester is no different. Check out what's under the hood and other performance features below. 
2.5-liter four-cylinder engine - The 2019 Subaru Forester is only available with one engine option. This one engine is a 2.5-liter four-cylinder engine. The engine produces 182-horsepower and 176 pound-feet of torque. The engine is paired with continuously variable automatic transmission standard, but there is an available continuously variable transmission with seven-speed manual shift mode and paddle shifters. 
The 2019 Subaru Forester gives you standard all-wheel drive in every trim level. This standard all-wheel drive gives you the ability to take on tough road conditions and tough terrain, and many SUVs do not offer this as a standard feature, but Subaru does.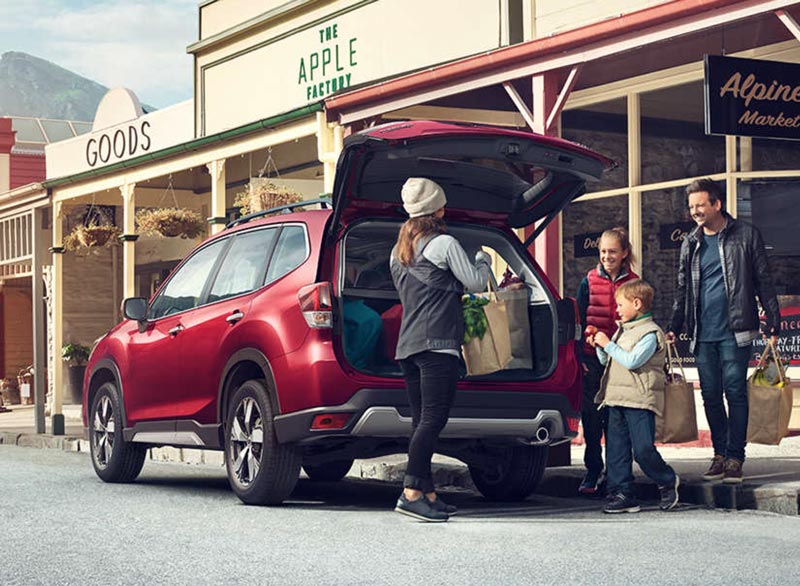 When it comes to fuel efficiency, the 2019 Forester offers you around 26 city and 33 highway miles per gallon. This SUV is also capable of some light off-roading. The 2019 Forester gives you 8.7 inches of ground clearance and it provides you with features like hill descent control and an X-mode traction system. 
As you can see, this SUV has a capable performance with a good engine option, good fuel efficiency, and standard all-wheel drive. 
Exterior
The exterior of the Forester measures 15 feet and 2.1 inches in length. It has a curb weight ranging from 3,449 to 3,588 pounds. The exterior of this vehicle has features like LED headlights, a panoramic moonroof, a power liftgate, and raised roof rails for added cargo capability. 
It can have a unique style to you with plenty of different exterior colors. Some of these exterior colors include Horizon Blue Pearl, Jasper Green Metallic, Crystal Black Silica, Crimson Red Pearl, Ice Silver Metallic, Crystal White Pearl, Sepia Bronze Metallic, and Dark Gray Metallic. 
Interior
The interior of the 2019 Forester gives you seating for five people on standard cloth upholstery. However, there are some available seating upgrades in some of the trim options. This vehicle can feature a 10-way power-adjustable driver's seat, an eight-way power-adjustable passenger's seat, and leather upholstery. It can also have heated seats, a heated steering wheel, and a leather-wrapped steering wheel.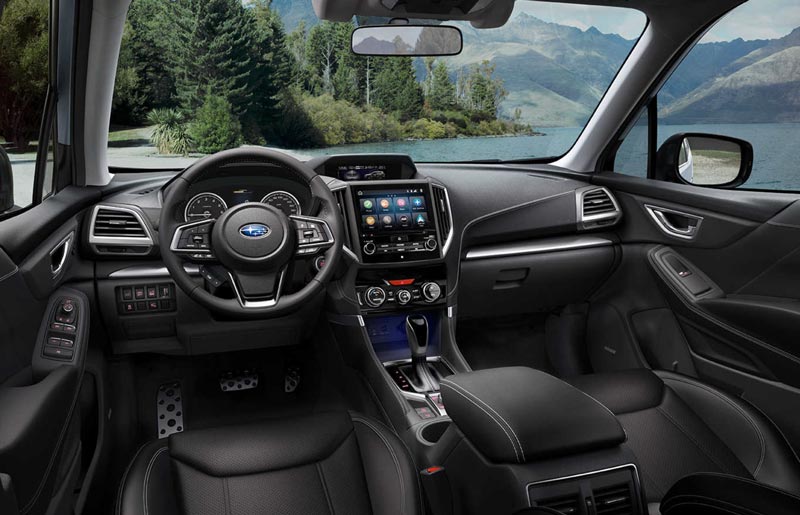 When it comes to cargo space, the 2019 Forester gives you 35.4 cubic feet of cargo space behind the rear seats. If you fold down those rear seats, you get up to 76.1 cubic feet of cargo space, which is excellent space for the compact SUV class. However, if you have a Subaru Forester model that has the moonroof, you have slightly less cargo capacity; it reduces to 33 cubic feet behind the rear seats and 70.9 cubic feet with those seats folded down. 
Technology Features
What technology can be found on the inside of the 2019 Subaru Forester? Check out the many features below. 
Touchscreen infotainment system - The Subaru Forester is home to a Starlink infotainment system that is very user-friendly. You could have the 6.5-inch touchscreen or the 8-inch touchscreen display. 
Apple CarPlay and Android Auto - You also get Apple CarPlay and Android Auto connectivity for your 2019 Forester. This allows you to connect your smartphone to your vehicle to give you access to phone apps, music, and more. 
Bluetooth - You can talk on the phone hands-free with the Bluetooth capability in your Subaru Forester. This can be convenient for you and essential if you are driving in states with hands-free driving policies. 
Wi-Fi hotspot - You can also get the convenience of having internet on the go in this SUV. The Wi-Fi hotspot gives you internet access on the go for entertainment and the ability to help in your remote working. 
Navigation system - You can get exactly where you are going safely with the navigation system in your Subaru. This navigation system can easily display your location and directions so that you don't ever get lost again. 
Nine-speaker Harman Kardon stereo - For those that enjoy listening, you will enjoy the nine-speaker Harman Kardon premium stereo. This premium stereo makes every drive a great listening experience, whether you jam to music, listen to audiobooks, or something else. 
Proximity keyless entry - You also have the ability to unlock your vehicle by the proximity of your key fob to give you extra ease and convenience. Your vehicle will unlock when you approach it with the keys. 
These technology features add convenience to your life and your everyday driving. They make the Subaru Forester a great option for you. Below, you can learn more about the safety of the Subaru Forester and how this vehicle can look out for you and your loved ones. 
Safety
The 2019 Forester is a vehicle designed to keep you safe. The National Highway Traffic Safety Administration gave the 2019 Forester an overall five of five star crash test rating. This SUV also got the highest rating of 'Good' from the Insurance Institute for Highway Safety in all six crash tests performed. That means this vehicle was designed in an intelligent way to absorb impact in the right places and keep you safe. 
You also get a good number of active safety technologies standard in this vehicle. The list of standard features includes a rearview camera, forward collision warning, adaptive cruise control, lane departure warning, lane keep assist, and automatic emergency braking. There are also some additional features available on some of the higher trim levels; these available features include blind spot monitoring, adaptive headlights, driver attention monitoring, automatic high-beam headlights, rear cross traffic alert, and reverse automatic emergency braking. Learn more about how some of these features work below. 
Lane Keep Assist - You can stay in your lane with the lane keep assist feature. If it detects that you are drifting out of your lane unintentionally, it will make minor steering corrections to keep you in the correct lane. 
Rearview Camera - This helps you to see what is directly behind your vehicle. It can help you to see vehicles, pedestrians, or even shorter objects that you would be blind to if you just looked back from your front seat. It can make parking and backing up much safer and easier. 
Blind Spot Monitoring - With blind spot monitoring, you will get an audible and visual alert if there is a vehicle in your blind spot. This can prevent you from trying to change lanes and potentially hitting that vehicle. 
Reverse Automatic Emergency Braking - This safety feature helps to avoid a potential rear-end collision when you are going in reverse. It uses cameras and sensors to detect potential vehicles behind your vehicle when you are driving in reverse, and if it detects something, it can automatically apply the brakes to avoid the impact. This can be helpful if there are vehicles in your blind spot if you are backing out of a parking space. 
These safety features can look out for you as you are driving. They can help prevent potential collisions from occurring or lessen the impact of them. This will keep you and your passengers safer on the road. 
Overall, there is a lot to love about the 2019 Subaru Forester. If you are thinking of upgrading to a 2019 Forester, you can reach out to us at Granite Subaru today. We are happy to help you with your upgrade and give you any information we can about the Subaru Forester.