The 2018 Subaru Love Promise Customer and Community Commitment Award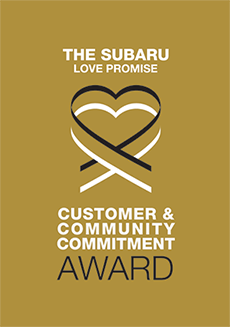 We've been nationally recognized for our dedication to our customers, our community, and the Subaru Love Promise.
We're honored to receive the 2018 Subaru Love Promise Customer and Community Commitment Award. This award nationally recognizes elite Subaru retailers who provide an exceptional customer experience at every interaction with Subaru. These retailers have also demonstrated an outstanding commitment to supporting passions and causes in their local communities in important areas such as the environment, community, health, education, and pets.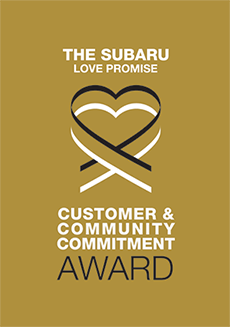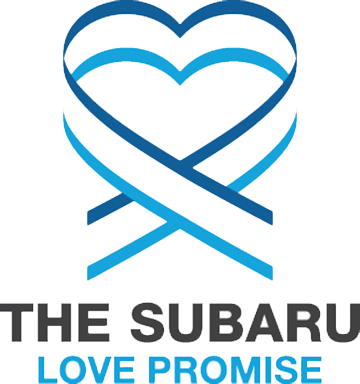 What is the Subaru Love Promise?
Subaru and our retailers believe in making the world a better place and the Subaru Love Promise is our vision of respecting all people. This is our commitment to show love and respect to our customers and to work to make a positive impact in the world.
How is Granite Subaru dedicated locally to the Love Promise?
Our Love Promise can be seen in various partnerships with local charities and non-profits. We're grateful for the opportunity, not only to be a part of our community, but to serve it as well.
Nashua Soup Kitchen & Shelter
Love Promise Stories from Granite Subaru
Subaru and Granite Subaru believe in making a positive impact on the communities in which we live and work. We uphold that belief through our Love Promise Community Commitment. Every month, we select inspiring stories from customers and partners from around our area who strive to support our collective commitment and feature them here
Granite Subaru Keeping Nashua Fed - Meghan B
Granite State Subaru's continued commitment to their community is keeping Nashua Soup Kitchen & Shelter going! NSKS continues to provide food, shelter and other emergency supplies to the citizens of Nashua and beyond. Thank you to Granite State Subaru as they continue to support their community in these difficult times.
---
Granite Subaru Keeping Nashua Warm - Meghan B
Despite a difficult year, Granite Subaru has put their community first. Nashua Soup Kitchen & Shelter was the lucky recipient of a large donation of blankets for our clients experiencing homelessness. Blankets are a highly requested item from our outdoor clients. Clothes and covering become soiled and wet frequently throughout the winter and need to be replaced regularly. Through Granite Subaru, NSKS has been able to provide our outdoor clients with fresh blankets, keeping them warm and safe this winter. Thank you to Granite Subaru for your thoughtful donation. Please know, you're made a difference in your community.
---
NSKS Holidays During COVID - Meghan B
Through the continued support of Granite Subaru, Nashua Soup Kitchen & Shelter continues to provide our community with necessities such as food, shelter diapers, and toiletries in addition to providing comforts such as warm clothes, holiday meals, and holiday gifts. Thank you to Granite Subaru and their team as we all do what's best for our friends and neighbors.
---
SARL & Subaru Loves Pet Help Homeless Animals - Connie Y
Salem Animal Rescue League (SARL) extends a big THANK YOU to Granite Subaru and Subaru of America, Inc. for partnering with SARL during the October Subaru Loves Pets event! Granite Subaru is generously donating $100 for every dog or cat adoption at SARL from October 1, 2020 through October 31, 2020, up to $3100 in total. Because of the generous support of Granite Subaru in Hudson, NH, SARL has been able to continue to save the lives of abandoned, neglected and injured animals by providing a safe haven, compassionate care, and new permanent homes for them. The funding provided to SARL is needed and essential to continue the much need medical services so that an animal can be adopted. The road to adoption for many of these animals is difficult. Cats and dogs who arrive at SARL are often afraid and lonely. Many have never known the love of a caring person, good health and food, or a permanent and safe home. Some have lived on their own and without a real home and others have lost the home that provided care, health, food, and love. These animals have often traveled many miles to come to SARL. Once they arrive at SARL, their lives begin to change. They learn or remember to feel safe, secure, and loved. When that special person or family comes to SARL for a cat or dog they hope to adopt, there is often a connection between the animal and the person. Cats and dogs feel the bond with humans and this leads to adoption and a new permanent forever home. The Granite Subaru Loves Pets partnership event has helped to make successful cat and dog adoptions happen. Every day, SARL is called upon to make a difference in the lives of animals and the support of Granite Subaru greatly helps SARL do that for our furry friends. The SARL adoptions make a difference and have an impact on the lives of individuals and families who open their hearts and homes to a adopt cat or dog. The cats and dogs find their forever homes and the special companion who will give them safety and love. Individuals and families receive love and companionship from their new furry friends. Thank you, Granite Subaru, for loving pets and for having a significant impact on the cats, dogs and those in our communities!
---
The owner is truly hands on. - Terri V
I was in for service the other day & was making myself a cup of coffee. A gentlemen walked by & asked if I needed anything. I replied I was looking for cream. He then looked for it but had none. He said give me 10 minutes. He left, got in his car & drove off. Shortly after he returned with creamers. I thought this employee was really taking customer service to the next level. So asked a sales person who that was & come to find it was the owner. Very impressive!
---
GRANITE SUBARU SUPPORTS OUR LOCAL COMMUNITY! - Kathie F
Jim Angotti and his team from Granite Subaru continue to support our local community and those in need. Granite Subaru is a huge supporter of the Nashua Soup Kitchen & Shelter, and again this year will be the lead sponsor for their annual fundraiser. This year's event, Brighter Future Home Gala, will be a virtual event due to the current pandemic. Thank you Jim for your continued support—we could not provide the services we do without community members like you! Kathie Feltus Vice President Nashua Soup Kitchen & Shelter Board of Directors
---
Granite Subaru and NSKS - Meghan B
Through the generous support of Granite Subaru, Nashua Soup Kitchen & Shelter has been able to support the citizens of Hillsborough County through the difficulties of a global pandemic. With their donation of over $42,000, Granite Subaru has provided NSKS with the financial support to continue our much needed services such as our Food Pantry, Daily Meals, and Emergency Shelter. Since the beginning of the COVID-19 pandemic, NSKS has added even more to our plates including eight Mobile Pantries that provide food throughout Nashua, supplying food to city buses to transport fresh produce to rural clients we would otherwise be unable to reach, and over DOUBLING the number Of pre-made Nashua Meals for Kids meals that are going out to the children of Nashua while students are unable to access their usual school assisted meal programs. Without Granite Subaru the extension of these much needed programs would have been impossible. Granite Subaru, your community thanks you for your continued support!
---
Granite Subaru, Share the Love Event - Meghan B
Jim Angotti and his team at Granite Subaru have created an amazing partnership with the Nashua Soup Kitchen & Shelter (NSKS)! They are true advocates for our community, taking the time to explain to their customers how our services provide basic needs like food and shelter to our clients who are hungry and homeless. Recently, Granite Subaru presented a check to us from monies raised from their previous Subaru Love Promise Community Commitment. This generous check provided NSKS with enough funding to serve over 19,700 breakfast and dinner meals in our dining room. That's approximately three months of meals served in our soup kitchen! NSKS could not be more grateful to Mr. Angotti and the Granite Subaru staff for their commitment to help the poor and vulnerable individuals and families in our community. We are grateful for your generosity. Thank you!
---
NASHUA SOUP KITCHEN AND SHELTER - KATHLEEN F
Jim Angotti and the team at Granite Subaru are huge supporters of the Nashua Soup Kitchen and Shelter. Jim's commitment to helping our community end homelessness and end hunger is supported by financial donations as well as allowing his staff the time to volunteer for this wonderful organization!
---