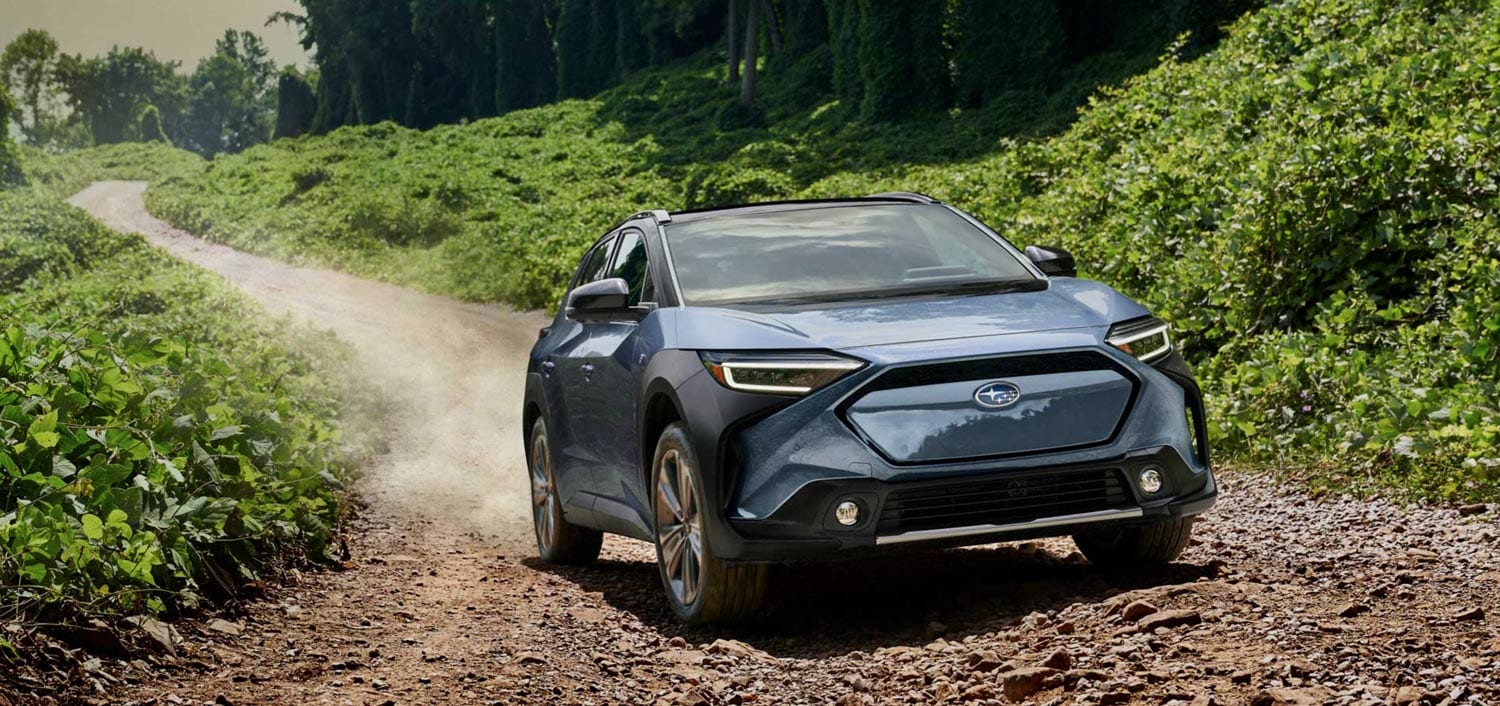 Granite Subaru Solterra Reservation
Are you ready for an all-electric SUV from Subaru? The Subaru Solterra is an all-new, all-electric SUV. This vehicle is extremely capable for you, and it is an eco-friendly vehicle that produces no emissions. You will also save money and time by never having to fill up your gas tank again.
Below, you can check out an in-depth look at the all-new Subaru Solterra. If you have any questions about this vehicle, you can reach out to us at Granite Subaru.
Performance and Engine Options
The 2023 Subaru Solterra works to bring you an extremely capable and unique performance. The Solterra will be the first Subaru zero-emissions, all-electric SUV.
This SUV makes it easy to be eco-friendly with the advanced StarDrive powertrain that has zero tailpipe emissions. This all-electric vehicle is better for the environment, and means you'll never have to buy gas again! The StarDrive powertrain has a charger that works on any standard 120-volt outlet. There is also the capability to have a 240-volt level 2 charger that gives you a faster charging experience.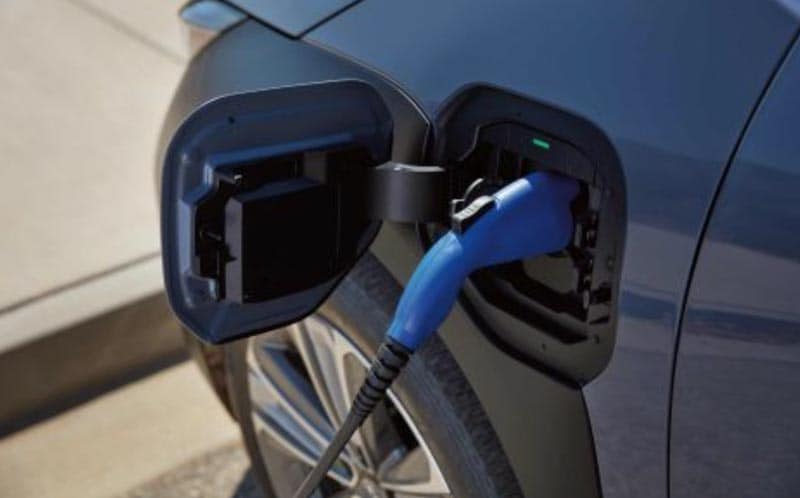 How far can this SUV go on one charge? The Subaru Solterra has over 220 miles of estimated range, so it can take you plenty of places on a single charge. Also, there are over 46,000 EVgo charging stations that can be found through the United States to power up your vehicle on the go. EVgo is an EV fast-charging network that is powered by renewable energy. These stations are those level 2 fast charging stations, so that you don't have to spend too much time charging your vehicle, and you can get back to your adventures.
You also get standard symmetrical all-wheel drive in the Subaru Solterra. This all-wheel drive system can help you get an optimal distribution of power so that you can get the best handling and traction. Other performance features include paddle shifters, an extra responsive sport driving mode, and even a one-pedal driving with regenerative braking.
Not only is the Subaru Solterra an all-electric SUV, this vehicle also ventures to go where many normal vehicles can't. The Solterra will offer you some off-road capabilities so you can take on tough terrain. This vehicle gives you 8.3-inches of ground clearance, as well as standard X-MODE with Hill Ascent and Descent Assist. These off-road features will help you get traction in tough conditions, as well as enhanced control of your vehicle.
The performance of this all-electric vehicle is designed to impress, but there are also some other amazing features and capabilities that you can find with the Subaru Solterra. Learn more about this below.
Exterior
The exterior of this vehicle was designed to look great, but also to perform well for you. This vehicle gives you advanced aerodynamics with simple features like the twin liftgate spoilers. The attention to detail in design elements like this one ensures that you have a quiet and efficient drive in your Solterra. You also have raised roof rails on the exterior of this vehicle to give you the capability to bring additional cargo or adventure gear on the road with you. You also have available exterior features like 20-inch alloy wheels and a glass roof.
Interior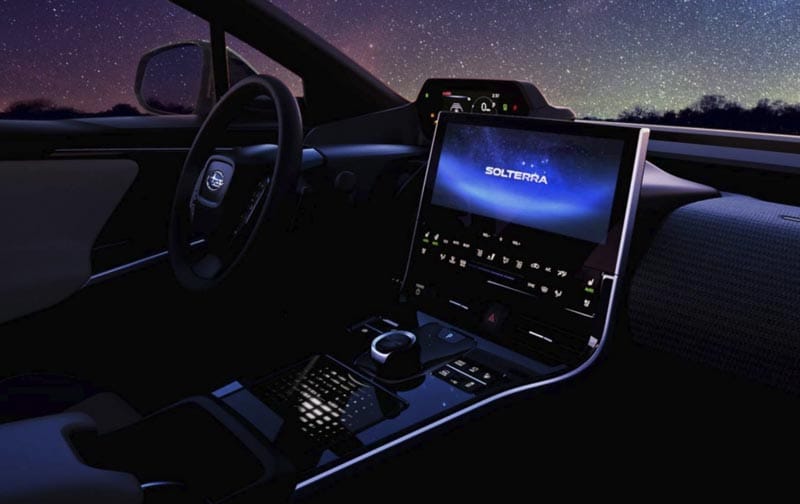 On the inside of the Subaru Solterra, you find comfortable seating for five people in a beautiful and functional interior space. The exact interior features depend on the trim level. The Solterra offers you the choice of three different trim levels listed below.
Premium - This is your base trim, and it offers you great safety features with the EyeSight Driver Assist technology, Blind Spot Monitoring, automatic climate control, and X-mode driving capabilities with hill ascent/descent assist. 
Limited - This trim adds features like roof rails, fog lights, 20-inch wheels, a power rear gate, heated seats, a heated steering wheel, wireless device charging, Harman Kardon premium audio, a 360-degree surround-view camera, and StarTex-trimmed upholstery. 
Touring - This trim includes all the features of the Limited, but it also adds a glass roof with retractable sunshade, ventilated front seats, available two-tone roof paint, interior illuminated trim, and a rearview auto-dimming mirror.
In terms of cargo space, you can get up to 30 feet of cargo space in the Subaru Solterra. This can help you bring along the cargo and gear you need for wherever life takes you. There is also an available Power Rear Gate to make that cargo easier to load. Learn more about what you can find for interior technology features below.
Technology
What technology features does this all-new Subaru electric SUV have to offer you? Check out some of the main technology features in greater detail below.
12.3-inch touchscreen - Inside the Subaru Solterra, you will find an advanced 12.3-inch touchscreen multimedia infotainment system. This system will give you access to apps, music, podcasts, navigation, and news. It is easy and fun to use for you and your passengers. 
Apple CarPlay and Android Auto - You can stay connected to your smartphone with the standard wireless Apple CarPlay and Android Auto. This will connect your phone to the multimedia touchscreen display so that you can have access to phone apps, music, and more through your infotainment system. 
Wireless device charging - You can also get wireless device charging in this vehicle, where you can charge your smartphone in the center console. This ensures you have access to your phone and you don't have to worry about bringing a car charger along.
Solterra Connect App - This vehicle also has a Subaru Solterra Connect app. You can download this app to your smartphone, and it will allow you to do things like remotely start your vehicle with climate control, remotely lock or unlock your vehicle, and more. You can also get a voice-activated voice assistant through the app that can perform tasks for you when you say "Hey, Subaru."
Those technology features can keep you connected and entertained, but this vehicle also has technology to keep you safer. Check out the next section to learn all about the safety technology in the 2023 Subaru Solterra.
Safety
The Subaru Solterra is also engineered to be safe for you. This vehicle is built on an all-new electric vehicle architecture known as the e-Subaru Global Platform. This platform features strategic crumple zones and a reinforced structure to keep it safe for you and your passengers.
A vehicle this tech-savvy is bound to offer you some great safety technology, and the Subaru Solterra definitely offers you features that can help you avoid a potential collision in the first place. Take a closer look at some of these safety features below.
Blind Spot Detection - This safety feature has a visual warning if there is a vehicle in your blind spot. The visual warning will appear on each side mirror so that you are aware if you are trying to change lanes. 
Rear Cross Traffic Alert - If there is a vehicle approaching from your side when you are moving in reverse, the rear cross traffic alert feature will let you know so that you can avoid a potential collision. 
Safety Exit Alert - This is an all-new safety feature for the Solterra, and it will alert you if it detects some type of danger when you are trying to open the door of your vehicle. 
Reverse Automatic Braking - This feature can actually stop your vehicle if it detects a potential rear collision. The vehicle will stop itself to help avoid objects behind you. 
360-Degree Surround View Camera - You can also see all around you with the surround-view camera. It gives you a great view of everything around you so that you can stay safer. 
Adaptive Cruise Control - This feature will take off some of the pressure of driving because it helps keep a safe distance between you and cars in front of you in daily traffic and on long road trips.
As you can see, these safety features look out for you and your passengers when you are on the highway, in a parking lot, and everywhere in between. The Subaru Solterra can help you be safer on the road.
Are you excited for the capability of the all-electric Subaru Solterra? We definitely are! If you have any questions about this vehicle and any of its features or capabilities, you can reach out to us at Granite Subaru. We would be happy to help you learn more!