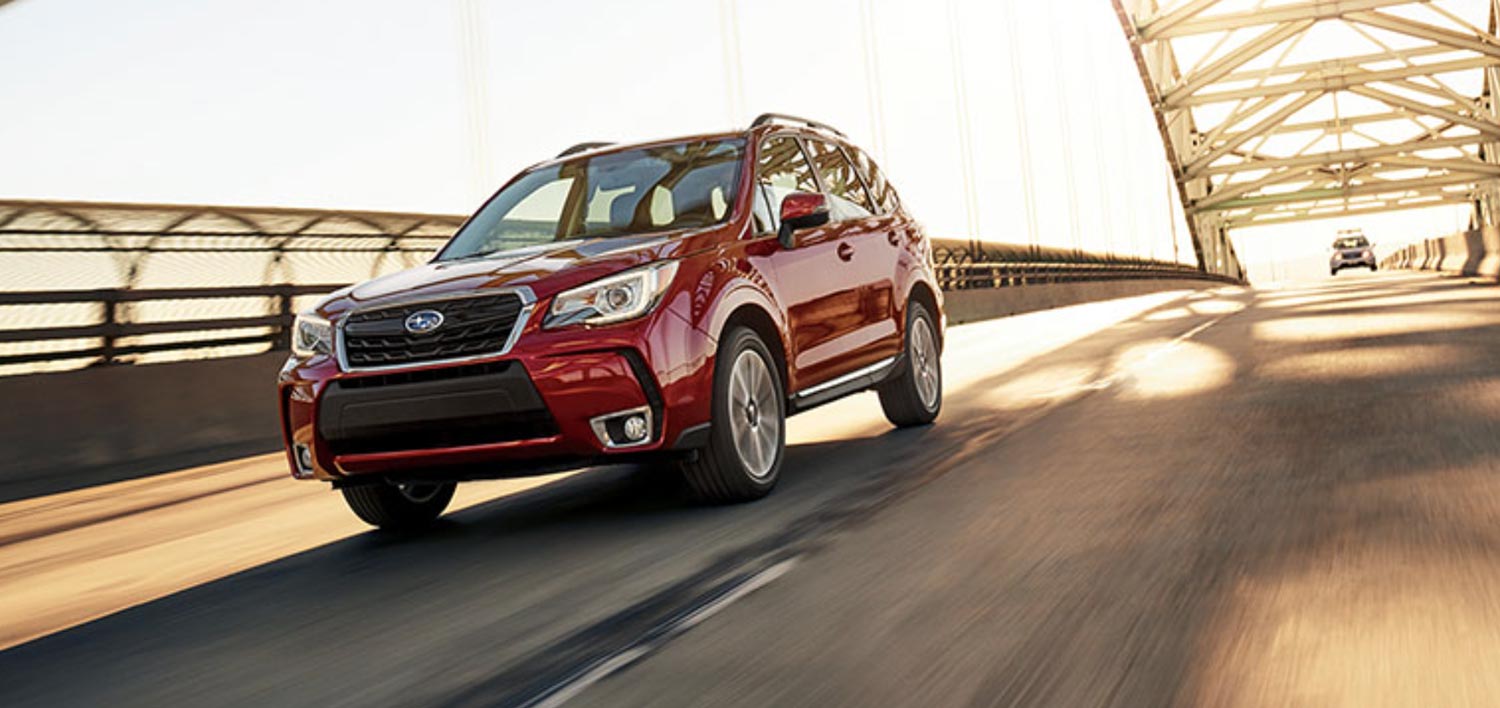 The Subaru Forester is a compact SUV. This vehicle is not a large one, so it can be city friendly, but it also has plenty of passenger space and cargo capacity. This vehicle offers you a great performance and some noteworthy features. Below, we are going to take a closer look at the 2018 model so that you can determine if this vehicle might be the one for you. 
What's the difference between the 2018 and other Forester model years?
The 2018 Subaru Forester is a great vehicle, but there are other model years that you could consider. For the 2019 Forester, the vehicle was completely redesigned so it adds some more passenger capacity, cargo capacity, and features. There is also the option of a new Subaru Forester to get all the latest and greatest updates. You have to choose based on the features you want and your price range. Reach out to us at Granite Subaru for more information about this vehicle or any other Subaru Forester. 
Performance and Engine Options
Performance in your vehicle is important; you need a vehicle that can get the job done and be reliable for you. Subaru vehicles are known for their reliability and the 2018 Subaru Forester is no different. This vehicle will perform for you with plenty of capability and a couple of different engine options, but it will also be reliable for you. Learn more about the performance here. 
2.5-liter four-cylinder - Your base engine in the 2018 Forester is a 2.5-liter four-cylinder engine. This four-cylinder engine produces 170-horsepower, and it is paired with a standard six-speed manual transmission. However, there is a continuously variable automatic transmission available, as well. In terms of fuel efficiency, this vehicle is more fuel efficient with the CVT, and with that transmission, you can expect around 26 city and 32 highway miles per gallon. 
Turbocharged 2.0-liter four-cylinder - Your next engine option is a significantly more powerful one. This is a turbocharged 2.0-liter four-cylinder engine. This engine gives you 250-horsepower. The turbocharged engine is paired with the continuously variable automatic transmission. For fuel efficiency in the turbocharged model, you can get around 23 city and 27 highway miles per gallon. 
With both of the above engines, you get all-wheel-drive standard in your Subaru Forester. This vehicle is capable in the city and on the highway and even has some capability to handle some light off-roading.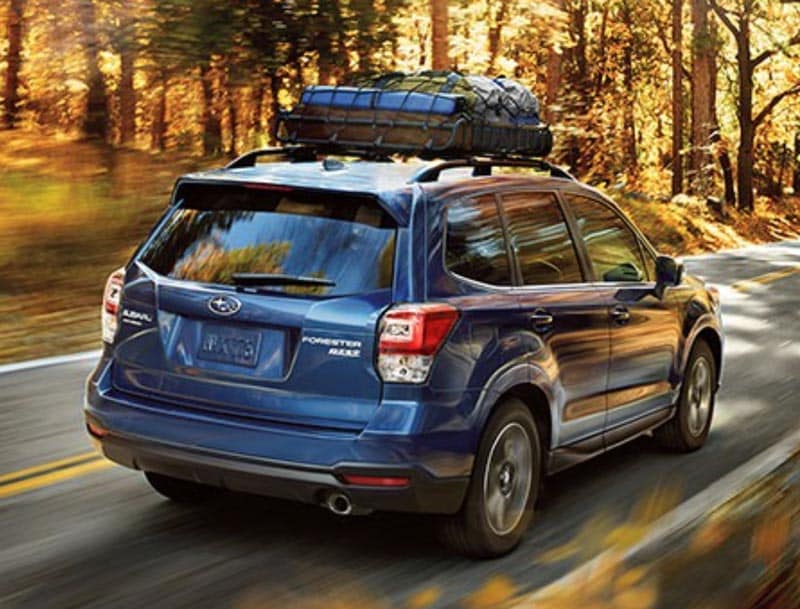 This vehicle also offers you a little bit of towing capacity, with the ability to tow around 1,500 pounds when it is properly equipped. The performance of the Subaru Forester is a great one, but that is not all this vehicle has going for it. Learn more about other features it offers you below. 
Exterior
The overall length of the 2018 Forester is 15 feet and 2 inches. This vehicle has a curb weight ranging from 3,322 to 3,717 pounds. This vehicle gives you a smooth and sporty look with exterior features capable of taking on your life. Features like LED steering responsive headlights help you see and be seen. This vehicle also offers you features like a power moonroof, raised roof rails, a hands-free power liftgate, and more. 
Interior
On the inside of this vehicle, you can find standard seating for five people in two rows. The base model offers you standard cloth upholstery, but there are more interior upgrades and seating features in other models. For example, some models have a 10-way power-adjustable driver's seat, heated front seats, a heated steering wheel, leather upholstery, and a leather-wrapped steering wheel.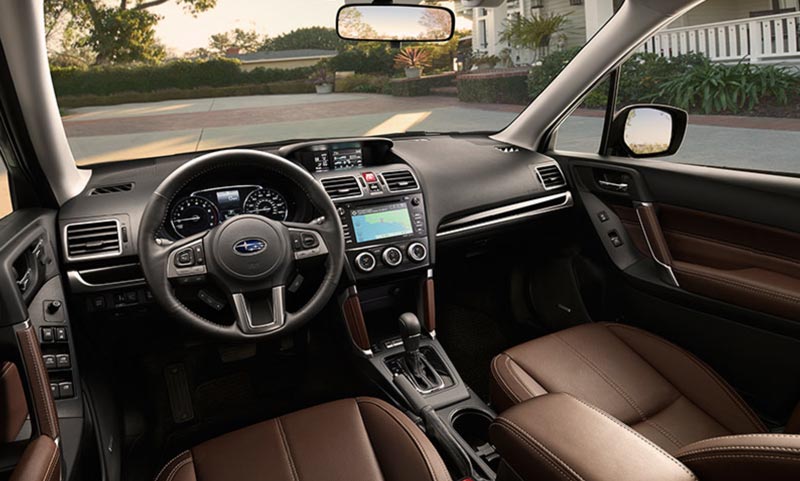 Cargo space in the Subaru Forester is impressive. This is technically a compact SUV, but it is not small on cargo space. You can get 34.4 cubic feet of space behind the rear seats. However, when you fold down those rear seats, you can get up to 74.7 cubic feet of cargo space. 
There are four main trim options available with the 2018 Forester, these include the Base, Premium, Limited, and Touring. The model you get will determine the exact interior features and technology options you have in your Forester. 
Technology Features
Next, let's check out what technology features can be found on the inside of the 2018 Subaru Forester. 
Touchscreen infotainment - This vehicle comes standard with a 6.2-inch touchscreen infotainment system, but there is a larger 7-inch touchscreen available on certain models. 
Bluetooth - This vehicle also allows you to talk on your phone hands-free with the standard Bluetooth technology. You can stay connected to your friends and family while keeping your hands on the wheel and eyes on the road. 
Premium audio system - The base model of the 2018 Forester comes standard with a four-speaker stereo, but some models have a premium eight-speaker Harman Kardon stereo to make your listening experience even more enjoyable. 
Keyless entry and push-button start - To add extra convenience to your day, there is keyless entry with your Subaru Forester. This means your vehicle will automatically unlock when you get close enough to it with the keys. You also have push-button start, so you just need the keys in the vehicle, you don't need to pull them out. 
Navigation system - Never get lost again with the available built-in navigation system in the 2018 Subaru Forester. This can help you easily get where you are going, even if you have never been there before. 
USB ports - You also get USB ports in your SUV to allow for device charging for you and your passengers. 
Those are the technology features that can be found on the 2018 Subaru Forester. This vehicle does not have Apple CarPlay or Android Auto, but you can connect your phone through Bluetooth and you have a nice infotainment system. Below, you can learn more about the safety and safety technology that can be found in this vehicle. 
Safety
In addition to Subaru vehicles being known for their reliability, they are known for their safety. These SUVs are built to be safer for you, and it shows. The National Highway Traffic Safety Administration gave the 2018 Forester five of five stars for an overall safety rating. This included getting five stars in the side crash test and four stars in the side and rollover tests. Also, the Insurance Institute for Highway Safety made this vehicle a Top Safety Pick; they also gave the 2018 Forester their highest rating of Good in five different crash tests. 
As you can see, this vehicle is rated highly for safety in terms of how it was built and how it can withstand different crash tests. However, this SUV also has some safety technologies that can help you to avoid or lessen the impact of potential collisions. You can learn more about these below. 
Rearview camera - The rear view camera in your Subaru Forester can help you see behind your vehicle when you are going in reverse. This can make it easier to back out of a driveway, park your car, and more. 
Forward collision warning - This vehicle has a forward collision warning feature that uses cameras and sensors to detect a potential front-end collision. If it does detect a potential collision, it will alert you so that you can avoid that collision. 
Head-up display - This feature helps you keep your eyes on the road. The head-up display displays important vehicle information like navigation information projected onto the windshield of your vehicle right in your line of sight. 
Rear cross traffic alert - The rear cross traffic alert feature will monitor the back end of your vehicle to alert you if there is a vehicle crossing behind you as you are trying to go in reverse. It will alert you so that you can avoid that potential collision. 
Above, we discussed a few of the safety technologies in detail, but this vehicle has other available safety features like automatic emergency braking, lane keep assist, lane departure warning, blind spot monitoring, adaptive headlights, automatic high beams, and reverse automatic emergency braking. This SUV can look out for you and your passengers with safe construction and great features. 
Overall, there is a lot to like about the 2018 Subaru Forester. There are a lot of great features mentioned above in terms of safety, technology, cargo capacity, and performance. Another great thing to note about this vehicle is that it is reliable. Subaru vehicles like the Forester last a long time because they are built well for you. You can depend on this vehicle to get you where you need to go. 
If you have any questions about the 2018 Forester or any other Subaru model, you can reach out to us at Granite Subaru. Our vehicle experts would be happy to help you.