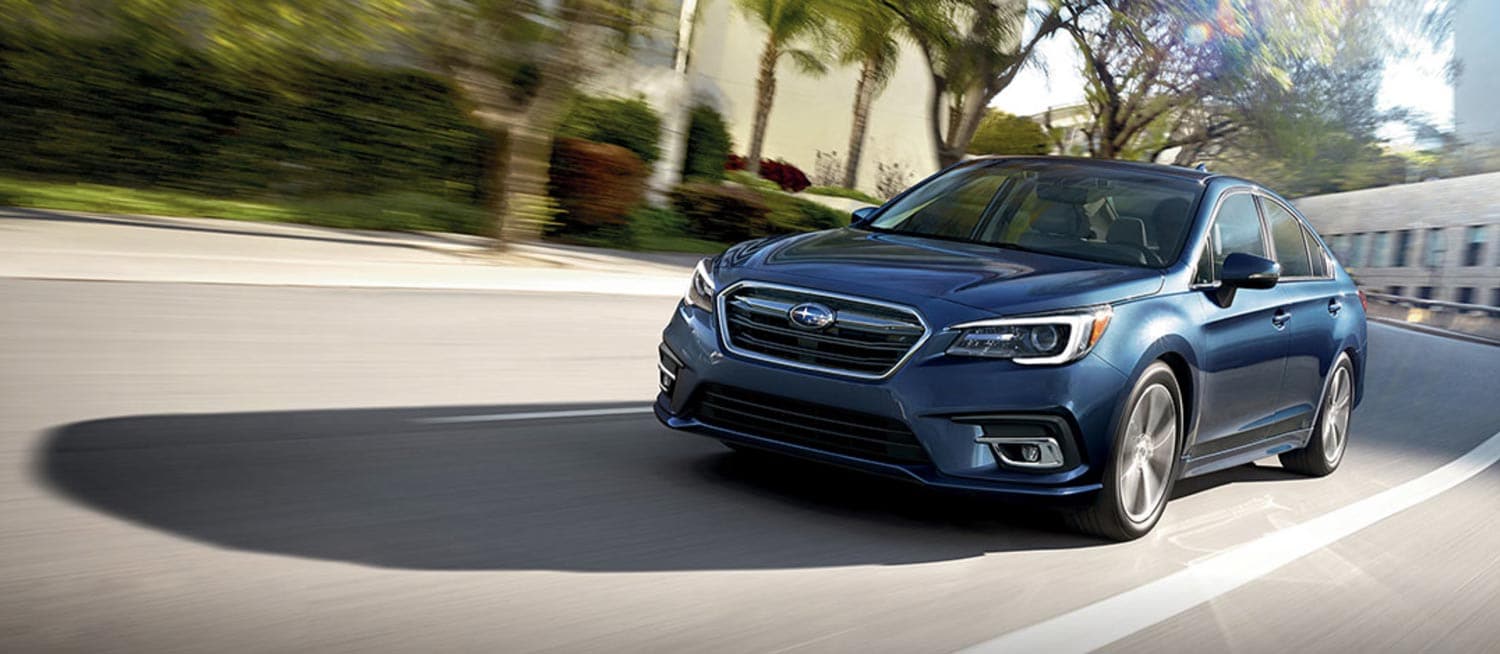 The Subaru Legacy is true to its name, having built a legacy of quality through its reliable performance, exceptional styling, and superior features. It has been building on this legacy since it debuted in 1989 thanks to its consistency and its continual improvement. You can buy a Subaru Legacy from any year and expect to enjoy consistent performance and quality year after year of owning the sedan. 
The 2019 Subaru Legacy is an exceptional model in the lineup, offering some of the best of what the Legacy has put out over the years. As a relatively recent model, the 2019 Legacy ensures buyers many years of reliable performance ahead of them. Its advanced technology and elegant styling also ensure that it will remain relevant for many years to come. The 2019 model offers buyers the chance to get a high-quality vehicle for a more affordable price than what's available with newer models. 
Granite Subaru is proud to offer the 2019 Subaru Legacy for sale, as well as other model years for this popular sedan. We invite you to visit our dealership to take a test drive of the 2019 Subaru Legacy and to learn more about what it has to offer. Here is an overview of what you'll get from the 2019 Subaru Legacy:
 Exterior Styling
The 2019 Subaru Legacy is a handsome sedan. It has elegant and sophisticated styling that make it look at home in any setting, whether you are driving the family to an event or you are entertaining business associates. 
The front end features a conservative, trapezoidal grille with black crossbars and the Subaru logo pinned neatly in the center. The grille sits over an equally styled air intake, and it is flanked by robust headlights with a sleek design. Neatly tailored grooves run through the profile of the Legacy, leading to a similarly styled rear fascia. A small spoiler lip sits over two robust tail lights. There is a black body bar that encases the exhaust. 
Body-colored accents are featured throughout, though chrome trim does accent the side windows. 
The 2019 Legacy is an attractive sedan that will have you feeling confident wherever you need to drive it. You'll feel more attractive yourself, knowing that you are putting your best foot forward when you're in the car. 
Interior Styling and Capacity
The 2019 Subaru Legacy has a similarly styled interior, which is elegant and attractive. The interior is black with chrome accents, and it features well-placed accents and attractive tailoring throughout. 
The dashboard has a clean, streamlined layout that puts everything right where drivers need them, without any clutter. The infotainment display and controls sit below two air ducts right in the center, and all the controls are easy to reach and the information easy to read. Similarly, the steering wheel has a tailored design and features mounted controls, making everything easy to reach. A well-designed gauge cluster sits right behind the steering wheel, giving the driver all the needed information at a glance.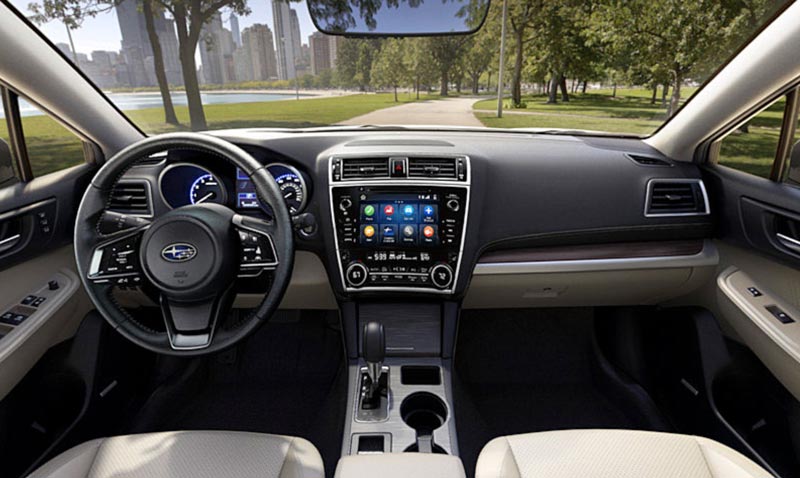 The center console features cup holders, a place for a phone, and a storage bin. Small areas of storage are available throughout the cabin, including on the doors.
The 2019 Subaru Legacy seats five people comfortably, and leg room is spacious for all passengers. Cargo sits comfortably in the 15 cubic feet of space in the rear. Most families will find that they get a comfortable ride in the 2019 Legacy and have plenty of room for whatever gear they need to carry with them. 
Power and Performance
One of the ways that the 2019 Subaru Legacy sets itself apart - among many other ways - is that it offers all-wheel drive as standard. That's not something you usually find in a sedan. The all-wheel drive gives you more capable performance in a variety of conditions, whether you want to take the family camping for the weekend or you just find yourself caught in a sudden storm. 
The engine is a 2.5-liter flat four-cylinder that puts out 175 horsepower and 174 lb-ft of torque. For those that want a little more power, the 2.5i Sport trim level comes with a 3.6-liter flat six-cylinder engine that puts out 256 horsepower and 247 lb-ft of torque. Both engines come with a continuously variable transmission for smooth handling. 
Fuel economy is estimated at 25 mpg in the city and 34 mpg on the highway for the base engine, or a combined fuel economy of 29 mpg. The larger engine gets an estimated 20 mpg in the city and 28 mpg on the highway, or a combined fuel economy of 23 mpg. 
Infotainment Features
The 2019 Subaru Legacy is loaded with great features. Not only were these advanced features at the time of the Legacy's release, but they remain desirable and relevant features now. 
The infotainment is controlled through a 6.5-inch display, and it includes satellite and HD radio, Bluetooth capability, and USB ports for charging and streaming devices. There's also an auxiliary jack. Apple CarPlay and Android Auto come standard on all trim levels. Higher trim levels come with a larger, 8-inch display screen. A four-speaker audio system provides great sound whether you're listening to music or your favorite podcast. 
The base model Subaru Legacy comes with everything you would expect to find standard on modern vehicles, and everything you would need to enjoy yourself on your drive. 
Trim Levels
The 2019 Subaru Legacy came in five trim levels to provide buyers plenty of options to get exactly the features they wanted. While you don't have the option to configure your vehicle when you are shopping for previously owned models of the Subaru Legacy, you do have the advantage of finding the various trim levels loaded with all the features you want at a much lower price. You can even find models that were outfitted with options packages. 
Here's a look at what features were available on each of the trim levels:
2.5i - The base model Subaru Legacy came with everything that has been described here.
2.5i Premium - At this trim level, the infotainment system is bumped up to an 8-inch display screen and a six-speaker audio system. It also gets an extra USB port. The interior gets a number of other features, as well, including heated front seats, dual-zone climate control, and a 10-way power adjustable driver's seat.
2.5i Sport - With the Sport trim level, two-tone cloth upholstery is introduced for unique styling. On the exterior, a rear spoiler and fog lights are added. Some technological upgrades for the trim level include keyless entry, push button start, and reverse automatic emergency braking. 
2.5i Limited - The addition of perforated leather upholstery lets you know that this trim level is all about luxury. The trim level also adds a four-way power adjustable passenger's seat, a 12-speaker premium sound system, and adaptive headlights. 
3.6R Limited - The top trim level on the Subaru Legacy is where you get the more powerful engine. All the other features are the same as those on the 2.5i Limited. You get to enjoy the luxury features with the more powerful performance, combining the best of both worlds.
When you shop for previously owned models of the 2019 Subaru Legacy, pay attention to the trim level. You'll get more for less with a higher trim level on a previously owned model. 
Safety
As with all Subaru vehicles, the 2019 Subaru Legacy comes with a variety of advanced safety features. The base model comes with Subaru's EyeSight suite of driver assistance features, which includes lane departure warning, lane keep assistance, pre-collision warning with braking, and adaptive cruise control. A rearview camera is also standard.
Higher trim levels added more safety features. The Premium trim added blind spot monitoring, rear cross traffic alert, and lane change assistance. The Sport trim added reverse automatic emergency braking. The Limited trim levels added adaptive headlights. 
Outside of the safety features, the Subaru Legacy was built with safety in mind. The National Highway Traffic Safety Administration gave the 2019 Legacy an overall five-star safety rating. The agency also gave the sedan five stars on all individual crash tests, across the board. 
Drivers can feel confident that they are driving a safe vehicle when they are in the 2019 Subaru Legacy. The driver assistance features just offer a helping hand and reduce risk even further. 
Visit Granite Subaru Today to Test Drive a 2019 Subaru Legacy
Granite Subaru is proud to offer the 2019 Subaru Legacy among our many other high quality, previously owned Subaru models. Visit us today to test drive the 2019 Legacy and get a feel for how great it is to drive. You can also explore its features, and compare the available trim levels. We're confident that you'll fall in love with this handsome, comfortable, and modern sedan. Our finance specialists will help you find the terms that will best fit your budget to help you make the Legacy your own. Visit us today to get started!