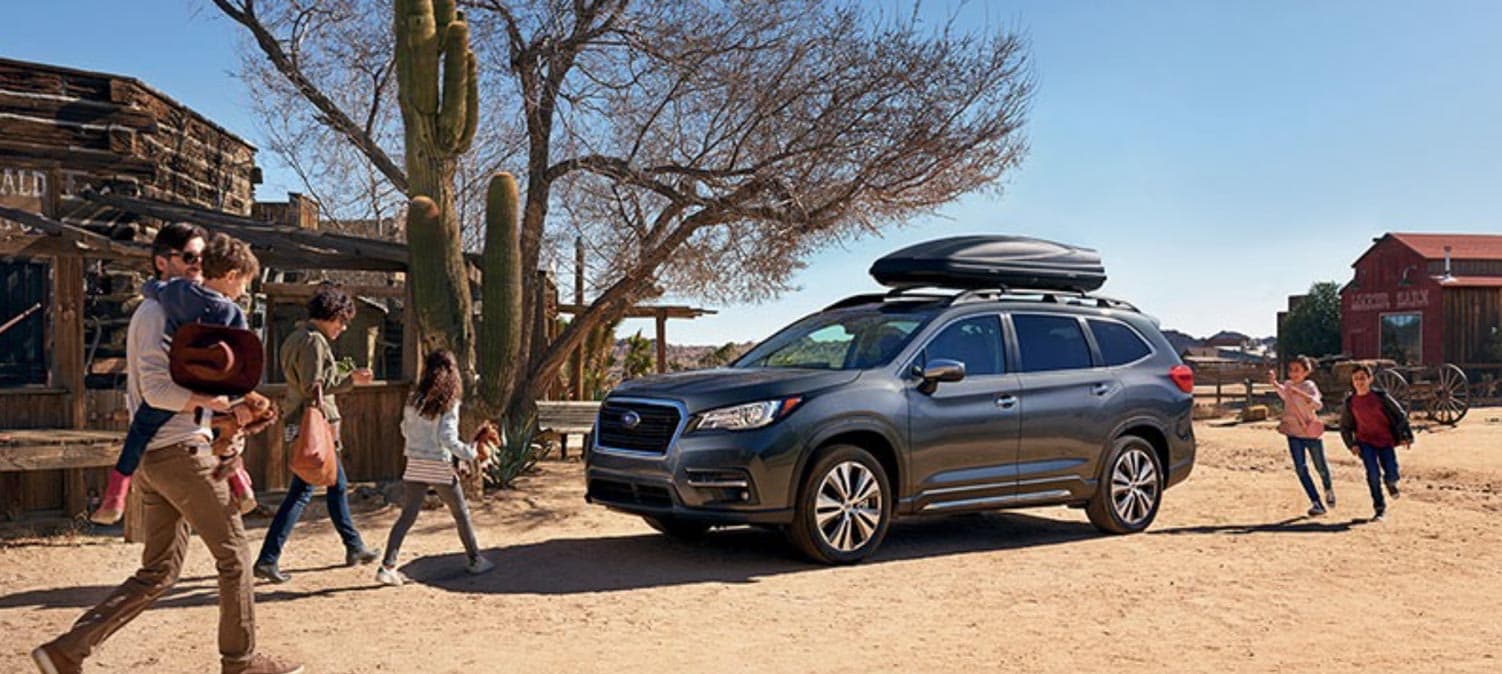 The 2021 Subaru Ascent is a popular three-row crossover that embodies the wholesome image that Subaru is known for. However, don't judge this book by its cover; there's much more to this vehicle than meets the eye.
While the exterior is sleek and stylish, there's power under the hood and plenty of comfort features located in the cab. The only real way to see what this crossover offers is to get behind the wheel.
If you are considering a new Subaru for your family, the 2021 Ascent should be on your radar with seating configurations for seven or eight, adaptive cruise, lane-keep assist, and so much more.
As always, though, it's best to judge for yourself. Keep reading to learn more about the 2021 Subaru Ascent and what it offers. Once you have finished the review, there's a good chance you'll be ready to climb inside and drive your own Ascent home.
New Stuff
It's worth noting that the 2021 Subaru Ascent is similar to the 2020 model. However, there are a few safety updates that are worth noting.
The 2021 Ascent received several new standard features. This includes:
LED headlights that turn with the steering wheel
Automatic high beams
Additional black leather upholstery option (Touring trim only) with silver stitching
Seat belt chime for second and third-row passengers
Improved tire pressure monitoring system
Adaptive cruise with lane keep assist
Each of the features is focused on comfort, adaptability, and safety.
 Under the Hood
The Ascent was designed with the all-wheel-drive system Subaru is known for and is ideal for family road trips. The engine is equally impressive, featuring a 260-horsepower turbocharged 2.4-liter four-cylinder powertrain. It delivers middling acceleration but may be slightly louder than expected inside the cab under duress.
The engine is paired with a CVT (continuously variable automatic transmission) with a gearless gearbox that is steady and receptive. The throttle response was good, even while traveling at low speeds in busier areas. If you like to have even more control over the transmission, you'll enjoy the included paddle shifters mounted on the steering wheel.
Inside the cab, you'll notice it offers an overall comfortable ride, protecting everyone in the cab from the bumps of uneven surfaces. The steering is light and accurate, allowing you to maneuver safely even at higher speeds quickly.
When it comes to gas mileage, the EPA estimates are considered above average for this class of vehicles and considered impressive thanks to the standard all-wheel-drive configuration. If you choose a Touring or Limited trim, then they get one less mile per gallon on the highway and in the city.
The all-wheel drive helps it stand out from other vehicles in this category. It also features 8.7 inches of ground clearance, the X-Mode system from Subaru to reduce traction and wheel spin on slippery surfaces, and hill descent control. Thanks to these features, you can even enjoy some light off-roading with your Ascent.
The Interior
If you appreciate spacious seating and plenty of head and legroom, the 2021 Ascent delivers. The interior provides all the same hallmarks you would expect from a larger crossover, including versatile seating configurations and a raised driving position.
The cabin itself can accommodate a crowd, making it ideal for families or other large groups.
The top two trims (the Limited and Touring) also include additional comfort features, including a power-adjustable passenger seat, leather-trimmed upholstery, memory driver's seat, heated rear seats, and a heated steering wheel.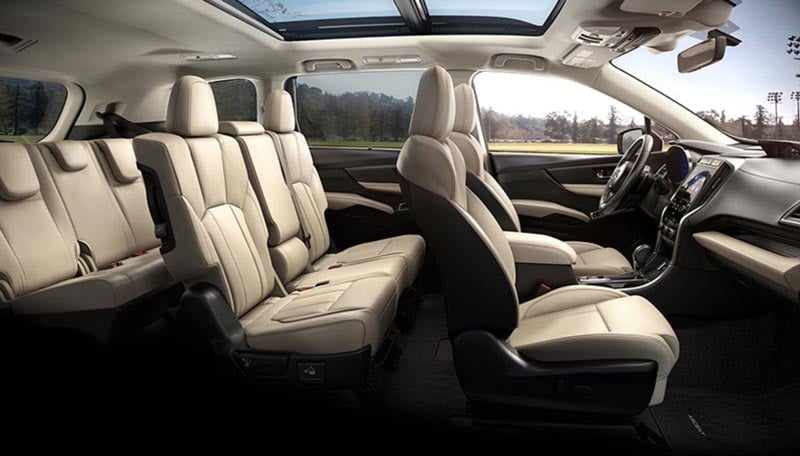 You can fit up to eight people in your 2021 Ascent, with five carry-on bags in the third row (on average). Even better, the model is designed with some innovative cargo solutions, including Velcro straps to help hold up the load floor if you need more room.
Another option you can choose is second-row captain chairs with several levers to fold them nearly flat, providing even more cargo space when needed.
If you are like most people, knowing all the details is important. We listed even the smallest comfort details, including the optional moonroof on some trims and 19 total cup and bottle holders inside the vehicle.
You will also find two complete sets of LATCH connectors for the second-row outboard seats and a lower anchor and upper tether for the middle seat on the second row. The third row of seats also comes with connectors along the driver's side and upper theaters for the other third-row seats.
Specific Measurements for the Ascent Interior
If you are looking for more specificity for the 2021 Ascent's interior, we have you covered.
The cargo capacity behind the third-row seating is 17.8 cubic feet. If the third row is folded away, it grows to 47.5 cubic feet. However, as mentioned above, there's also the option to fold away the second row of seats, which provides you a max capacity of 86.5 cubic feet behind the first-row seats.
Depending on what trim level you choose, your Ascent can tow as much as 5,000 pounds.
The headroom for front-row seats is 41.3 inches or 40.1 inches if you choose the optional moonroof. Second-row headroom comes in at 40 inches, and third-row headroom is 36.3 inches, which means everyone will have a comfortable ride.
For legroom, you get 42.2 inches in the front row, 38.6 inches in the second row, and 31.7 inches in the third row.
Technology
The Premium trim level of the 2021 Ascent features a 6.5-inch infotainment touchscreen, with all the other trims having an 8.0-inch unit. Android Auto and Apple CarPlay are included standard on all, with built-in navigation and front-view camera in the top-level Touring trim.
You will find two USB ports in the first and second rows, which are standard, while USB ports on the third row are only included with the higher trim levels. All trims except the Touring have a six-speaker audio system, with the Touring coming equipped with a 14-speaker Harman Kardon premium arrangement.
You can also enjoy remote engine start and climate control features in the 2021 Subaru Ascent. This means you can ensure your trip is comfortable and convenient, no matter the temperature outside, all through your smartphone. This feature is available on the Touring, Limited, and Premium trim levels.
Safety
The National Highway Traffic Safety Administration (NHTSA) gave the 2021 Ascent a five-star rating.
More than a few safety features have helped this model achieve this high rating. Some of the top safety features you will find include:
EyeSight Driver Assist Technology
One feature that is attributed to this high safety rating is standard EyeSight Driver Assist Technology. In fact, studies have proven this technology helps to reduce the rate of rear-end collisions with injuries by as much as 87%. EyeSight technology works by monitoring traffic movement, optimizes cruise control, and provides warnings if you sway or drift outside your lane.
Active Safety Features
You can also find an entire suite of active safety features in this model year. These are designed to work together to help you keep your family safe while on the road. The active safety features you will receive (and on what trim levels) include:
Blind Spot Detection: Provides warning with visual indicators on your side mirrors if a vehicle is in your blind spot (standard on Premium, Limited, and Touring trims). 
Rear Cross-Traffic Alert: Warns of traffic coming from the side when you back up (standard on the Limited and Touring trims). 
Reverse Automatic Braking: The vehicle will stop itself to avoid objects behind you (standard on Limited and Touring; optional on Premium trims).
All-Around Awareness
An optional safety feature is the Smart rearview mirror, which uses a dedicated camera to ensure top visibility if your view is obstructed. You can also utilize the standard Rear-Vision camera, which offers additional safety as you reverse. Another camera option is the 180-degree Front View Monitor, which gives you peace of mind that your path is clear and safe.
The Verdict
There's no question that the 2021 Subaru Ascent is the "total package." It offers plenty of pep, space, comfort, and a high level of convenience that modern drivers are searching for. The standard all-wheel-drive provides superior road grip, and the quality suspension system is perfectly tuned to provide a relaxed ride even over rough roads. Inside the cab, the Ascent can easily accommodate adult passengers in the three rows, with each trim featuring advanced safety features, which come standard.
The trim level that is right for you and your family depends on your needs and budget. It's good to check out several options to see the differences and what appeals most to you.
Are you ready to see the 2021 Subaru Ascent in action? If so, visit Granite Subaru today or call to schedule a test drive. We offer all the services you are looking for to help you have a seamless buying experience. You can even count on our highly trained and experienced mechanics for ongoing care and service after the sale.