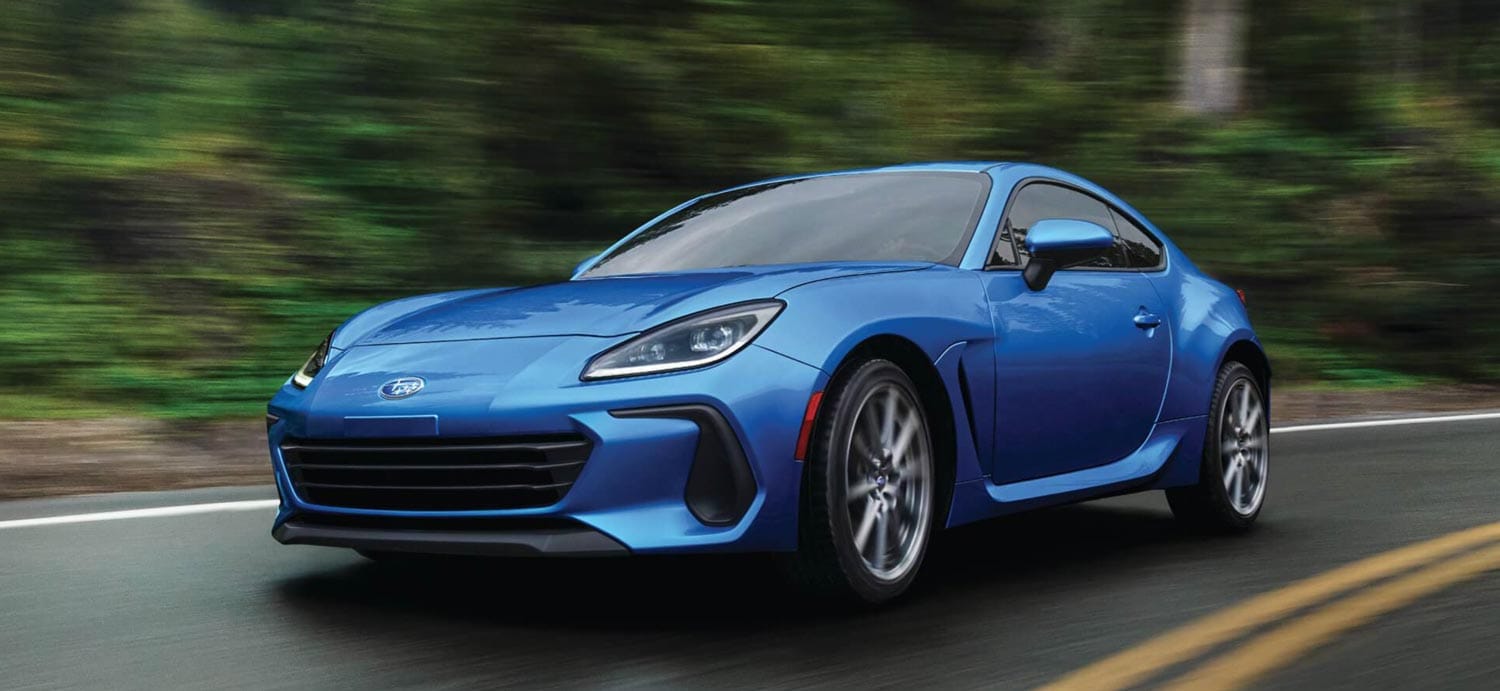 The Subaru BRZ. This vehicle has been fully redesigned for 2022 after not being produced in 2021. Check out the in-depth model review below to see what features, technologies, and more this vehicle has to offer. 
If you are someone who enjoys the experience of driving, you will want to look into a vehicle like the Subaru BRZ. The Subaru BRZ is a sports car that offers you an exciting performance, a fun driving experience, and some great features overall. It also offers you seating for four people and more cargo space than some sports cars, so it is a practical option that still gives you the excitement of a sports car. If you have any questions about this vehicle, you can reach out to us at Granite Subaru. 
Performance and Engine Options
A sports car is all about its performance. Let's take a look at what this sports car has to offer you, starting with the engine for this vehicle. 
2.4-liter four-cylinder - In the Subaru BRZ, you have a 2.4-liter four-cylinder engine that provides you with 228-horsepower and 184 pound-feet of torque. This engine comes with a six-speed manual transmission standard, but there is an available six-speed automatic transmission. 
This engine provides you with a fun and powerful driving experience. In the Subaru BRZ, you can expect to go from zero to 60 miles per hour in about six seconds. This vehicle also has an estimated top speed of about 145 miles per hour. 
The manual transmission in this vehicle shifts smoothly and is enjoyable. The steering and handling of this vehicle is quick and responsive, and the brakes provide excellent stopping power. You also have a comfortable driving experience in this vehicle with a suspension that does help absorb bumps in the road.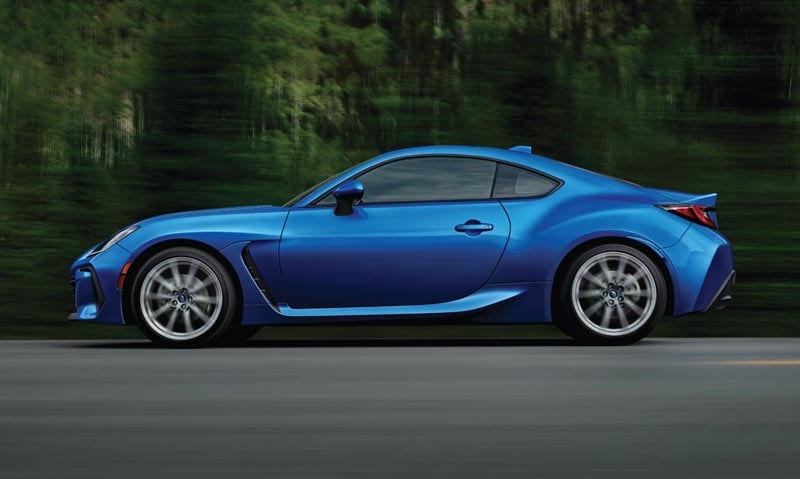 When it comes to fuel efficiency, the Subaru BRZ provides you with good fuel economy. You can expect to get around 21 city and 30 highway miles per gallon in this vehicle. That is good numbers for a sports car. 
Overall, this vehicle offers you a fun driving experience with plenty of power and capability. It is a sports car, but it is also a car that can be used for your everyday driving for those that just enjoy being behind the wheel. 
Exterior
This sports car measures 14 feet long, and it has a curb weight that ranges from 2,815 pounds to 2,881 pounds. This vehicle has a great style and a great performance for you. It can be found with enviable exterior color options like Ice Silver Metallic, Sapphire Blue, Ignition Red, WR Blue Pearl, Crystal Black Silica, Magnetite Gray Metallic, and more. 
You can also get exterior features like LED lighting, 18-inch wheels, high-performance tires, heated side mirrors, and more. These features give you the best of form and function. 
Interior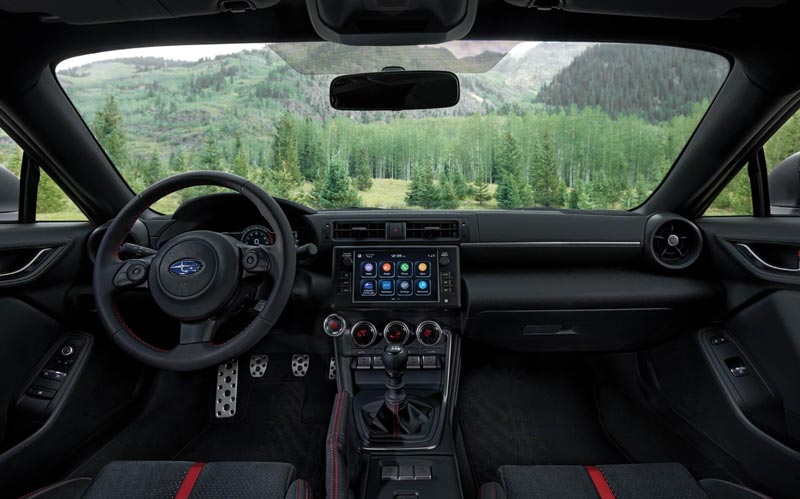 The Subaru BRZ is a two-door sports car, but it does offer seating for four. You get good head and legroom for front passengers, but the rear seats are slightly smaller. This vehicle comes standard with cloth seats, but there are available seating upgrades like heated seats and synthetic leather upholstery. 
In terms of cargo space, the Subaru BRZ offers you about 6.3 cubic feet of cargo space in its trunk. It is not a lot of cargo space, but the rear seats do fold down to give you storage space for larger items. 
This sports car comes in two different trim options. They offer you pretty much the same performance, but do have some different features. Check them out below. 
Premium - The Premium is your base trim that gives you the BRZ engine with a standard six-speed manual transmission, but there is a six-speed automatic transmission available. If you choose the automatic transmission, you get the EyeSight suite of safety features with it. You also get LED lights, 17-inch alloy wheels, and a limited-slip differential. In terms of interior features, this trim offers you an 8-inch touchscreen infotainment, Apple CarPlay, Android Auto, Bluetooth, Cloth upholstery, push-button start, keyless entry, a leather wrapped steering wheel, and a rearview camera. 
Limited - You get some upgraded interior features in the higher Limited trim. This trim offers you synthetic leather upholstery and heated front seats. You also get 18-inch wheels. It adds safety features like blind spot monitoring, adaptive headlights, rear cross traffic alert, and lane keep assist. This model also comes standard with the manual transmission, but you have the option of the automatic and the safety features that come with it. 
As you can see, the Subaru BRZ has a lot to offer, and both models have some great interior features. You can learn more about the technology below. 
Technology Features
Let's take a closer look at some of the technology features mentioned above in greater detail here. The Subaru BRZ is a tech-savvy vehicle, so it has a lot to offer you. 
Touchscreen infotainment - This vehicle offers you an 8-inch touchscreen infotainment system. The infotainment system is a Starlink infotainment system that is responsive and easy to use. 
Apple CarPlay and Android Auto - You can connect your smartphone to your vehicle's infotainment system with the standard Apple CarPlay and Android Auto compatibility. These features allow you to connect your phone so that you can access phone contacts, music, apps, and more from your infotainment system. 
Digital gauge cluster - This digital instrument cluster makes it easy to see the different performance metrics and features for your Subaru BRZ, including whether or not you are in Track mode. 
Bluetooth - Make calls hands-free with Bluetooth in your Subaru. This feature helps to keep you connected to your people and keep your hands on the wheel; it can help you stay safer while you are driving. 
Keyless entry and push button start - Add ease and convenience to your life with the keyless entry and push button start. This feature means you do not have to have your keys in your hand to enter your vehicle, if your keys enter close proximity (even if they are in your pocket or a bag) the vehicle will unlock. You also have a push-button start so that you don't need your keys out.
This vehicle also offers features like two USB ports and dual-zone automatic climate control to help make all your passengers happy. In addition to those technology features, there are some safety technology features that you can learn more about below. 
Safety
Finally, let's look at the safety features and technologies that this vehicle has to offer. Each Subaru BRZ comes standard with a rearview camera, but the exact safety technologies you have in your vehicle depend on the model. For example, in all models that you choose the automatic transmission, you will also get the EyeSight safety suite standard; this suite of safety technologies includes, forward collision warning with brake assist, high-beam assist, lane departure warning, and adaptive cruise control. Only the Limited trim option also gives you rear cross traffic alert, blind spot monitoring, adaptive headlights, and lane keep assist. 
Whether you have just the EyeSight suite of features or all of the safety features, you have some technology that can look out for you in many different scenarios. Check out how some of these safety features work for you below. 
Adaptive Cruise Control - This feature helps you maintain a safe distance between you and cars in front of you on the highway. If you are approaching a vehicle too quickly, your vehicle will automatically slow down to maintain a safe distance between your vehicle and the one in front of you. 
Forward Automatic Emergency Braking - Forward automatic emergency braking will use sensors and cameras to detect if there could be a potential front-end collision. If it determines that a collision is imminent, this feature will automatically apply the brakes to avoid the collision or lessen the impact of it and keep you safer. 
Lane Departure Warning - If you are unintentionally drifting out of your lane, this safety feature will alert you so that you can make a steering correction and stay safe in your lane. 
Rear Cross Traffic Alert - You can easily be alerted of vehicles in rear blind spots with this safety feature. Rear cross traffic alert will detect vehicles crossing behind you when you are going in reverse. 
As you can see, there are a lot of great safety features and more in the Subaru BRZ. This vehicle could be an exciting one to drive and ride in. If you are looking at this as an option for you, reach out to us at Granite Subaru; we can get you set up for a test drive of this vehicle so that you can see it for yourself.