2021 Subaru Forester and Trim Packages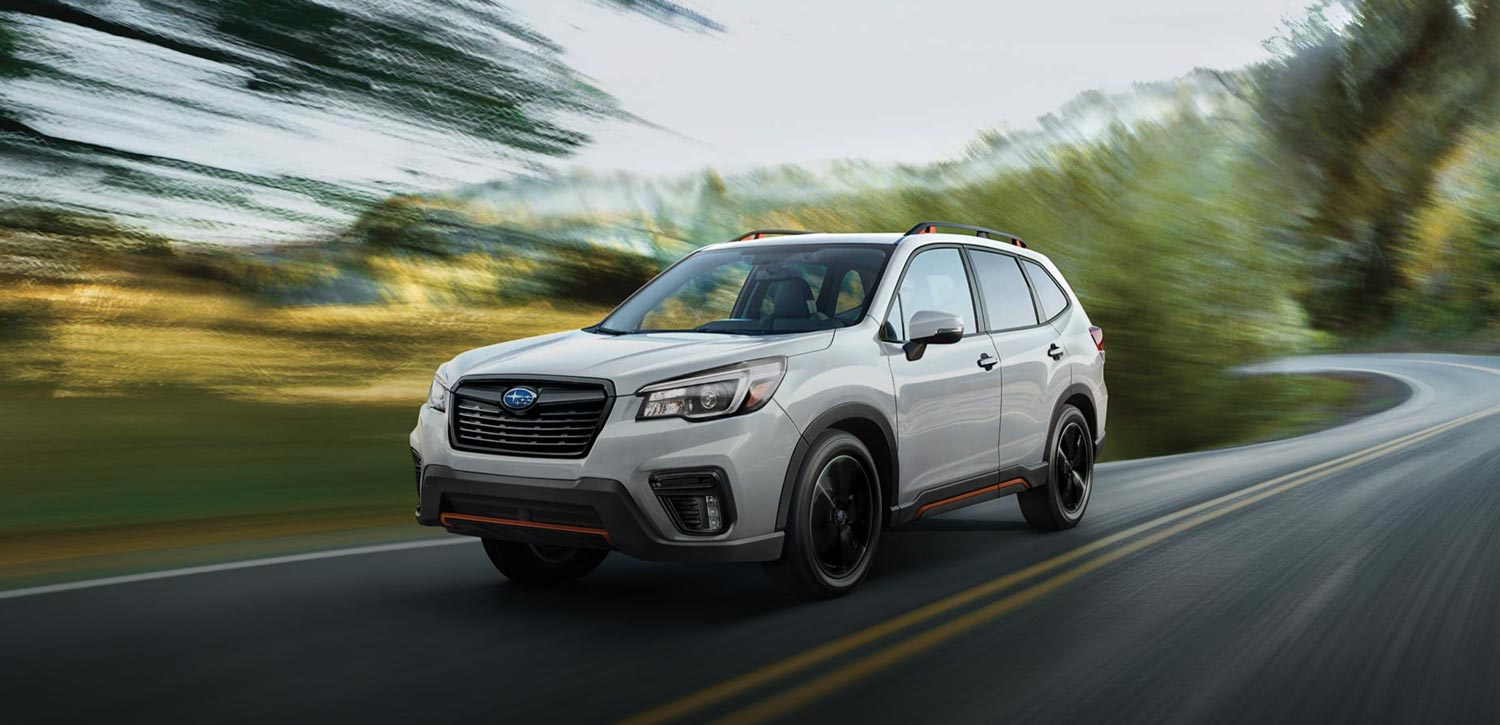 There's no doubt that the 2021 Subaru Forester is an outstanding SUV choice. But what exactly does the Forester offer, and what does each trim level have?
We broke it all down for you here. That way you can decide whether the Forester is right for you, and if it is, you can figure out what trim level fits you and your family best.
The Powertrain
Every Subaru Forester comes with a 2.5L BOXER engine that pushes out 182 horsepower at 5,800 rpm. It also pushes out 176 ft-lb of torque at 4,400 rpm.
It's more than enough to get you from place to place, and with a 1,500-pound towing capacity you can also pull smaller trailers to campsites or sporting events.
It's not the most powerful SUV out there, but it's more than powerful enough to get you from place to place and even tackle some more challenging off-road terrain.
Cargo Space and Clearance
If there are two areas where the Subaru Forester really shines, it's the overall ground clearance and cargo space. Even when you're using the seating area you get between 28.9 and 31.1 cubic feet of storage space depending on the trim level you choose.
If you need a little extra space and don't have anyone in the back seat you can fold down those seats to increase the cargo space to between 69.2 and 74.3 cubic feet.
Not only is there tons of storage space for groceries, sports equipment, and just about anything else, but with 8.7 inches of ground clearance, there's plenty of space to let you get off-road a bit.
Whether you're trying to get to a campground or something a little more adventurous, with the all-wheel-drive system and the almost 9 inches of ground clearance, there are not many places the Subaru Forester can't take you.
2021 Subaru Forester Trim Packages
While there's a ton to love about the Subaru Forester no matter what trim level you go with, the last thing you want is to miss out on a feature you want because you went with the wrong trim level.
This guide will break down everything you need to know about each trim level. That way, you know exactly what you're getting with the 2021 Subaru Forester.
Base
While it's a base model trim package, even in the name, Subaru packs it full of standard features. Chief among these features is the EyeSight Driver Assist Technology package that comes standard.
This package includes adaptive cruise control, pre-collision braking, a lane-departure warning system, sway warning, and lane-keeping assist. You also get steering responsive headlights with high beam assist and you even get a rearview camera.
But while those are all nice safety features, there's plenty to love inside the Subaru Forester Base too. It has dual front USB ports and a 6.5 multimedia system that comes with Bluetooth, Android Auto, and Apple CarPlay.
Finally, it's actually the only Forester with the additional cargo space. So the Base has 31.1 and 74.3 cubic feet of storage space, while all other trim packages have 28.9 and 69.2 cubic feet.
Premium
Since Subaru offers so many things with their Base trim level, they really have to offer a lot to get you to upgrade to the Premium level - they don't disappoint.
For starters, going with the Premium trim package lets you use your Forester as a Wi-Fi hotspot with a paid subscription. You also get an upgraded speaker system with six speakers instead of four.
Add in the power driver's seat, heated side mirrors, and the keyless entry system and there are tons of reasons to upgrade. Furthermore, Subaru adds a hell descent control mode you can use in challenging driving conditions. Finally, with the Premium trim package you get a leather-wrapped steering wheel and gear selector for a more luxurious feel inside the Forester.
Sport
With the Sport trim package you get everything from the Premium and Base trim levels and then some. It's the first trim package with upgraded 18" wheels compared to the 17" wheels with previous trim levels.
You also get side mirrors with integrated turn signals, a chrome exhaust outlet, and LED fog lights to help enhance the appearance of the exterior. Inside the Forester there's a sport cloth upholstery with orange stitching and paddle shifters.
As for technological upgrades, the Forester's rear area now has its own two USB ports, and it's the first trim level that lets you upgrade to the 8" multimedia system and the upgraded Harman Kardon audio system.
Limited
The Limited trim package is all about adding a little more luxury to the Forester. It has leather-trimmed upholstery, you get a dual-zone climate control system and even a power liftgate.
Beyond that, the 8" multimedia system is now standard, but you'll still need to upgrade to get the Harman Kardon audio system if you want it.
Touring
If you're looking for a fully loaded Forester, this is it. The 2021 Forester Touring has satin chrome side mirrors, heated rear seats, a heated steering wheel, one-touch folding rear seatbacks, and even a 2-position driver seat memory system.
You also get both the 8" multimedia system and the Harman Kardon audio system, and navigation now comes standard.
But the real selling points of the Touring trim level are the DriverFocus Distraction Mitigation system and the reverse automatic braking safety features.
The Distraction Mitigation system alerts you if you're not paying close enough attention to the road, while the reverse automatic braking system ensures you don't hit anything while backing up.
Final Thoughts
With so many great features and options, it's no wonder that the 2021 Subaru Forester is a highly sought-after SUV. Whether you're looking for an SUV with tons of off-road capabilities, plenty of cargo space, or is just fun to drive, the Forester is a great choice.
Are you interested in a 2021 Subaru Forester, or do you have some questions about a few of the features? The pros at Granite Subaru would love to help you out and clear things up.