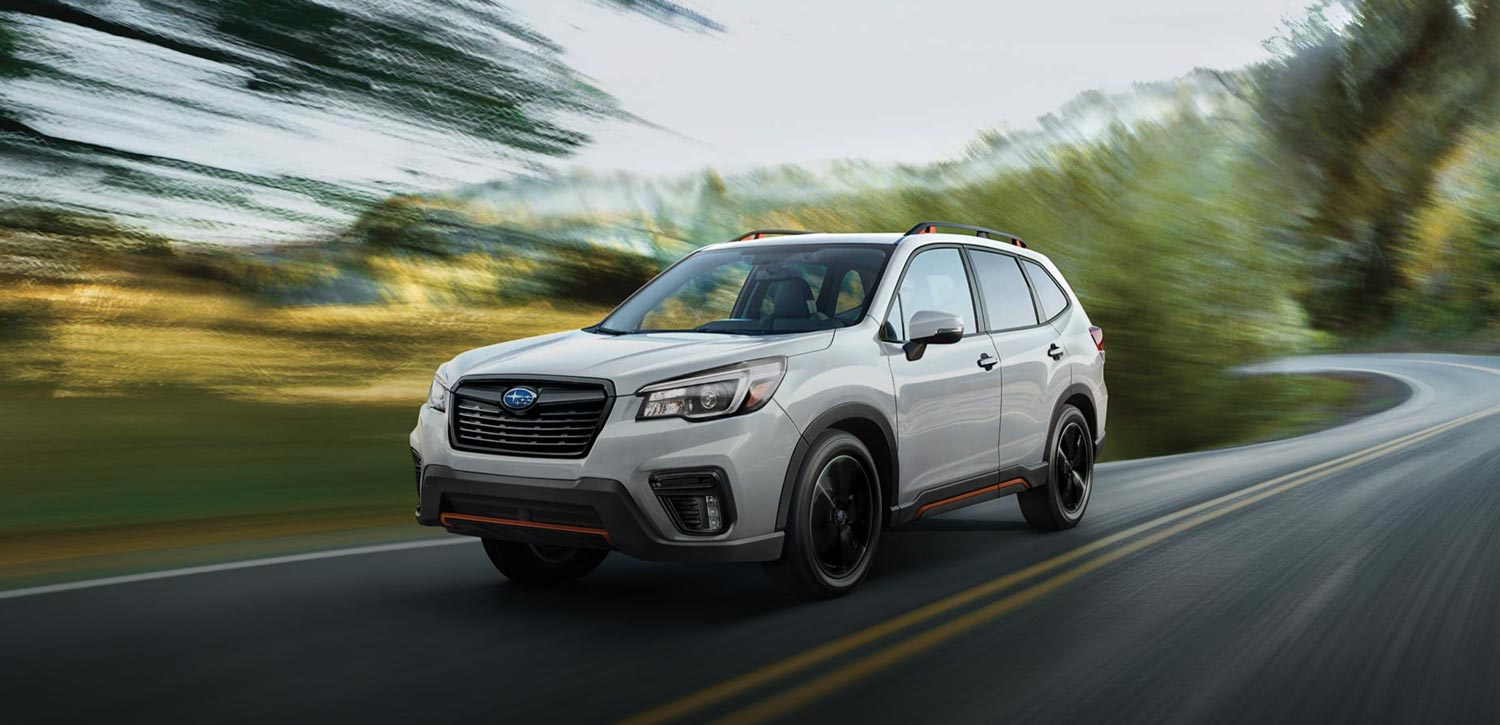 The Subaru Forester is a great compact SUV option. This vehicle has seating for five people, and it can take on rough terrain, as well as a highway road trip. With plenty of cargo capacity, comfortable passenger space, a solid performance, and plenty of safety features, this is a vehicle worth looking into. The 2021 Subaru Forester is also known to be reliable and it offers you standard features like all-wheel drive that help you have additional capacity for an affordable price. 
What features does this SUV offer you specifically? Below, look at the in-depth model review of the 2021 Subaru Forester. We will take a closer look at the performance and engine options, interior features, exterior features, technology, and safety of this vehicle. If you have any questions about this vehicle or any other Subaru options, you can reach out to us at Granite Subaru. 
Performance and Engine Options
First, let's take a look at the performance of the 2021 Subaru Forester. We will take a look at the performance and engine options below. 
2.5-liter four-cylinder - This vehicle is powered by a 2.5-liter four-cylinder engine that produces 182-horsepower. This engine is paired with a continuously variable automatic transmission. You also get all-wheel drive standard in the Subaru Forester.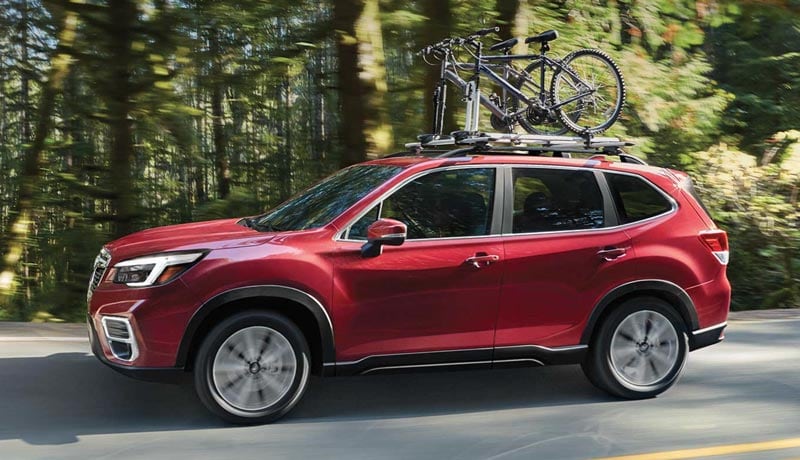 This compact SUV is plenty capable for your adventures. It is off-road ready with the all-wheel drive and the 8.7-inches of ground clearance that it provides. This vehicle also offers you features like hill descent control and X-mode that can help you have a better grip as you are driving. The Forester is ready for your next adventure, whether it is a road trip on the highway or an off-road experience. 
When it comes to fuel efficiency, this vehicle gives you 26 city miles per gallon and 33 highway miles per gallon, so it offers you a pretty fuel-efficient experience. This compact SUV can also tow up to 1,500 pounds when it is properly equipped. 
Exterior
The Subaru Forester is a compact SUV that is 15.2 feet long with a curb weight that ranges from 3,453 to 3,589 pounds. The exterior of this vehicle is both functional and stylish. It can feature exterior colors like Geyser Blue, Autumn Green Metallic, Horizon Blue Pearl, Crimson Red Pearl, Cascade Green Silica, Brilliant Bronze Metallic, Crystal White Pearl, and more. 
You also have features like 18-inch aluminum alloy wheels, LED steering responsive headlights, fog lights, a roof spoiler, folding side mirrors with integrated turn signals, a power moonroof, and raised roof rails for additional cargo capacity. There are plenty of other features on the inside to learn about below. 
Interior
In the Subaru Forester, you have standard seating for five with cloth upholstery. There are available features like leather upholstery, power-adjustable front seats, heated seats, and a heated steering wheel.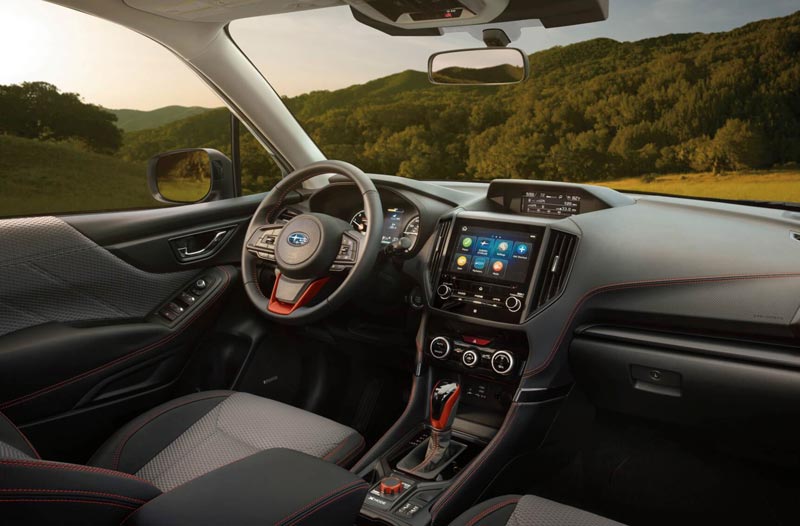 When it comes to cargo space, this vehicle gives you 31.1 cubic feet of cargo space behind the rear seats. When you fold down those rear seats, you get up to 76.1 cubic feet of cargo space. This is more cargo space than a lot of compact SUVs. You also have the availability of a one-touch rear-seat folding and a power liftgate. 
The exact features found on the interior depend upon the trim level you choose in your 2021 Forester. This vehicle is available in five trims, which include the Base, Premium, Sport, Limited, and Touring. The Base trim is your most affordable, but it still offers you performance capabilities like all-wheel drive and technology features like infotainment and smartphone connectivity. The Sport trim gives you some unique styling elements, as well as features like paddle shifters and reverse automatic emergency braking. In the highest Touring trim, you get almost every feature, including some high-end interior features like heated seating, a heated steering wheel, and more. 
Technology Features
What technology does this vehicle have to offer you? Check out some of the main technology features that the Subaru Forester has for you in greater detail below. 
Infotainment System - This vehicle comes standard with a Starlink infotainment system. This infotainment system has a standard 6.5-inch touchscreen, but there is a larger 8-inch touchscreen available. 
Apple CarPlay and Android Auto - You can connect your smartphone to your vehicle with the standard Apple CarPlay and Android Auto. These features can give you access to phone contacts, apps, music, and more through your vehicle so that you aren't on your phone while driving. 
Bluetooth - The standard Bluetooth capability in the Subaru Forester helps you talk on the phone hands-free so that you can stay connected to your friends and family while staying safer. Bluetooth allows you to keep your eyes on the road and your hands on the wheel. 
USB Ports - The Forester also has USB ports to keep you and your passengers connected to your technology.  
Wi-Fi Hotspot - There is an available Wi-Fi hotspot in this SUV. This feature can help you have the internet access you need while you are on the go. It is perfect for making your vehicle into a mobile office or simply having entertainment while you are on a long road trip. 
Harman Kardon Sound System - There is also an available nine-speaker Harman Kardon audio system that can help you enjoy every listening experience even more. 
Navigation System - One other technology feature worth noting is the navigation system that can help you know where you're going, even if you have never been there before. The navigation system can help prevent you from getting lost and wasting time on the road. 
These are just a few of the main technology features that can be found in your Subaru Forester. There are also some safety technology features that you can learn more about below. 
Safety
This vehicle is built to be safe for you. The National Highway Traffic Safety Administration gave the 2021 Forester five out of five stars for an overall safety rating. The Insurance Institute for Highway Safety gave this SUV a rating of Good in all crash tests, where Good is the highest rating available in those tests. 
This vehicle is built with safety in mind from its construction to withstand front and side collisions, as well as rollover. However, this vehicle also offers you safety technologies that can help prevent some of those collisions from occurring in the first place. Standard active safety technologies in this vehicle include a rearview camera, a rear seat reminder, lane keep assist, forward collision warning, lane departure warning, and forward automatic emergency braking. Other available features include blind spot monitoring, lane change assist, driver drowsiness monitoring, and rear cross traffic alert. You can learn more about some of these safety technologies in greater detail below. 
Rearview Camera - The rear view camera in this vehicle helps you see behind you when you are going in reverse. It helps to reduce blind areas so that you can avoid a potential collision with another vehicle or object that might be in your path. It makes parking and backing up easier and safer. 
Adaptive Cruise Control - You also have adaptive cruise control in your 2021 Forester. This feature helps you maintain a safe distance from the vehicle in front of you by monitoring that distance and slowing your vehicle down automatically if it is getting too close. 
Forward Automatic Emergency Braking - This feature works with the forward collision alert feature to help avoid or lessen the impact of a collision. If your vehicle detects a potential front-end collision and you do not stop your vehicle, the forward automatic emergency braking will apply the brakes for you so that you can reduce or avoid impact. 
Lane Keep Assist - This safety feature works with the lane departure warning feature to detect when you are drifting out of a lane, and the lane keep assist feature will make minor steering corrections to help keep you in the lane. 
These active safety features can help keep you and your loved ones safer no matter where you are driving to, which can give you great peace of mind. 
As you can see, the 2021 Subaru Forester has a lot to offer you. This vehicle has great performance, technology features, and safety features. If you have any questions about this vehicle or any other Subaru vehicles, you can reach out to us at Granite Subaru; we want to help you get the vehicle that fits with your lifestyle and needs.