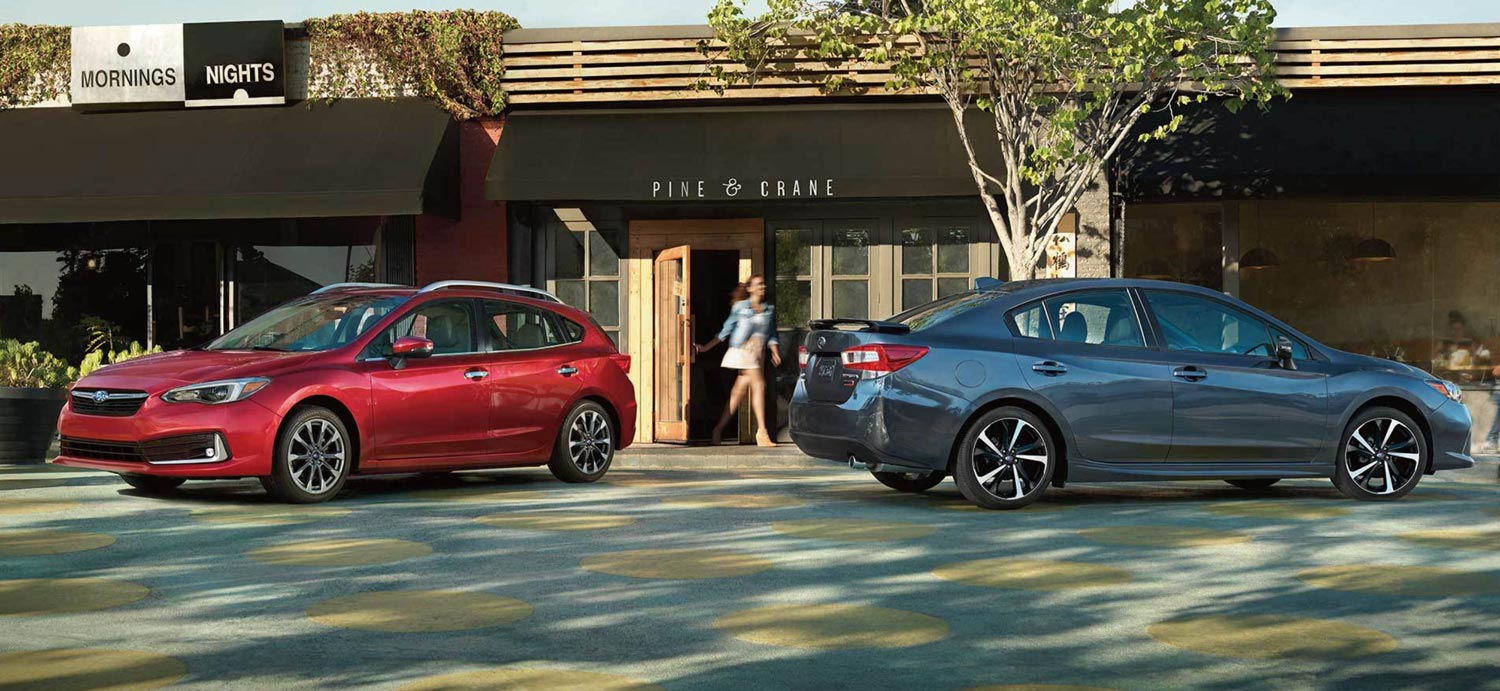 One of the first things that may catch your attention about the 2021 Subaru Impreza is its affordable price tag. In fact, it's the least expensive new Subaru you can purchase. However, don't let the affordable price point fool you - it's designed to provide a superior driving experience while helping drivers and passengers remain safe, comfortable, and happy no matter where they are headed. 
The first big decision you must make when choosing the 2021 Subaru Impreza is whether you want the hatchback or sedan. These have the same wheelbase, and the sedan is just slightly longer than the hatchback, which has more space inside. 
What's more, the vehicle has achieved top safety scores for its class, making it the ideal option for families, students, and more. While there are some things you may not love, any shortcomings of this vehicle are easily made up for with the user-friendliness, superior reliability, and impressive resale values it offers. 
However, when it comes to investing in a new vehicle, you need all the facts and information you can find. Here you can learn all about what the 2021 Subaru Impreza offers and if it's the right vehicle for you. 
 New Stuff
It's worth noting that there were no major changes in the 2021 model of the Impreza. While this is true, a few smaller changes have made a difference in the handling and safety of this make and model. 
The drive mode selector in Subaru, called SI-Drive, is now included with the Impreza Premium. The vehicle features a tapered roofline, slightly larger fenders, and no real stand-out features in the hatchback body, which is more popular than the sedan. The sedans are plainer, and most people appreciate the understated look it offers. 
Along with the addition of SI-Drive, the Impreza Sport trim is now fitted with a black rear spoiler that has end panels finished in Black Crystal Silica. 
Under the Hood
No matter the body style you choose, you will only have one engine option with the 2021 Impreza. It's a 2.0-liter four-cylinder that offers 152 horsepower and 145 pound-feet of torque. You can choose between a continuously variable automatic transmission and five-speed manual transmission. If you choose the CVT, it means you also get SI-Drive, which includes Sport mode for faster acceleration. 
Gas Mileage Considerations
Fuel economy estimates for the 2021 Subaru Impreza Sport hatchback are amazing in the city and  even better  on the highway. 
Handling and Ride
There aren't too many compact cars that carefully blend comfort and agility like the Impreza. In fact, there's only one other model in the class besides the Impreza (the Subaru WRX) that comes with an all-wheel-drive standard. Light, responsive steering and strong brakes help provide a sporty feel when cornering with a roll-controlled body. The ride is smooth, and the outside noise is minimal. 
The Interior
While the Impreza isn't considered a large vehicle, there's plenty of space for up to five people in the cab. Cloth upholstery is included as standard, but you can upgrade to sports cloth or leather upholstery if desired.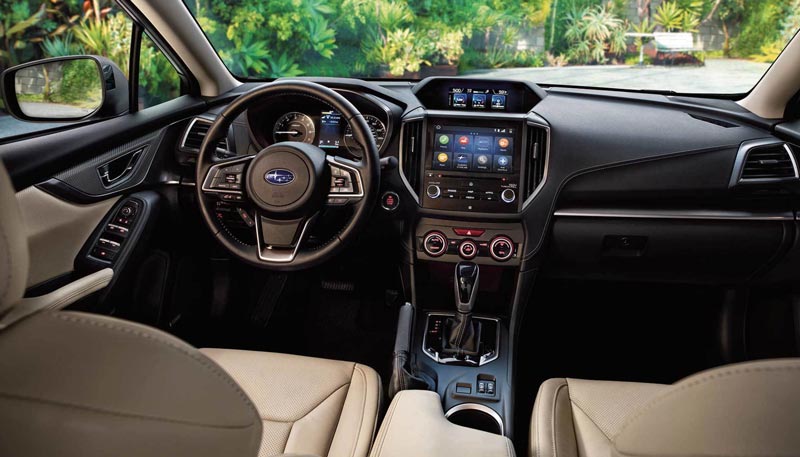 When it comes to comfort, the Impreza doesn't disappoint with a six-way power-adjustable driver's seat available and heated front seats. 
In the cab, there's enough space for two adults to sit comfortably in the backseat, even when taller individuals are sitting upfront. In fact, for a compact car, the legroom is generous for both body styles. 
The seats are made with plush cushioning and stay comfortable even when traveling for long periods of time. Thanks to the superior design and insulation of the cabin, you can feel confident you will remain comfortable inside and that all loud road-related signs will stay outside (where they belong).  
The Impreza's cabin is easily described as "handsome," featuring a high-quality fit and finish. There are several soft-touch surfaces mixed with harder, lower-quality plastics. However, this is what you find in any vehicle in this class, and they don't stand out like a sore thumb when you inspect the interior. 
Behind the rear seats in the hatchback, you have 20.8 cubic feet of storage space that transforms to 55 cubic feet when the seats are folded down. The sedan's trunk measures 12.3 cubic feet, which is typical for the class. However, if you want a more versatile option for cargo space, the hatchback wins.  
Technology
The Impreza has Subaru's StarLink infotainment system, which is straightforward to use. It has a responsive touch screen and a well-organized menu with visible, bright graphics. Also, the physical knobs and buttons on the system are all located within easy reach of the driver. 
The specific features for the trim levels available include:
Standard infotainment features: All vehicles are equipped with a 6.5-inch touch screen system featuring Android Auto, Apple CarPlay, USB port, Bluetooth, and a four-speaker stereo standard. 
Optional infotainment features: If you want an upgrade, you can choose the eight-inch touchscreen, Wi-Fi hotspot, satellite radio, navigation, HD radio, three additional USB ports,  and a six- or eight-speaker stereo. 
The touchscreen is laid out like a smartphone home screen. This makes it familiar and easy to see and use. The navigation command structure is simple, and finding your desired tools or apps is simple. 
Safety
The NHTSA awarded the 2021 Subaru Impreza a safety rating of five stars in rollover, side crash, and frontal crash tests. The IIHS gave the rating of Good in all six crash tests, which is the best rating given by the organization. 
Child Safety Features 
Adults aren't the only passengers who are comfortable and protected while in the 2021 Impreza. You'll find there are two sets of LATCH connectors. These are found on the rear outer seats. The middle seat has a tether anchor. The IIHS (Insurance Institute for Highway Safety) gave the setup in the Impreza a Good+ rating, which means it's one of the easiest and most versatile systems to use. 
Airbags 
The Impreza was designed with front, side curtain, driver's knee, and front side airbags. These provide a superior level of protection while on the road. 
Additional Safety Features 
Along with the safety features mentioned above, every Impreza also has electronic traction and stability control, hill-start assistance for manual models, a rearview camera, and a `tire pressure monitoring system. 
Additional safety equipment includes the EyeSight bundle of features, including automatic emergency braking, lane-departure warning, adaptive cruise control, blind-spot monitoring, reverse automatic braking, and lane-keeping assistance. 
Additional Features and Buying Points 
When it comes to additional features and buying points, the 2021 Subaru Impreza offers quite a lit. From dual-digital screen cabin format to reversing AEB, there's no question that the fit-out of this model is nothing short of impressive. 
On the outside, you'll enjoy 2.0i-S full LED lighting with self-leveling auto headlights, dynamic cornering light functionality, rain-sensing wipers, LED fog lights, heated and power-folding mirrors, rear parking sensors, bespoke 18-inch alloy wheels, and rear privacy glass. 
Standard on all vehicles is adaptive cruise control; however, there aren't any parking sensors. While this is true, you do get the benefits of a forward-view monitor. 
On the interior, you have quite a few impressive features, too. The flagship model provides leather-appointed trim, eight-way electric driver seat adjustment, electric park brake, seat heating, dual-zone climate control, paddle shifter leather wheel, keyless go, dual 12V outlets, and four USB outlets. 
With all the features listed here and above, there's no question you have everything you need for a comfortable and convenient ride, no matter where you plan to go. 
Choosing the Right 2021 Subaru Impreza Model for You
Subaru offers the 2021 Impreza in two body styles - a five-door hatchback or a four-door sedan. Both options are offered in four trim levels: the Limited (top tier option), followed by the Sport, Premium, and base options. 
With the hatchback, you have the addition of a roof spoiler, and it costs slightly more than the sedan in each trim beside the Sport. All-wheel drive is standard across all options. 
While it may not seem like it, the base model is actually a smart choice. That's because it comes with plenty of tech and safety features. If you choose the Sport, you have several athletic touches, such as sport cloth upholstery and larger wheels. If you want something that's performance-focused, then this may not be the right car for you. 
The bottom line is that the Impreza offers a ride that's both comfortable and engaging, with an inviting cabin and intuitive tech. Additionally, there aren't too many compact cars that feature all-wheel drive while having an extremely high safety score. As you can see, this vehicle offers a little bit of everything, which may make it right for you. 
Stop by Granite Subaru for a test drive if you are ready to see the 2021 Subaru Impreza in action. We'll be happy to help you find the perfect Impreza for your needs.