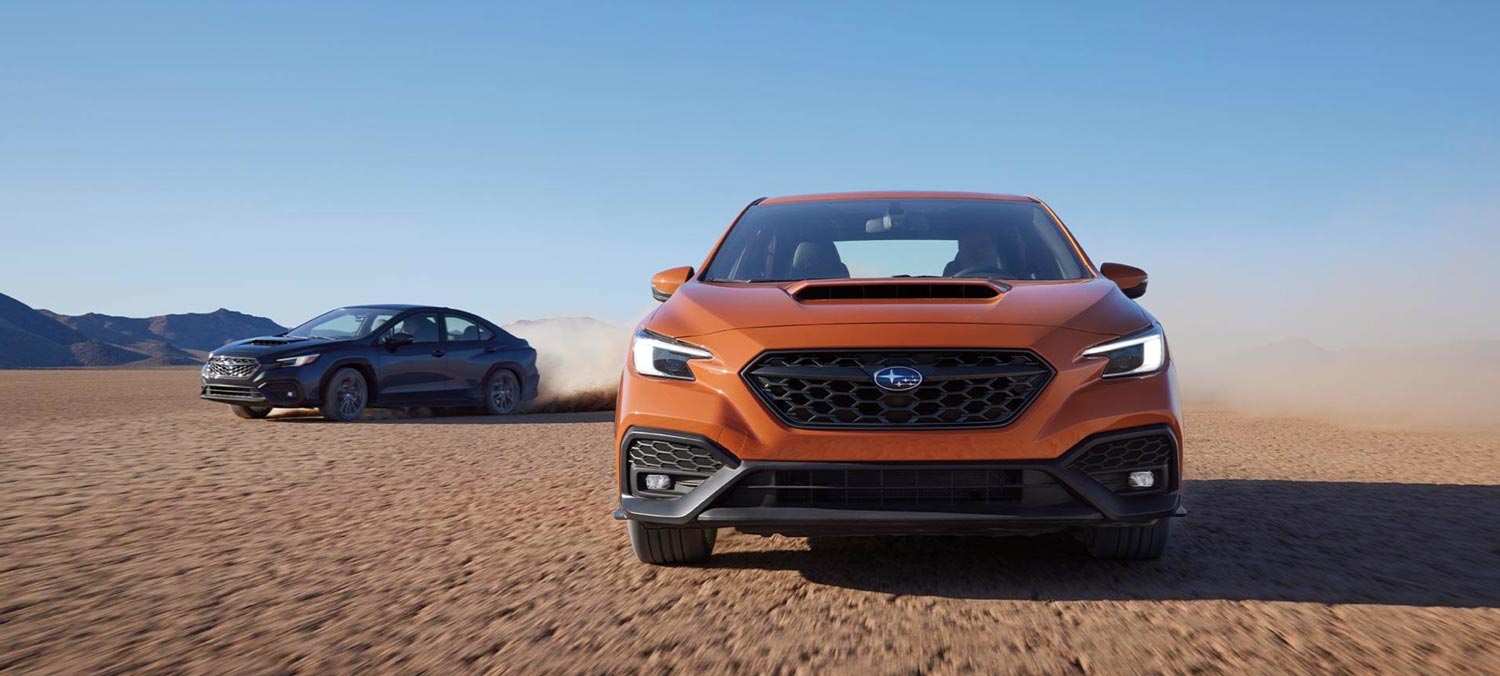 Subaru makes a ton of top-notch vehicles, and there's a reason the Subaru WRX is a favorite year after year. It's a pure joy to drive, and if you go with the STI package it can blow other vehicles off the road.
Even if you don't, it's a quick car that's fun to drive. If you're considering purchasing a WRX, keep reading and we'll break down everything you need to know about the car and how to get behind the wheel of one!
The Subaru Advantage
Subaru builds top-notch vehicles, and the WRX is certainly no exception. It all starts with the fact that every Subaru on the road has an all-wheel-drive drivetrain. This means when you need traction, you better believe that your Subaru has it.
Not only that, but unlike many auto manufacturers that are ditching manual transmissions in droves, Subaru recognizes that in a vehicle like the WRX, you need a manual transmission. That's why every 2021 Subaru WRX comes with a manual transmission.
It's a different experience when you're behind the wheel, and it all starts with controlling every aspect of your drive with a manual transmission.
Finally, if you're looking for a car that holds its value and is super dependable, it's hard to top Subaru. The WRX has a huge following so if you ever do want to sell your vehicle there are plenty of potential buyers, but we don't think you'll want to.
And of course you don't want to spend a ton of time in the repair shop, and with how reliable Subarus are you shouldn't have to.
 The Fourth Generation WRX
Subaru released their first WRX in 1992, but over the last 30 years, they've had four different generations, and in 2022 they'll release the fifth generation WRX.
Still, the fourth-generation WRX is what the 2021 WRX falls under, and it's the first generation WRX that ditched the Impreza line altogether and has the WRX as a stand-alone option.
That's a great thing for WRX enthusiasts, and it makes for a top-notch car that does everything you could possibly want out of the car - without having to deal with anything you'd find in a non-performance car.
When it comes to WRX generations, it's clear that the fourth generation WRX stands a notch above the rest.
Engine Options and Performance Specs
If you're interested in a Subaru WRX, there are two different engine options for you to consider. The WRX, WRX Premium, and the WRX Limited all come with a 2.0L turbocharged 4-cylinder, while the WRX STI and the WRX STI Limited come with a larger 2.5L turbocharged 4-cylinder.
This translates to a 2.0L engine that pushes 268-horsepower at 5,600 RPM and 258 ft-lb of torque at 2,000-5,200 rpm. Meanwhile, the turbo can push 15.9 psi of boost. Even for a base model engine, that's a great amount of horsepower, torque, and boost!
However, if you do upgrade to the 2.5L engine it pushes 310-horsepower, 290 ft-lb of torque at 4,000-5,200 RPM, and pushes up to 16.2 psi of boost.
With the WRX power, speed, and quickness aren't a problem - even if you opt for the smaller 2.0L engine option. And of course like every Subaru on the road, every WRX has an all-wheel-drive drivetrain.
 Amenities and Convenience
When you get behind the wheel of a WRX you're getting a vehicle that's both comfortable and fun to drive. Every WRX comes with power windows, cruise control, dual USB ports, a 12-volt power outlet, a lockable glove box, and the ability to control most of these features straight from your steering wheel.
Furthermore, they all have an automatic climate control system, and a Starlink multimedia system equipped with Apple CarPlay and Android Auto.
There's a lot to love with the WRX, so come see for yourself what it has to offer when you get behind the wheel.
Safety
With a five-star NHTSA safety rating and top-ranked ratings in all the IIHS crashworthiness ratings, it's hard to find a car better equipped for a wreck than the 2021 Subaru WRX.
If you do get into an accident, the WRX Limited, STI, and STI Limited comes with a Starlink system that automatically notifies first responders after an accident, helps recover stolen vehicles, and provides advanced roadside assistance capabilities.
Of course, the goal is to avoid a crash in the first place, and with a wide array of standard safety features, it does an excellent job of that too.
You get a rearview camera and brake assist come standard, but there's a litany of upgrades available that include adaptive cruise control, pre-collision braking, lane departure warnings, and so much more.
Trim Levels
There are a ton of different features in the WRX, what you get all comes down to the trim level. There are five different trim levels for you to choose from, and we'll dive into each option and what they offer for you here.
WRX
The WRX is the base model option, but that doesn't mean it doesn't have a ton of great features. It has a 6.5-inch Starlink multimedia display, a six-speaker stereo system, automatic climate control, dual USB ports, a 12-volt power outlet, steering wheel controls, and so much more.
It might be a base model option, but it has so many features it won't feel like it when you're behind the wheel.
WRX Premium
The next level up with the WRX is the WRX Premium. It introduces a power moonroof, an upgraded suspension system, auto on/off headlights, keyless access, and a slightly larger 7-inch Starlink multimedia plus system.
You also get the option to upgrade to the EyeSight Driver Assist Technology at this trim package - which includes adaptive cruise control, pre-collision braking, and lane departure warning.
WRX Limited
The WRX limited is a step up from the WRX Premium, and it includes all the features you get in the Premium trim package and then some. It's the first package with LED headlights and you can upgrade the Stereo system to a Harman Kardon nine-speaker system.
You still need to purchase the EyeSight Driver Assist Technology package separately, but there are also options to upgrade to get Blind-Spot detection with cross-traffic alerts, reverse automatic braking, and high beam assist technology.
Another feature it comes with is the Starlink Safety and Security System that automatically notifies first responders if you get into an accident gives you advanced roadside assistance and helps you track down your vehicle if somebody steals it.
WRX STI
When you jump up to the WRX STI you lose some of the features that the WRX Limited comes with, but you get the upgraded 2.5L turbocharged engine with this package. You do lose the moon roof, but you get 19" wheels.
The WRX STI comes with a 6-speed manual transmission and it's the first Subaru with an automatic dual climate control system. You can't upgrade to the EyeSight Driver Assist Technology package, the blind-spot monitoring system, or the high beam assist package at this trim level.
This trim package is all about getting the larger engine and everything you need to get the most from it.
WRX STI Limited
If you want the larger engine and all the top-end technological features in a WRX, you want the STI Limited trim package. It still comes with the larger 2.5L turbocharged engine, but you also get tons of other features.
This includes a power moonroof, Recaro performance front seats, a Harmon Kardon speaker system, blind-spot monitoring, and so much more. It comes with all the bells and whistles, and a top-notch engine that can blow others off the road.
Moreover, Subaru pairs that engine with a fully synchronized close-ratio six-speed manual transmission that lets you get the most from your engine both on the track and the road.
The Warranty
While it's not likely that you'll need to take your Subaru WRX into the shop for anything that goes wrong, one of the advantages of going with a new car is that you get some peace of mind that comes with the warranty.
Every Subaru WRX comes with a comprehensive 3-year/36,000-mile bumper-to-bumper warranty that covers just about anything you can think of. And when we say just about anything, we mean just about anything.
Because while many brands exclude wearable parts from their bumper-to-bumper warranty, Subaru doesn't. That means brake pads, wiper blades, your transmission clutch, and every other component is covered. If you need to do any work to your Subaru in the first 3-year or 36,000 miles, Subaru will cover it for you.
Furthermore, they come with a 5-year/60,000-mile powertrain warranty that covers the engine and transmission on your Subaru. That's protection and peace of mind that you can count on year after year and mile after mile.
Final Thoughts
If you're interested in driving a 2021 Subaru WRX or if you just have more questions about the car, the friendly experts at Granite Subaru would love to help you out. Just reach out and they'll help you get behind the wheel to experience the difference and thrill for yourself.
Whether it's just a test drive or you purchasing the vehicle, they'll be happy to point you in the right direction in no time!