2022 Outback Wilderness Edition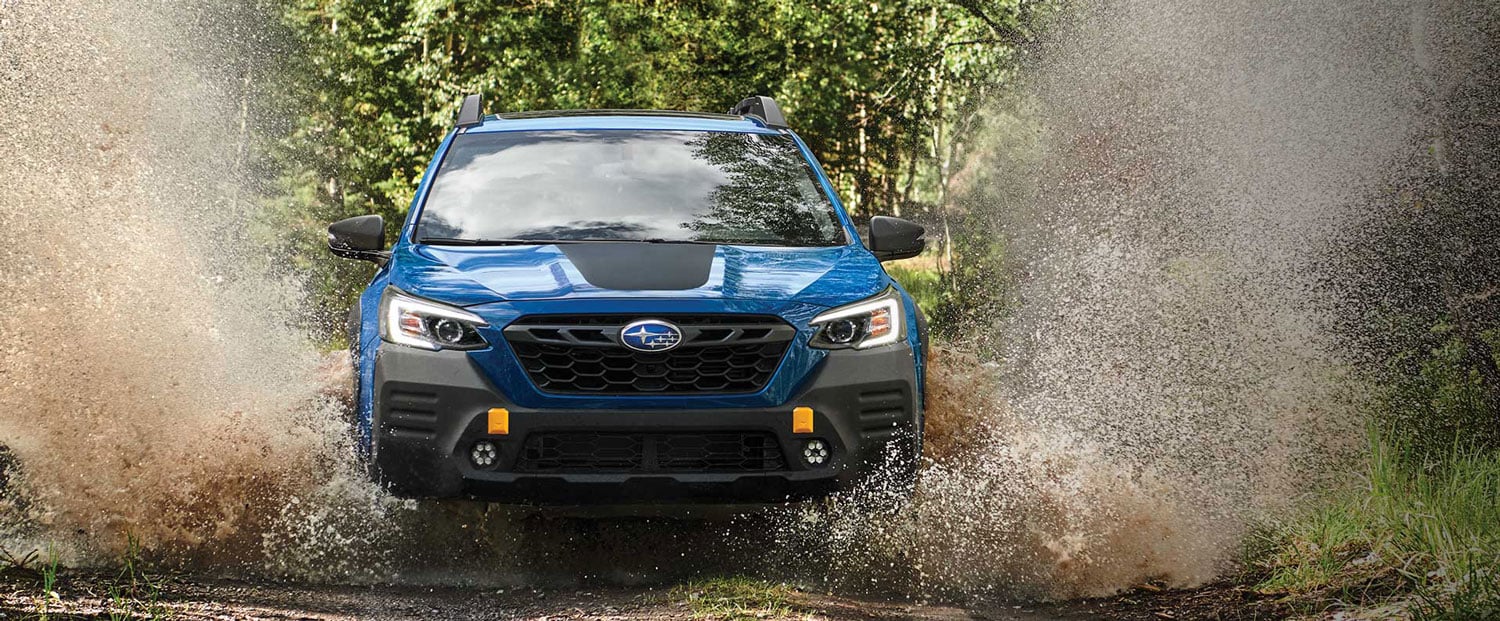 The 2022 Subaru Outback Wilderness Edition is a unique crossover SUV. It has all-wheel drive, lifted suspension, rugged, aerodynamic design, a comfortable interior, cutting-edge technology, excellent safety and driver-assistance features and the ability to handle any type of terrain. It's loved for its efficient powertrain, reliability, and car-like driving dynamics. The 2022 Outback Wilderness is a top-selling SUV. It has dramatic styling, a turbocharged engine, roof rack, improved front, and rear fascia, 9.5-inch ground clearance, specially tuned suspension, front skid plate, X-Mode traction system, and aggressive tires. The 2022 Subaru Outback Wilderness Edition is an amazing SUV. 
Exterior Features
The 2022 Outback Wilderness Edition has an appealing blacked-out exterior appearance. It has aggressive black bumpers that create a great 20-degree front approach angle and 23.6 rear degrees departure angle, front bumper tow hook, an innovative grille pattern, angular LED steering responsive headlights, hexagonal LED fog lights, anti-glare hood design, black side mirrors and window surround trim and a black roof rack with anodized copper-finish accents and fixed ladder-type cross-bars that can hold 700 pounds. The body has extended exterior cladding for extra protection around lower impact zones and wheel wells. Matte-black 15-inch aluminum rims, all-terrain tires, aggressive stance, and 9.5 inches of ground clearance complete the 2022 Subaru Outback Wilderness Edition's rugged, purposeful, off-road-ready, exterior design styling. 
 An Impressive, Roomy, Adventure-Ready Interior
While the exterior of the 2022 Subaru Outback Wilderness Edition is rough, rugged, and raw, the interior is roomy and comfortable. It has comfortable, supportive seats with copper stitching, anodized copper and gunmetal gray accents, black interior headliner, a power sunroof, and StarTex simulated leather water-repellent upholstery, seatback, floor, and cargo mats, and warm, bright cargo area lighting. There's a heated, 10-way power-adjustable driver seat, an 8-way power-adjustable, heated front passenger seat, and a back bench seat that has heated outboard seating. With 75.7 cubic feet of total volume, a 75-inch cargo floor, and 32.5 cubic feet of cargo space right behind the back seat, this crossover SUV has plenty of space for 5 people and all their gear. 
Infotainment And Connectivity Technology
Subaru equips the 2022 Outback Wilderness Edition with the latest infotainment and connectivity features people want and need. It starts with its 11.6-inch touchscreen which has the Starlink multimedia system as standard equipment. The system has Apple CarPlay, Android Auto, SiriusXM radio, navigation, hands-free smartphone operation, and wireless charging. Plus, it has voice command capabilities to control the volume of the Harman Kardon stereo system, adjust the dual-zone automatic climate control system and activate the defoggers. There are also USB ports and available access to music, news, podcasts, and other cloud-based apps. 
Engine, Transmission, Drivetrain, And More
The 2022 Subaru Outback Wilderness Edition is powered by a 260 horsepower, 2.4 liter turbocharged, direct-injection, four-cylinder Subaru Boxer engine with 5,600 rpm that produces 277 pound-feet of torque. It works together with a continuously variable transmission that has modified final-drive ratios which enable it to increase torque and give the crossover SUV more grade-climbing capability. The CVT has paddle shifters for manual control and 8 programmed ratios that sound and feel like an eight-speed automatic transmission. Together they give the Outback Wilderness a maximum towing capacity of 3,500 pounds. Add its symmetrical all-wheel drive and X-Mode and depending on the terrain the vehicle's active torque split AWD can maximize traction by sending more power to either axle. 
Upgraded Traction And Suspension Systems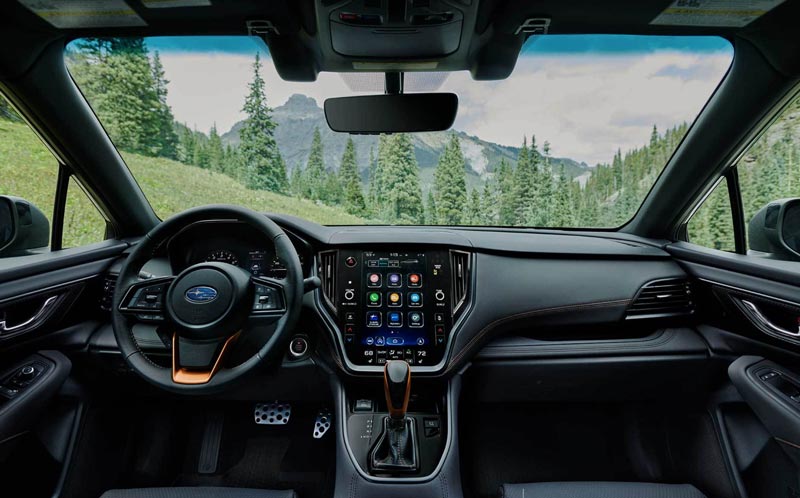 Subaru installed a special suspension and upgraded shocks and springs, a front skid plate, and optional full underbody skid plates. Plus, they increased the SUV's ground clearance and gave it longer wheel travel. It also has a sophisticated specially tuned version of the dual-function X-Mode traction system. This setup enhances the 2022 Subaru Outback Wilderness Edition's performance whether driving on regular roadways or an off-road adventure. The crossover SUV comes with white-lettered Yokohama all-terrain tires that improve grip on sand, mud, snow, and ice for even better traction. 
Great Safety Rating 
Although the 2022 Outback Wilderness Edition is designed for unlimited adventure, it is also the safest version of the crossover SUV ever. Built on Subaru's Global Platform, it uses high-strength steel for crash safety. It has a ring-shaped reinforcement frame, eight airbags, and height-adjustable head restraints to protect occupants during an impact. With the advanced safety technology, protective engineering, and Subaru's uncompromising commitment, the National Highway Traffic Safety Administration gave the vehicle 5 stars for overall safety. 
Driver-Assistance Features
With the EyeSight® Driver Assist Technology, DriverFocus® Distraction Mitigation System and the Symmetrical All-Wheel Drive system assisting drivers, the 2022 Outback Wilderness Edition is safe and easy to drive. The system monitors traffic movement, tells you if you sway outside your lane, and optimizes cruise control. With features like automatic pre-collision braking, advanced adaptive cruise control, lane centering, hill descent control, emergency braking, blind-spot detection, rear cross-traffic alert and reverse automatic braking, and help with throttle control, steering and braking/ Driving on challenging terrain, tight city traffic and speeding along the highway are less stressful. 
Unbeatable Performance
People love driving the 2022 Subaru Outback Wilderness Edition. Whether on slippery surfaces, steep hills, crowded inner-city roads, or rocky and sandy terrain, the SUV has systems that provide stability for the vehicle and confidence for drivers. Surefooted, it provides excellent traction even on slippery surfaces and Hill Descent Control gives you extra stability and control when descending difficult grades. Its engine has power and effortless acceleration, the SUV quickly responds to road conditions, and has amazing handling, a smooth ride, a great driving feel, and a surprisingly quiet cabin.
Cargo Space
This vehicle is perfect for going camping, to the beach, biking, or taking family and friends to participate in sporting events. On the way there you have 32.5 cubic feet of storage space behind the back seat and unlimited space on the roof rack for the gear. On the way back, when you open the rear liftgate, there's a water-resistant, rubber, cargo tray for wet items. Plus, the seats, seatbacks, and floor are all waterproof, so you can just toss your wet, sweaty stuff and damp bodies inside and head on home. Even if you took your dog, the SUV has an available ramp for it to go in and out of the SUV. 
Towing Capacity
With its 3,500-pound towing capacity, the 2022 Subaru Outback Wilderness Edition is the ideal vehicle for going on your exciting vacation adventures. Whether you want to tow bicycles, motorcycles, kayaks, jet-skis, or any other type of thing you need to have fun, you can use this crossover SUV to tow them with its available trailer hitch. With its all-wheel drive, X-Mode, and high ground clearance, the Outback Wilderness Edition can safely take you through snow and ice and over rugged, rocky, and wet off-road trails to get you to your vacation destination so you can enjoy yourself and have some fun.
Legendary Capability 
Subaru is known in the automotive industry for producing a long line of very capable automobiles. Its vehicles are known for superior performance, cutting-edge automotive technology, reliability, and durability. The 2022 Subaru Outback Wilderness Edition is the ultimate expression of all that Subaru automobiles represent. With its powerful, turbocharged Boxer engine, black exterior trim, rugged style, anodized copper finish, 9.5-inch ground clearance, and off-road-ready symmetrical all-wheel drive, the crossover SUV is an amazing automobile. It's ideal for daily use and vacation trips for both families and individuals. 
A Versatile Automobile
No matter why you need an automobile, the 2022 Subaru Outback Wilderness Edition is a good choice. With its rugged, attractive exterior, durable, water-repellent, textured upholstery, high-quality cabin materials, and fold-down rear seat, the SUV is designed for shuttling kids back and forth, doing grocery shopping, going on dates, or enjoying off-the-grid adventures. Its 11.6-inch touchscreen, Starlink multimedia system, and its high-quality Karman Kardon stereo system can provide all the news and infotainment that you and your passengers need to keep everyone connected and entertained.
Unmatched Reliability
The Subaru Outback Wilderness is a vehicle you can count on. About 97% of all of them bought in the last decade are still in use today. That record of reliability is why all Subaru vehicles retain their value much better than their competitors. For 7 straight years, Subaru was named the 'Most Trusted Brand' by Kelley Blue Book. For three years in a row, Subaru was chosen as the vehicle with the 'Highest overall Brand Loyalty'. Subaru was also voted 'Best Overall Brand' four times. The 2022 Subaru Outback Wilderness Edition continues that tradition. It's the right choice if you are looking for good automotive value. 
Visit Granite Subaru
If you are interested in purchasing a 2022 Subaru Outback Wilderness Edition, contact Granite Subaru. They have a wide selection of crossover SUVs. The team at Granite Subaru can answer any question you may have about the vehicle. Plus, they can allow you to kick the tires and test drive any one of the 2022 Outback Wilderness Edition that you would like. All you have to do is call them.