2022 Subaru Ascent Touring Trim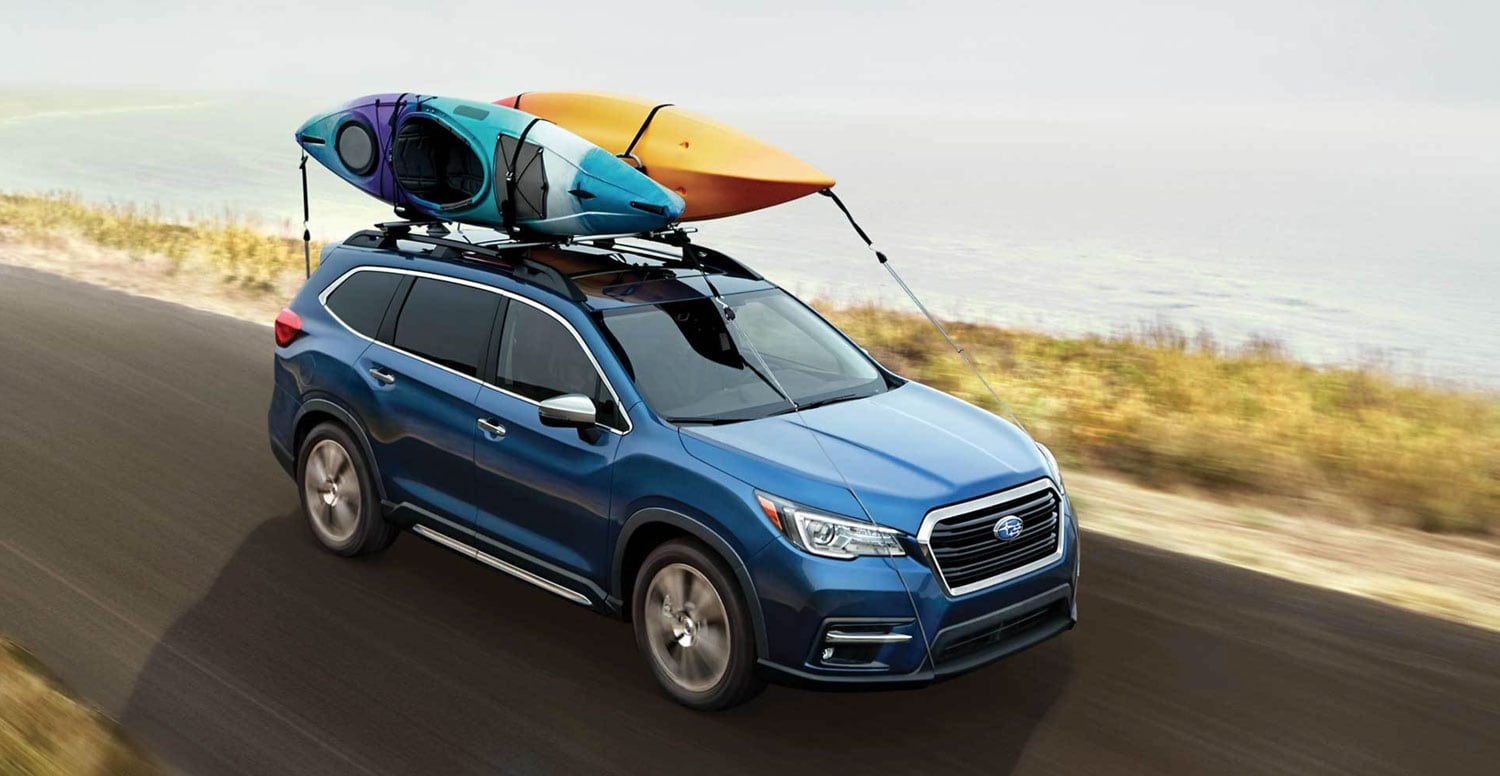 The Subaru Ascent is a popular, large SUV that is perfect for growing families and others who just need a lot of passenger space. The Ascent has a gorgeous profile that is both stylish and sophisticated, and you see the same quality and design sensibilities throughout the interior. The 2022 Subaru Ascent is also packed with comfort and convenience features, making it a joy to drive, even on long trips. 
You get a lot of great features with just the base trim level of the 2022 Subaru Ascent. However, if you move up one of the additional four trim levels, you gain access to even more great features that make the SUV more sophisticated. The Touring is the highest trim level for the 2022 Subaru Ascent, and it includes all the best of what the SUV has to offer. With the Ascent Touring, you get a gorgeous and powerful SUV that will give you years of service and enjoyment. 
Take a closer look at what you'll get with the 2022 Subaru Ascent Touring:
Exterior Styling
The Subaru Ascent is one of the larger SUVs on the market, but it doesn't lose its styling with the larger proportions like some of its peers in the class. Well-placed details, moldings, and accents give the Ascent a stylish profile. A large grille sits atop several air intakes and is flanked by sleek headlights. Grooves run the length of the body, giving the SUV a look like it's in motion, even when it is sitting still. The rear is topped by a well-designed spoiler, giving it a tailored look.
The 2022 Ascent comes in a range of exterior colors: 
Crystal Black Silica
Abyss Blue Pearl
Autumn Green Metallic
Crystal White Pearl
Crimson Red Pearl
Ice Silver Metallic
Magnetite Gray Metallic
Brilliant Bronze Metallic
All eight colors are available on the Touring trim level. 
Raised roof rails are standard for the 2022 Ascent, as are 18-inch alloy wheels. However, the Touring has upgraded 20-inch alloy wheels. Rain-sensing windshield wipers also come standard on the Touring trim level. 
 Interior Styling and Space
The interior of the 2022 Subaru Ascent Touring is attractive, spacious, and comfortable. The Ascent Touring has three rows, with the second row outfitted with Captain's chairs and the third row outfitted with a smaller bench seat. There is seating enough for seven passengers, and everyone gets a comfortable seat. There is 153.5 cubic feet of passenger space, ensuring that every passenger gets plenty of headroom and legroom. 
The seats are heated and ventilated for maximum comfort, and the front seats have multiple points of adjustment to get just the right positioning. The driver's seat even has height adjustment, thigh extension, and adjustable lumbar support. 
Four interior colors are available on the 2022 Subaru Ascent for upholstery and accents, but only two of those colors are available for the Touring trim: Slate Black and Java Brown. Both create handsome combinations with just about any of the exterior colors available on the Ascent Touring. Leather upholstery is standard on the Touring trim, as is a leather-wrapped steering wheel. 
There is 17.6 cubic feet of cargo space, and underfloor storage provides extra space where needed. 
Performance
The Subaru Ascent isn't just a pretty face. It has a strong engine and plenty of other features that make it tough and dependable on the road and off. Though the top trim level on trucks and SUVs is usually reserved for luxury features and not tough performance, that is not the case for the Touring.
The 2022 Subaru Ascent Touring is equipped with a 2.4-liter four-cylinder turbocharged Boxer engine that puts out 260 horsepower and 277 lb-ft of torque. It's a direct injected engine with a double overhead cam and variable valve timing. The engine is paired with a continuously variable transmission that provides smooth handling. Symmetrical all-wheel drive is standard, providing you with uniform power for improved handling, quicker response time even in poor conditions, and enhanced efficiency. Fuel efficiency is estimated at 20 mpg in the city and 26 mpg on the highway.

The Touring comes with an X Mode that optimizes the all-wheel drive system so that you get the best traction even on slippery surfaces. Hill descent control gives you stability on steep surfaces, and 8.7 inches of ground clearance ensures you have enough room to clear when the ride gets rocky. 
Not only is the Subaru Ascent's engine powerful enough to handle adventures off the beaten path, but it can also haul heavy loads. You can hook up a trailer to the Ascent Touring and tow up to 5,000 pounds. An available Class III trailer hitch can also be installed at purchase. 
Convenience Features
The 2022 Subaru Ascent is loaded with advanced features, and the Touring trim level has the best of them. You'll find plenty of great convenience features on the Touring that will make it a joy to drive. 
In addition to the automatic climate control, there is a rear climate panel for easy access. You can even control the climate through an app on your phone, allowing you to warm up or cool down the SUV before you even get inside to ensure that you have a comfortable ride waiting. You also get keyless access and push button start. 
A power rear gate makes it easy to access the cargo area, and a panoramic moonroof lets in the fresh air. The moonroof is only standard on the Touring trim. Plenty of storage is available throughout the cabin, and 19 cupholders are available to ensure that everyone can have a drink close by without risk of making a mess. Small details like this throughout the Touring make for a comfortable and pleasant ride. 
Infotainment Technology
A great infotainment system provides a great backdrop for long road trips in the Subaru Ascent Touring, as well as for those boring commutes to work every day. The Touring comes with a Subaru Starlink multimedia system that includes Apple CarPlay and Android Auto for smart phone integration and streaming. It also has 4G LTE wifi capability, allowing you to access the web or connected apps at any time. 
The Touring exclusively has a 14-speaker 792-watt-equivalent Harman Kardon premium audio system. The Touring is also the only trim level to come with a Starlink Multimedia Navigation system built in. You can control the entire system through a large, color touchscreen with easily navigable buttons and controls. 
Safety Features
Many people who are looking at a three-row vehicle like the Subaru Ascent have a large family to transport. For that reason, safety is often at the top of their minds. The 2022 Subaru Ascent Touring has received top safety marks, and it is packed with great safety features that provide added protection on the road. 
The Touring is equipped with the Standard EyeSight Driver Assist Technology, which is a 180-degree front view monitor that is connected to automatic emergency braking, adaptive cruise control, and lane departure warning and lane centering. EyeSight helps drivers to avoid collisions by anticipating problems and making corrections. 
Additional safety features include rear cross-traffic alert, reverse automatic braking, and blind spot detection. These features are optional on the lower trim levels, but they are standard on the Touring trim. 
The Starlink security and notification system automatically contacts emergency services in case of a collision, ensuring that you get the help you need quickly, even when you can't call yourself. It also provides roadside assistance in case of mechanical problems, and it has a vehicle recovery component in case your Subaru is stolen. The system also includes vehicle alerts and remote services. The system even has a concierge feature in case you need help finding things like restaurants and hotels when you are traveling. 
Test Drive the Subaru Ascent Touring Today
The 2022 Subaru Ascent has been making headlines with its impressive array of features and its reliable performance. The Subaru Ascent Touring represents the best of what the all-new Ascent has to offer, giving you all the features in the SUV, allowing you to enjoy a luxury ride. Granite Subaru is proud to sell the Subaru Ascent Touring, and we encourage you to visit us today to take a test drive of this amazing SUV. You'll fall in love with the way it handles, and you'll want to spend hours inside its cab.
Our friendly associates will walk you through all the features, helping you understand how the Touring distinguishes itself from the other trim levels in the lineup. We can also help you configure your Touring with different color choices and options packages. Visit us today to learn more about your options! Our finance specialists will also help you find the terms to make the Touring affordable for your budget. Our team will be there for every step of the process to help you make the right choice for you. Visit us today to take your test drive and start configuring your Subaru Ascent Touring.