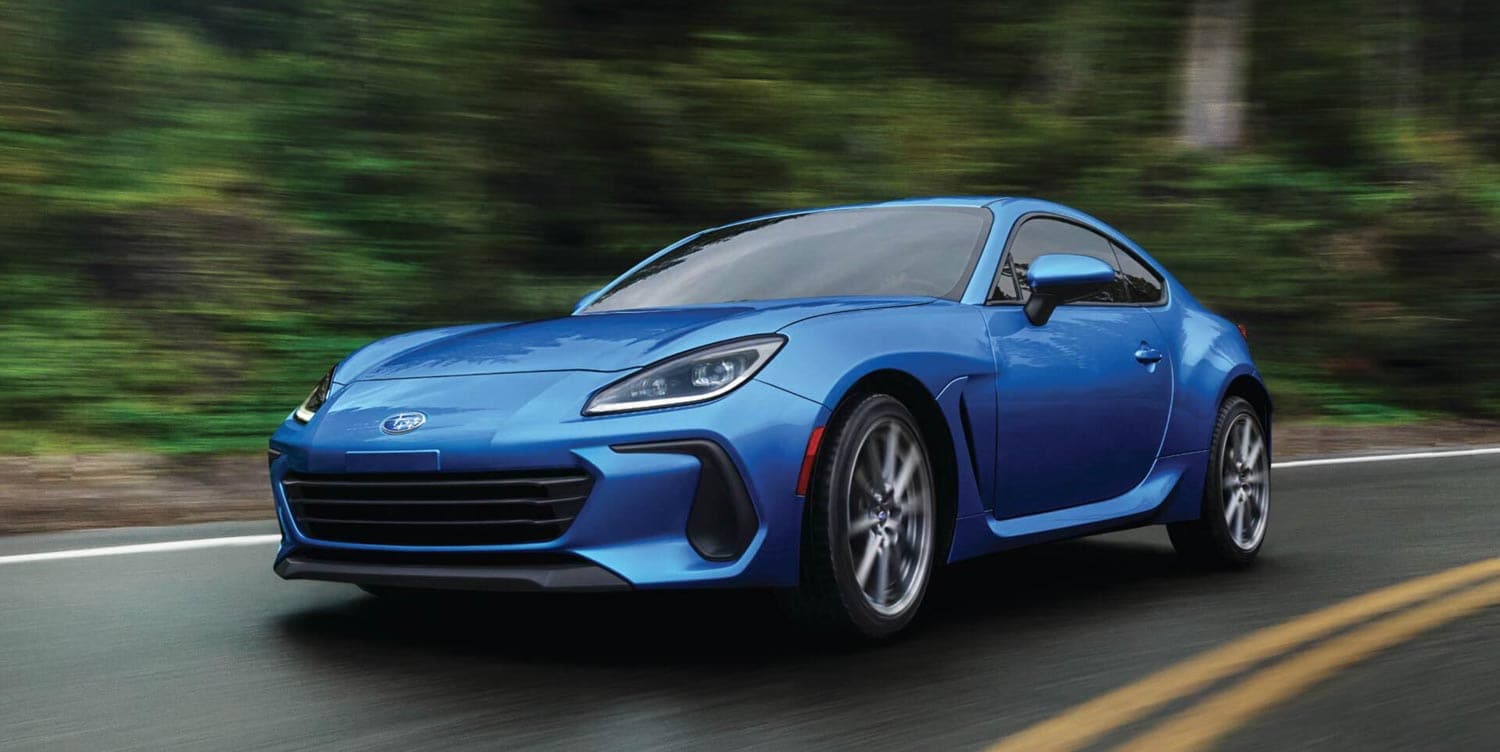 Looking for a sports car that is fun to drive with a powerful performance that doesn't break the bank? The Subaru BRZ could be just that car for you. This vehicle is comfortable and powerful. It gives you a nice interior and a fun driving experience. The best part? It's an affordable option for those that aren't looking to spend all their money on a vehicle. The Subaru BRZ is the whole package, and it is a great option. Below, you can check out what's new for the 2022 BRZ model, as well as an in-depth review of the model as a whole. 
What's New for 2022? 
The Subaru BRZ is completely redesigned for 2022. This vehicle skipped production in 2021 to give you an entirely redesigned vehicle in 2022. One big change is an upgraded engine from 2.0-liters to 2.4-liters to give you a better performance and quicker acceleration. The interior and exterior of this vehicle have been redesigned, as well, so there are a lot of great features to look out for in this Subaru BRZ model. To check out all the features this vehicle has to offer you, read the in-depth model review below. 
Performance and Engine Options
The Subaru BRZ is a fun to drive sports car. This vehicle gives you an exciting and athletic performance. Check out what makes this performance worthwhile here. 
2.4-liter four-cylinder - Under the hood of the Subaru BRZ, you can find a 2.4-liter four-cylinder engine. This engine gives you 228-horsepower and 184 pound-feet of torque. 
This vehicle comes with rear-wheel drive, and it is home to a standard six-speed manual transmission. However, there is an available six-speed automatic transmission with paddle shifters. With this engine, you can go from zero to 60 in about six seconds. It offers you responsive steering and the transmission seems very precise. This vehicle also has a re-tuned, track-tested suspension for increased performance. When it comes to fuel efficiency, this vehicle does well for a sports car. This vehicle gets around 21 city and 30 highway miles per gallon.
Overall, this vehicle is fun to drive because it is powerful with precise steering. It is a well-balanced and responsive vehicle with good brakes. However, there is more to this vehicle than just the performance. Check out some of the other features this vehicle offers you below.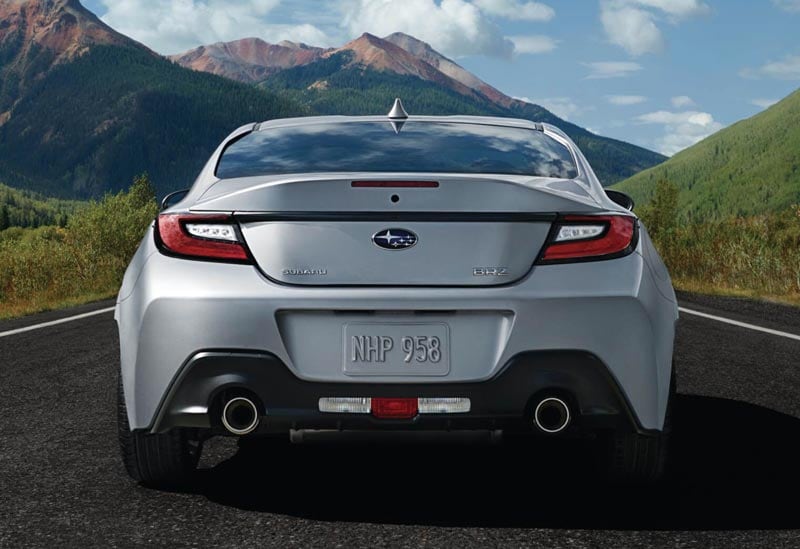 Exterior
The chassis of the Subaru BRZ has been redesigned and reengineered to be lighter for you. It has a lower center of gravity, increased torsional rigidity, and increased front lateral rigidity. This vehicle also has 18-inch alloy wheels and sport tires available to give you an even better performance. This vehicle's exterior is smooth, sporty, and aerodynamic. It has smooth lines and sculpting and almost diamond shaped headlights to give you a sporty and aggressive look. 
This vehicle comes with some great exterior colors like Ice Silver Metallic, Sapphire Blue, Crystal Black Silica, Crystal White Pearl, Magnetite Gray Metallic, WR Blue Pearl, and more. You can make this vehicle your own look and style with the different exterior color options, and it gives you a great style with this overall exterior look and styling.
Interior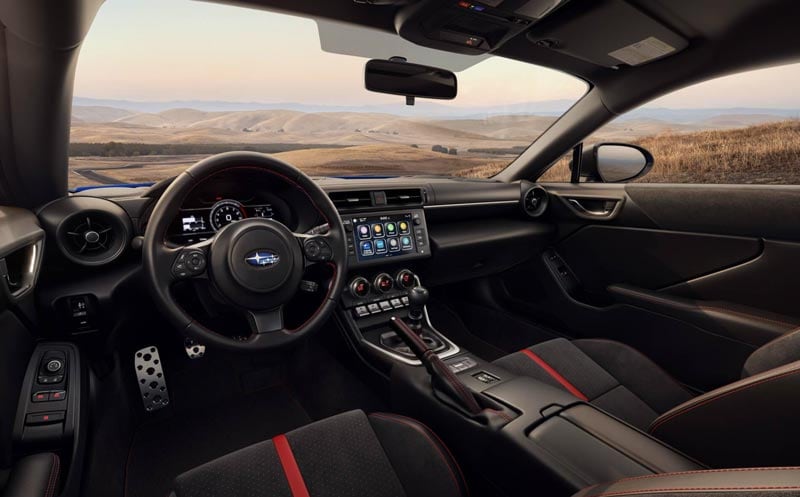 On the inside of the Subaru BRZ, you have seating for up to four people. There are two rows of seating with standard cloth upholstery. The front seats are comfortable and spacious, but the rear seats do not offer quite as much space. The interior has available upgrades like synthetic leather upholstery and heated front seats to add more style and comfort to your vehicle. 
There is not much room for cargo in this sports car because it is designed for a focus on performance. The trunk has 6.3 cubic feet of space. However, if you fold down the rear seats, you get a bit more space for larger items. 
There are only two trim levels for the Subaru BRZ, the Premium and Limited trim. The Premium is your base option, so it will be more affordable, but it will still give you the powerful engine and good performance. The Limited trim will add some features like synthetic leather upholstery, heated seats, and features like blind spot monitoring. 
Technology Features
There are also some great technology features on the inside of this vehicle. You can check out more of the technology features that are available on this vehicle below. 
Touchscreen Infotainment - Your Subaru BRZ is home to an 8-inch touchscreen infotainment system. The system is easy to use and intuitive, and it makes it easy to have access to apps, music, and more to keep you entertained and connected while you're on the road. 
Apple CarPlay and Android Auto - Connect your smartphone to your vehicle with the Apple CarPlay or Android Auto compatibility. This system connects your phone to your touchscreen infotainment system so that you have access to your maps, apps, music, and more. You get all this through your vehicle's infotainment system so that you won't be on your phone while you are driving. 
Bluetooth - Bluetooth capability in your 2022 BRZ allows you to talk on your phone hands-free. When you are connected to Bluetooth, you can stay connected to your friends and loved ones, while keeping your hands on the wheel and eyes on the road. 
Digital Gauge Cluster - This vehicle also has a 7-inch digital gauge cluster to give you important information about your vehicle. This display gives you vehicle diagnostics and information you will want. 
Push-Button Start - You can also get proximity keyless entry and a push-button start with your Subaru BRZ. These features make things more convenient for you. With keyless entry, your vehicle automatically unlocks when the key fob is close enough, so you don't have to have your keys in your hands. The same works with the push-button start. This means you don't have to take your keys out of your pocket. 
These technology features keep things convenient for you, as well as keeping you and your passengers entertained while you are on the road. There are also some safety technology features that can keep you safer while on the road, and you can learn more about those below. 
Safety
The 2022 Subaru BRZ has some active safety technology features available to you so that you can stay safer while driving. Every model comes standard with a rearview camera, but to get other active safety features like adaptive cruise control, lane keep assist, and more, you have to upgrade to a higher trim level. Learn more about some of these safety features below. 
Rearview Camera - See behind you when you are going in reverse with the standard rearview camera. This camera can make backing up and parking so much easier because you can see much better and avoid potential blind spots that you have. 
Forward Automatic Emergency Braking - This safety feature pairs with the forward collision warning. The warning feature will use sensors and cameras to detect a potential front-end collision and alert you of it. This feature will automatically apply the brakes to help avoid an imminent impact, which can save you and your loved ones from being in a car crash, or it can lessen the severity of the impact. 
Blind Spot Monitoring - This safety feature will detect if there are vehicles in your blind spots. Every vehicle has blind spots, and this safety feature will alert you to a vehicle in your blind spot so that you don't try to change lanes or move when a vehicle is there and you could collide with them. 
As you can see, this sports car has a lot to offer you. The 2022 Subaru BRZ has an exciting performance with a capable engine, as well as great handling. It gives you a nice interior with some exciting technology features. You also have some great safety technologies available. Overall, this vehicle is fun to drive and can give you an exciting performance that also has an affordable price tag. 
Questions about the Subaru BRZ or any other Subaru vehicles? You can reach out to us at Granite Subaru. Our expert staff would be happy to answer any questions you may have about this vehicle or any others. We want you to get a vehicle that fits with your lifestyle.