2022 Subaru Crosstrek Hybrid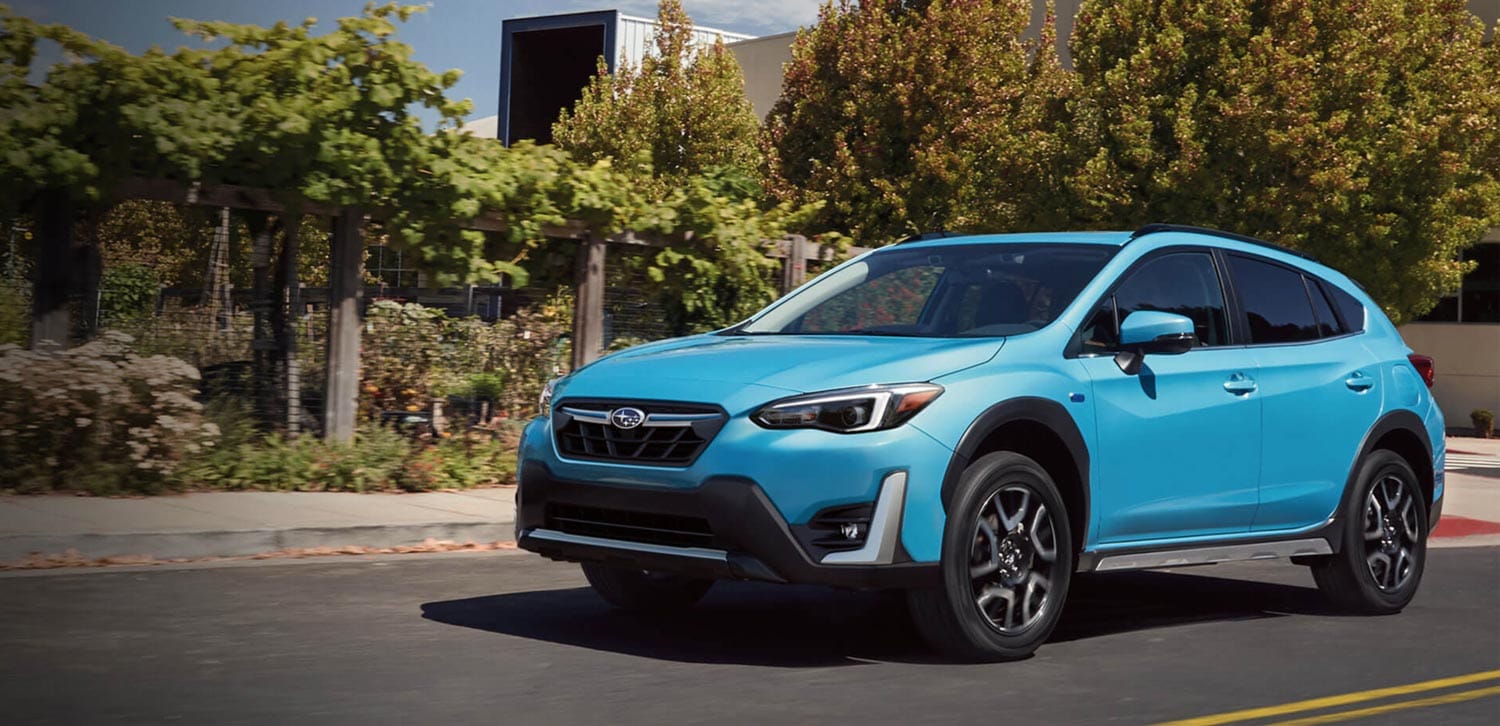 A small SUV like the Subaru Crosstrek can offer you capabilities like a city-friendly size, as well as good passenger and cargo space. SUVs are a great option for many people. The Subaru Crosstrek is a very capable SUV option, but it is also available in a Hybrid version, which we will be taking a closer look at right here.
Why choose a Hybrid SUV? Going Hybrid with your vehicle can be a great choice. This is a more eco-friendly option because the vehicle uses less fuel and produces less emissions. You also will save a little bit of money at the gas pump and get better fuel efficiency.
Below, you can take a close look at everything the 2022 Subaru Crosstrek Hybrid has to offer you in terms of performance and features. If you have any questions about this vehicle or any other Subaru vehicles, you can reach out to us at Granite Subaru.
 Performance and Engine Options
If you want a great mix of power and efficiency, the Subaru Crosstrek Hybrid is a great option for you. This vehicle is eco-friendly, and it helps you spend less money at the gas pump. Learn more about what this SUV has to offer you in terms of performance here.
The powertrain for the 2022 Crosstrek Hybrid is a turbocharged 2.0-liter liter four-cylinder engine that is paired with two electric motors. This engine gives you 148-horsepower and 149 pound-feet of torque. The engine is paired with a continuously variable automatic transmission, and this vehicle comes standard with all-wheel drive.
In terms of efficiency, the Crosstrek Hybrid gives you about 35 miles per gallon in gas mode, but in hybrid mode, you get about 90 miles per gallon. In this SUV, you can go 17 miles on electric power with the 8.8-k-Wh lithium-ion battery. This battery can be fully charged in five hours when you are using a 120-volt household outlet. If you have a more powerful 240-volt outlet, you can charge this vehicle in about two hours. 
Overall, the performance of this vehicle is capable of taking on your adventures. The hybrid option allows you to be more fuel efficient and still be able to take on your daily driving. However, there is a lot more that this vehicle has to offer you. Learn more about it below.
Exterior
The exterior of the Subaru Crosstrek Hybrid is 14.7 feet long. This vehicle's curb weight is 3,717 pounds. The Crosstrek Hybrid is a subcompact SUV. This vehicle is not a large SUV, but it does have a lot to offer you. It is more of a city-friendly size, which can make it a great vehicle for your daily commute.
The exterior of this vehicle can be found with colors like Lagoon Blue Pearl, Cool-Gray Khaki, Magnetite Gray Metallic, and Crystal White Pearl. With exterior features like integrated roof rails, the Crosstrek becomes even more capable for you. This vehicle also has 18-inch black alloy wheels, LED steering responsive headlights, LED fog lights, and 8.7 inches of ground clearance.
 Interior
You have seating for five people in the 2022 Crosstrek Hybrid. This vehicle comes standard with leather upholstery and heated front seats. This vehicle also gives you a power-adjustable driver's seat standard. There is a heated steering wheel available, as well. The Subaru Crosstrek has a nice interior and the seating is comfortable with plenty of room for passengers.
When it comes to cargo space, the Crosstrek Hybrid gives you 15.9 cubic feet of cargo space behind the rear seats. When you fold those rear seats down, you get up to 43.1 cubic feet of cargo space.
Technology
You can also find some great technology features on the inside of the Subaru Crosstrek Hybrid. Below, we will highlight some of the key technology features offered for you.
Touchscreen infotainment - This vehicle comes standard with an 8-inch touchscreen infotainment system. This is a Starlink infotainment system that is easy to use and intuitive. There are touchscreen controls for the infotainment system, as well as physical knobs to adjust settings like climate and audio. 
Apple CarPlay and Android Auto - You can also connect your smartphones to your vehicle with the Apple CarPlay and Android Auto capabilities. This allows you to have access to phone contacts, music, apps, and more through your touchscreen system, so you have access to the information and entertainment you need without having to physically be on your phone. 
Wi-Fi hotspot - There is also a standard Wi-Fi hotspot in the Crosstrek Hybrid to help you stay connected. You can use this feature for entertainment, and you can even make your SUV a mobile office when necessary. 
Bluetooth - Talk hands-free with Bluetooth capability in your Subaru. This feature is a simple way to talk on the phone hands-free so that you can stay connected, and keep your hands on the wheel and eyes on the road. 
USB ports - You also have the ability to keep devices connected and charged with the USB ports found in your Crosstrek. 
Navigation system - You'll never get lost again with the optional navigation system for your SUV. This system will help you see where it is you are going, so that you know the right route to take. 
Push-button start and keyless entry - Your Crosstrek also gives you a keyless entry and push-button start for ease and convenience for you.
Those are some of the main technology features found in the 2022 Crosstrek Hybrid, but this vehicle is also home to some great safety technology features that you can find out more about below.
Safety
This vehicle is designed and built to keep you safe when you are on the road. The 2022 Crosstrek Hybrid has received some great safety ratings. The Insurance Institute for Highway Safety named this vehicle a Top Safety Pick +. It earned the highest rating of Good in crash safety tests and the highest rating of Superior in front crash prevention systems. You can learn more about some of these safety prevention features below.
Blind Spot Monitoring - This safety feature will alert you if there is a vehicle in your blind spot, so that you do not hit that vehicle if you try to change lanes. 
Rear Cross Traffic Alert - You can avoid a potential collision when you are moving in reverse with a rear cross traffic alert. This feature will detect vehicles crossing behind you when you are going in reverse, and it will alert you of those vehicles, which can be beneficial when backing out of parking spaces and beyond.  
Adaptive Cruise Control - With adaptive cruise control, you will stay a safe distance from the vehicle in front of you. This feature measures the distance from you and the vehicle in front of you, and it will automatically slow down your vehicle if you are getting too close to the vehicle in front of you.
Automatic Emergency Braking - This forward emergency braking feature can look out for you and your passengers. If it detects a potential front-end collision, it will automatically apply the brakes to avoid a potential collision or lessen the impact of one.
The features mentioned above are all standard on the Crosstrek Hybrid. This vehicle also offers you standard lane keep assist, lane departure warning, adaptive headlights, a rearview camera, and collision warning. 
As you can see, the Subaru Crosstrek Hybrid has a lot to offer you. If you have any questions about this vehicle and what features it has, you can reach out to us at Granite Subaru. We also have the non-hybrid version of the Subaru Crosstrek. Both are very great options, and we can help you determine which one is right for you.