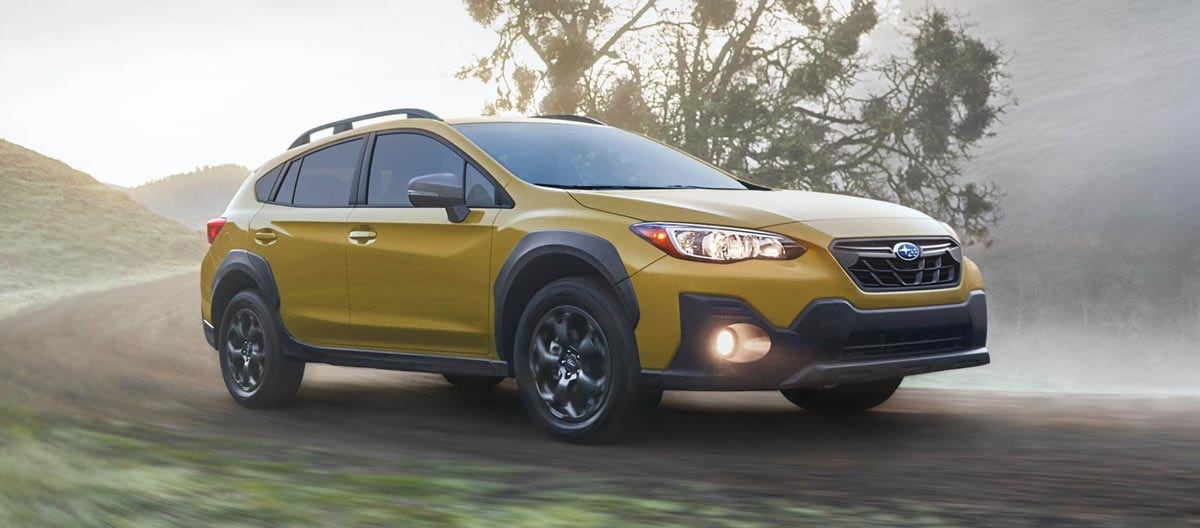 The Subaru Crosstrek is found in the subcompact SUV class. It is not a large SUV, but it does offer you some great features and performance. Subaru vehicles are known for their capability, reliability, and even their all-wheel drive. This vehicle does not disappoint in any of those areas, and it also adds some great technology and safety features. The 2022 Subaru Crosstrek can also be found at a very affordable price point for you.
For the 2021 model year, the Crosstrek got a few big updates like new exterior styling, a more powerful engine option, and a Sport trim. For the 2022 model year, you won't see any major changes, but there may be a few features to watch out for. Learn more about all that this vehicle has to offer you below. If you have any questions about this vehicle or any other Subaru models, you can reach out to us at Granite Subaru; we would be happy to help you with your next upgrade.
Performance and Engine Options
Subaru vehicles are known to give you capable and reliable performance. These SUVs work hard for you and help you get where you need to go with capable engine options and all-wheel drive. Learn more about the specifics of this vehicle's performance below.
2.0-liter four-cylinder engine - Your base engine for the 2022 Crosstrek is a 2.0-liter four-cylinder engine. This engine produces 152-horsepower and 145 pound-feet of torque. 
2.5-liter four-cylinder engine - The second engine option for this vehicle is a 2.5-liter four-cylinder engine that gives you 182-horsepower and 176 pound-feet of torque.
The standard transmission in the Crosstrek is a six-speed manual transmission, but there is a continuously variable automatic transmission available. The Crosstrek is found with all-wheel drive to give you the capability you need to take on tough terrain and all kinds of road conditions.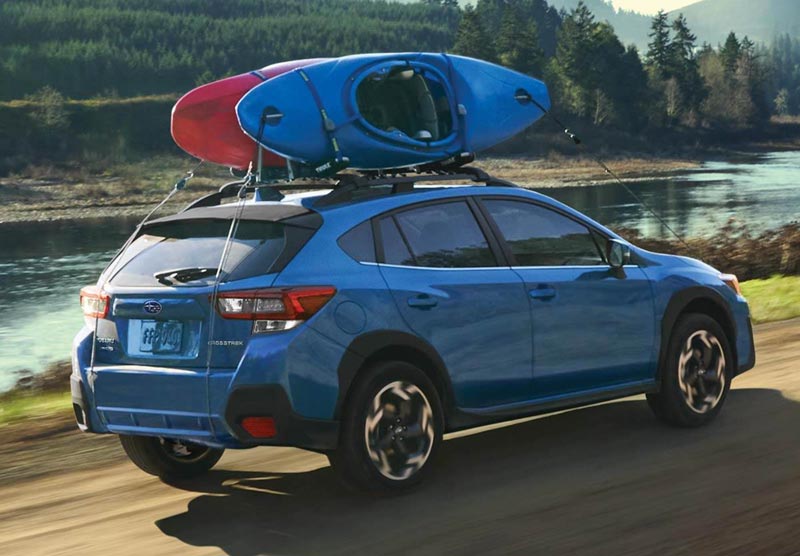 This vehicle also has some good fuel efficiency for you, whether you are on a road trip or doing more city driving. You also have a bit of basic off-road performance with the all-wheel drive and the 8.7-inches of ground clearance that this vehicle gives you.
Exterior
The exterior of the Subaru Crosstrek has a sporty and capable look with functional features like the roof rails and an aggressive stance with plenty of ground clearance. You can also get 18-inch aluminum alloy wheels in a dark gray finish with all-season tires. LED responsive headlights are another feature found on the exterior of this vehicle, as well as body-color folding side mirrors.
You can show your own personality and style in the Crosstrek with exterior paint options like Plasma Yellow Pearl, Pure Red, Horizon Blue Pearl, Cool-Gray Khaki, Crystal Black Silica, Lagoon Blue Pearl, and more. The exterior of this vehicle also has styling features like an aggressive grille, gunmetal finish exterior accents, wheel arch moldings, and more. However, this vehicle also has a lot to offer you on the inside; check out many of the popular interior features in the sections below.
Interior
On the inside of the 2022 Crosstrek, you can get seating for five people. This is spacious and comfortable seating in both rows with standard cloth upholstery. There are interior upgrades available in this vehicle like leather upholstery, heated front seats, and a six-way power-adjustable driver's seat.
Another great part of the Crosstrek is its cargo capacity. This is in the subcompact SUV class, but it is not short on cargo space. You get 20.8 cubic feet of cargo space behind the rear seats, but you can get up to 55.3 cubic feet of cargo space with those rear seats folded down.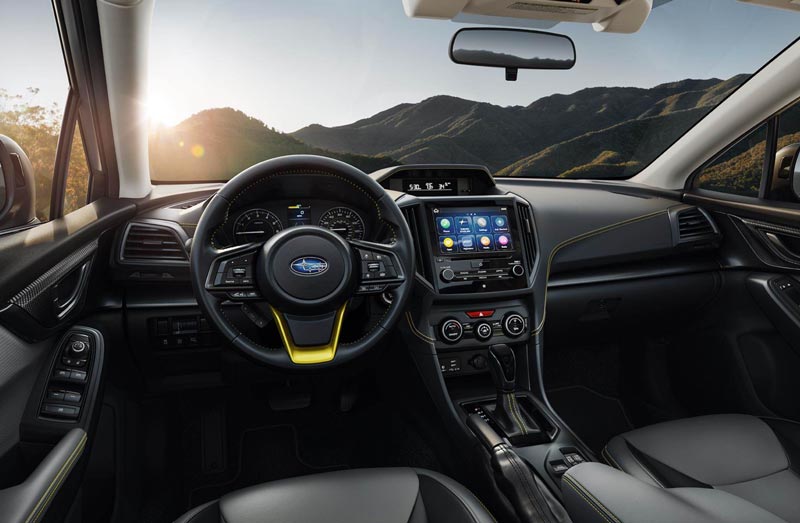 This vehicle is found with four different trim levels. Each trim level includes different features. The trims are the Base, Premium, Sport, and Limited. The two higher trims have the more powerful engine and a few more features, but the lower trim levels will be the more affordable option. We can help you determine which model might be best for you.
Technology
This subcompact SUV is not short on technology. It has a lot to offer you from an intuitive infotainment system to smartphone integrations. Learn more about some of the popular tech features that can be found on the inside of this vehicle.
6.5-inch touchscreen - Your Crosstrek comes standard with an easy-to-use StarLink infotainment system and a 6.5-inch touchscreen to give you access to apps, music, and more. There is the option of upgrading to a larger 8-inch touchscreen.
Apple CarPlay and Android Auto - You can connect your smartphone to your vehicle with Apple CarPlay or Android Auto. These systems give you access to important information from your phone through your touchscreen infotainment system. For example, you can get access to phone contacts, music, apps, and more. 
Bluetooth - Bluetooth helps you stay connected and be hands-free at the same time. Bluetooth allows you to talk on the phone to friends and family through your vehicle so that you can keep your hands on the wheel and your eyes on the road. 
USB ports - You also have multiple USB ports in your Subaru Crosstrek to give you the ability to charge devices on the go. 
Wi-Fi hotspot - Whether you want to work or play, the Wi-Fi hotspot on the Subaru Crosstrek will keep you connected and entertained. 
Navigation - You can also get a built-in navigation system to help you know exactly where you are going no matter if you are in the city or on a cross-country road trip. 
Premium audio system - If you enjoy listening to podcasts, music, and more while you are on the road, you will enjoy the premium audio system that this vehicle can offer you. You can get an eight-speaker Harman Kardon stereo with your Crosstrek. 
Remote start - You can also get a remote start with your Crosstrek. This can help you get your car warmed up in cold weather without leaving the comfort of your home.
This is not the only technology found in the Crosstrek, there are also features like satellite radio, proximity keyless entry, and more. You can also find a lot of great safety technology in this SUV; learn more about that below.
Safety
The 2022 Crosstrek is designed with safety in mind from the construction of the vehicle to the features like airbags. However, all Subaru Crosstrek models also come with Subaru's EyeSight suite of safety features.
This suite of safety features includes forward collision warning, automatic emergency braking, lane departure warning, adaptive cruise control, and lane keep assist. There are also some additional safety features that can be added, which include reverse automatic emergency braking, rear cross traffic alert, and blind spot monitoring. Check out more about some of these safety technologies and how they work below.
Reverse Automatic Emergency Braking - This feature detects vehicles that may be behind you when you are going in reverse. If it detects a vehicle or imminent collision, it can apply the brakes for you so that you can avoid an impact. 
Lane Keep Assist - This feature is paired with a lane departure warning feature. If the lane departure warning detects that you are drifting out of your lane unintentionally, the lane keep assist feature can make minor steering corrections to keep you in your lane. 
Blind Spot Monitoring - Your Subaru Crosstrek, like any vehicle, has a few blind spots, but this feature can help you watch out for those. Blind spot monitoring has sensors to detect if there is a vehicle in your blind spot; if there is, it will alert you so that you don't hit that vehicle. 
Adaptive Cruise Control - This safety feature helps you stay a safe distance from the vehicle in front of you when you are out on the highway. The adaptive cruise control feature will monitor the distance from the vehicle in front of you and automatically slow down your vehicle to maintain a safe distance.
These safety features look out for you and can potentially prevent a collision from occurring in the first place to keep you and your loved ones safer.
The 2022 Subaru Crosstrek is a capable subcompact SUV. This SUV has a lot to offer you in terms of performance, style, and features. If you have any questions about this Subaru vehicle and whether or not it is right for you, you can reach out to us at Granite Subaru. We are happy to help you out with your next vehicle upgrade.