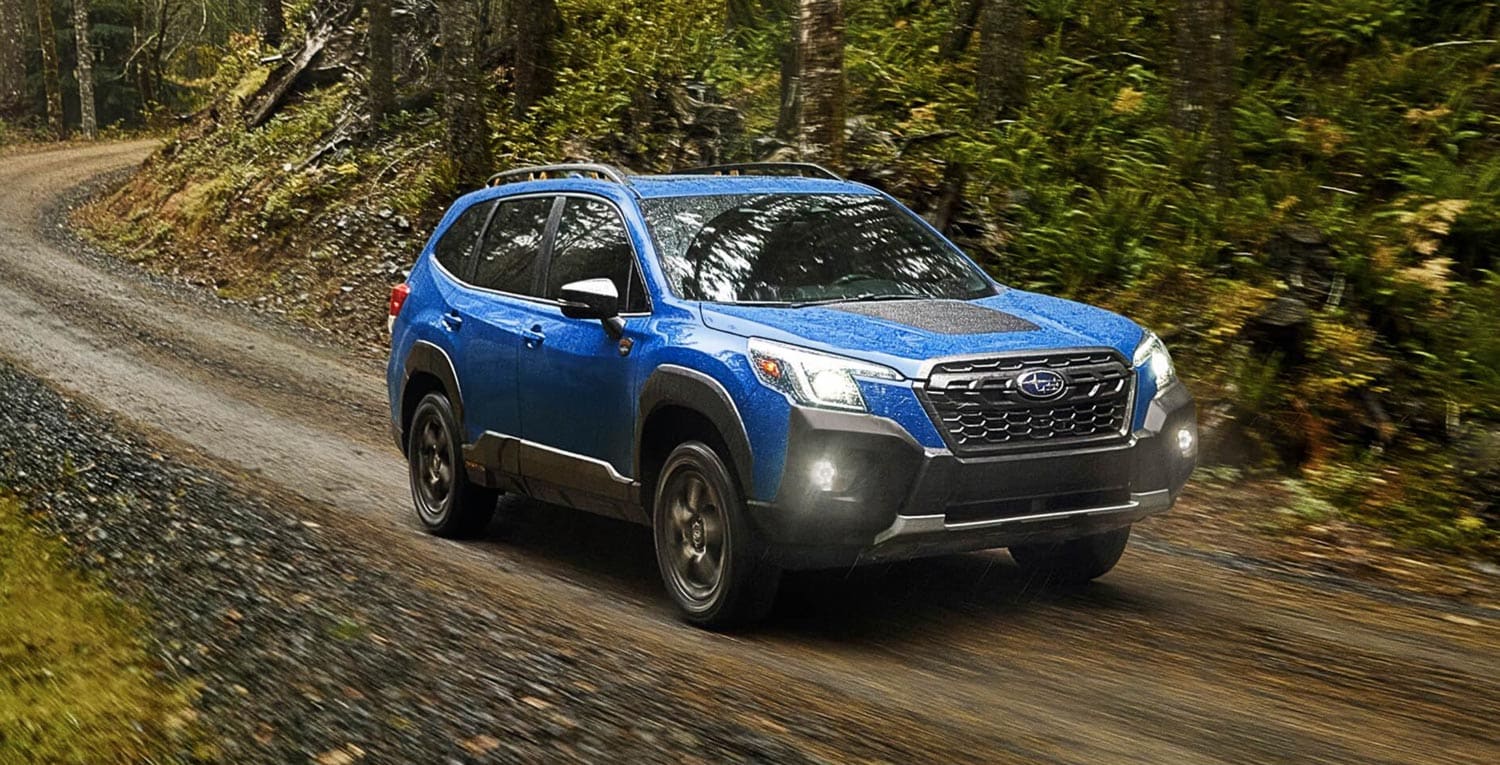 The Subaru Forester is a compact SUV. This vehicle has two rows of seating for up to five people. This compact SUV can be city-friendly and it can take you on longer road trips. It is a reliable and capable vehicle. You can learn more about why you might want to buy the Subaru Forester below.
What's New for 2022?
The Subaru Forester has experienced a few updates for the 2022 model year. These updates include some updated exterior features and styling. The other main update for the 2022 model year is the addition of a new Wilderness trim. This trim level offers you more ground clearance than other models for more off-road performance. This Wilderness trim also has all-terrain tires and a forward-facing off-road camera. This trim also gives you more towing capacity at up to 3,000 pounds of towing compared to most of the other trims offering you 1,500 pounds.
Learn more about what exact features can be found on the 2022 Subaru Forester below. We will take an in-depth look at the performance, exterior, interior, technology, and safety in the 2022 Forester.
 Performance and Engine Options
When it comes to performance, Subaru vehicles are known to be reliable and get you where you need to go. They offer you plenty of capability and are vehicles you can depend on.
The 2022 Subaru Forester is home to a 2.5-liter four-cylinder engine. This four-cylinder engine gives you 182-horsepower and 176 pound-feet of torque to give you plenty of power to get where you need to go. This engine is paired with a continuously variable automatic transmission.
Another important thing worth noting is that the Subaru Forester comes standard with all-wheel drive to give you that extra capability in tough driving situations. It can help you drive in different weather conditions, as well as giving you the capability to do some light off-roading. This vehicle gives you at least 8.7 inches of ground clearance, but you can get even more than that in the Wilderness model.
Overall ride quality in the 2022 Forester is good and the handling and braking are good, as well. This is a capable vehicle for you in terms of performance. If you are looking for more towing capacity and off-road capability, you might want to check out the Wilderness trim as it has a few more features to give you a better performance. Learn more about what other features it offers you below.
Exterior
The exterior of the Subaru Forester measures 15.2 feet long, and it has a curb weight that ranges from 3,454 to 3,620, depending on the specific model. The exterior of this vehicle looks sporty and is capable for you. With features like roof rails for extra storage, you have the capability to bring extra cargo or even adventure gear.
For exterior styling, this vehicle can be found in colors like Geyser Blue, Crimson Red Pearl, Cascade Green Silica, Horizon Blue Pearl, Brilliant Bronze Metallic, and more. You also have an aggressive-looking grille and features like LED lights.
Interior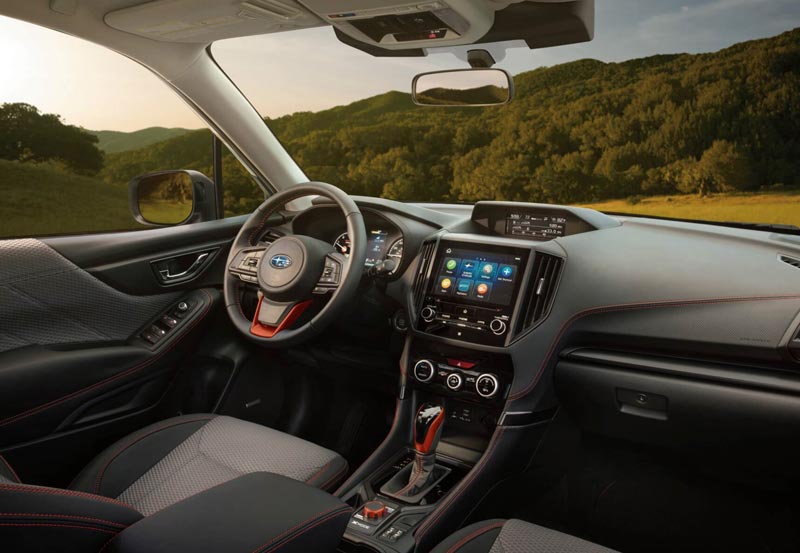 On the inside of the 2022 Forester, you can find seating for five people. This vehicle comes with standard cloth upholstery, but there are optional seating upgrades like leather upholstery, heated seats, and power-adjustable front seats. There is also a heated steering wheel available. This vehicle offers you plenty of head room and leg room, and it is a comfortable space for passengers.
The Subaru Forester is also not short on cargo space, this compact SUV gives you more cargo space than many competitors. In the base model of the Forester, you get 28.9 cubic feet behind the second row of seats and you get 74.2 cubic feet with those seats folded down. However, in other models, it is 26.9 cubic feet behind the rear seats and 69.1 cubic feet with those seats folded down. You do have the option of features like one-touch folding rear seats and a power liftgate to make it easier to load cargo.
There are six different trim levels in the Subaru Forester. These trim levels each have different features, so you can pick a trim based on the interior and technology features you want. The Wilderness trim is the more off-road friendly version, but there are other trims including the base, Premium Sport, Limited, and Touring.
Technology
What technology features can be found in the 2022 Subaru Forester? Let's find out. This vehicle is tech-savvy so that you can stay connected and entertained. Check out some of the main technology features below.
Touchscreen Infotainment - The Forester gives you a Starlink infotainment system standard, and it is an easy-to-use system. This vehicle comes standard with a 6.5-inch touchscreen system, but there is an available 8-inch touchscreen. 
USB Ports - You also get USB ports in the Forester to keep your passengers and yourself connected to your technology. 
Apple CarPlay and Android Auto - Smartphone connectivity is something that is standard in this compact SUV. You have Apple CarPlay and Android Auto standard to help you connect your smartphone directly to your vehicle. This will give you the ability to have access to smartphone apps, music, contacts, and more through your vehicle. 
Wi-Fi Hotspot - You can also get a Wi-Fi hotspot in this vehicle. You can use this to keep connected on the go for entertainment purposes or even for working on the go.
Navigation System - The available built-in navigation system will help ensure that you get where you're going when you need to. 
Premium Stereo System - You also have the option to get a premium nine-speaker Harman Kardon stereo. This can help you enjoy every drive by listening to your favorite music, podcasts, and more.
As you can see, there is a lot of great technology that can be found in the 2022 Subaru Forester. The exact technology features depend on your trim level, but you can get a lot of that technology on the base model. This compact SUV also features some great safety features and safety technology that you can learn more about below.
Safety
When it comes to safety, you can rely on the Subaru Forester. This vehicle has received the highest rating of 'Good' in crash tests from the Insurance Institute for Highway Safety. It also has an overall 5 out of 5 stars for a safety rating from the National Highway Traffic Safety Administration.
In terms of safety features and technology, this vehicle has a lot to offer. You can get standard safety technology including a rearview camera, forward collision warning, forward automatic emergency braking, adaptive cruise control, lane keep assist, and lane departure warning. There are additional features available for upgrade like blind spot monitoring, lane change assist, rear cross traffic alert, driver drowsiness monitoring, and reverse automatic emergency braking. You can check out more about some of these features and how they work below.
Forward Collision Warning - This safety feature uses cameras and sensors to determine if there will be the potential for a front-end collision. If it notices that potential, it will alert you so that you can take action to avoid a collision. 
Rearview Camera - This camera can help you see behind you when you are backing up to help you avoid a potential collision or help you park easier. 
Blind Spot Monitoring - This feature will help alert you if you have a vehicle in your blind spot. It will have an audible and visual warning so that you know there is another vehicle there.
As you can see, the Subaru Forester has a lot to offer you in terms of safety, as well as the rest of the features and performance in this vehicle. It is a great option for a compact SUV. It is reliable and can get the job done for you. If you have any questions about this SUV or any other Subaru vehicle, you can reach out to us at Granite Subaru.