2022 Subaru Impreza Trims and Packages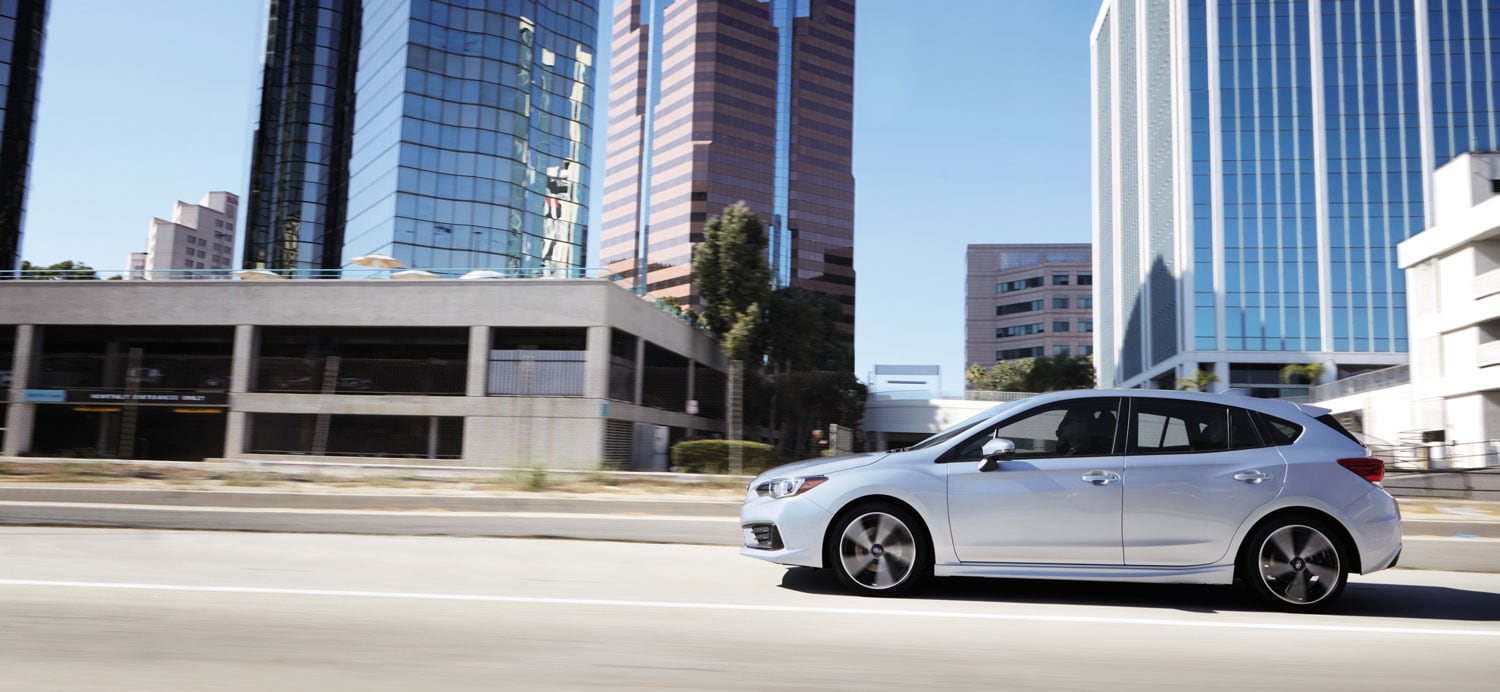 The 2022 Subaru Impreza is a compact car. This vehicle has a comfortable interior with plenty of features and a performance that can help you get where you need to go. Its compact size is great for city driving, as well as road trips. 
The Subaru Impreza is home to a 2.0-liter four-cylinder engine. This engine produces 152-horsepower. The engine comes standard with a five-speed manual transmission, but there is an available continuously variable automatic transmission. This car ranges from about 14.6 to 15.2 feet long, depending on the model, and it can weigh up to 3,150 pounds. 
When it comes to cargo space, this vehicle offers you a 12.3-cubic-foot trunk in the sedan models. In the Impreza hatchback models, you get a 20.8-cubic-foot trunk, but if you fold down those rear seats, you can get up to 55.3 cubic feet of cargo space. 
What's New for 2022? There are not a lot of changes for the 2022 Subaru Impreza. The one major change for this vehicle is that the Limited trim is no longer available in a sedan version. This trim is only available in the hatchback. 
What other features can be found on the 2022 Subaru Impreza? That depends on the specific model or trim option you have. It also depends on the specific model year. Below, we are going to take a closer look at the 2022 Subaru Impreza and all of the trim options that can be found with this vehicle, as well as any features that may be new for the 2022 model year. 
There are four trim levels found on the 2022 Impreza. We will take a closer look at all of these options and what features they each offer you.
Base
The base model for the Subaru Impreza will be your most affordable Impreza option, but it will have the least standard features. However, this car is an affordable option, starting at under $20,000, and it does offer you a good number of features standard. The exact price you pay depends on whether you choose the sedan option or the hatchback option. 
When it comes to technology in this model, you get a standard 6.5-inch touchscreen with your infotainment system. You also get smartphone connectivity with Apple CarPlay and Android Auto. You also have Bluetooth, a four-speaker stereo, and a rearview camera standard. 
As for performance, the base model of the 2022 Impreza comes standard with the 152-horsepower engine, and it also comes standard with the manual transmission. However, you can upgrade to the continuously variable automatic transmission for a bit more. This may be worth it because models that have the CVT give you some added safety technologies like forward collision warning, adaptive cruise control, lane departure warning, automatic emergency braking, a rear-seat reminder, and a 4.2-inch driver information display. 
Premium
The Premium model will cost you slightly more than the base model option, but it does add some features. This model comes standard with the CVT and the safety features mentioned previously. 
This trim level also adds features like heated front seats, HD radio, two rear USB ports, paddle shifters, fog lights, and automatic climate control. 
You can also add a package with this model for around $2,000. The package gives you some additional features like a power-adjustable driver's seat, blind spot monitoring, rear cross traffic alert, a push-button start, a moonroof, and proximity keyless entry. 
Sport
The Sport is your third trim option for the Subaru Impreza. This trim comes standard with CVT in the sedan option, but it comes standard with the manual transmission in the hatchback version. However, for about $1,000, you can upgrade the hatchback to get the CVT.
This trim option gives you a better performance. It offers you a sport-tuned suspension, as well as torque vectoring steering. You also get some interior features like a leather-wrapped steering wheel, voice recognition, and an 8-inch touchscreen. 
You also have one package option on the Sport trim. This package is the same as the one on the premium trim, including features like blind spot monitoring, a push-button start, a moonroof, and more; however on this trim, it costs slightly more because it also adds an 8-speaker Harman Kardon audio system to this list of features in this package. 
Limited
Your top-level trim option in the 2022 Subaru Impreza is the Limited trim. This trim level is only available in the hatchback version. It will be your most expensive Impreza trim, but it will offer you the most high-end features. 
This trim will feature leather upholstery, a six-way power-adjustable driver's seat, and a rear center armrest. You also have safety technology features like blind spot monitoring, automatic high-beam headlights, reverse automatic emergency braking, rear cross traffic alert, and adaptive LED headlights.
You can upgrade your Limited trim further with a $2,350 package; this package gives you a premium Harman Kardon stereo, a moonroof, and a navigation system.
As you can see, there are four great trim options in the 2022 Subaru Impreza. All of these trims have different features so that you can choose what fits best with your needs and your lifestyle. Wondering which is the best fit for you? You can always reach out to our expert staff at Granite Subaru to ask any questions you may have. We are happy to help you find the best option for you.
If you are looking purely for affordability, the base trim is a great option because it is affordable, and it offers you some great features and technology standards. Jumping up to the Premium trim can be well worth it for the standard CVT and safety features, as well as interior features like heated seats. The Sport trim is great for those who are more performance-oriented. The top-of-the-line Limited trim gives you even more safety features, as well as luxuries like leather upholstery.
All of these trims have something great to offer. All you have to do is ask yourself which features are most important to you.