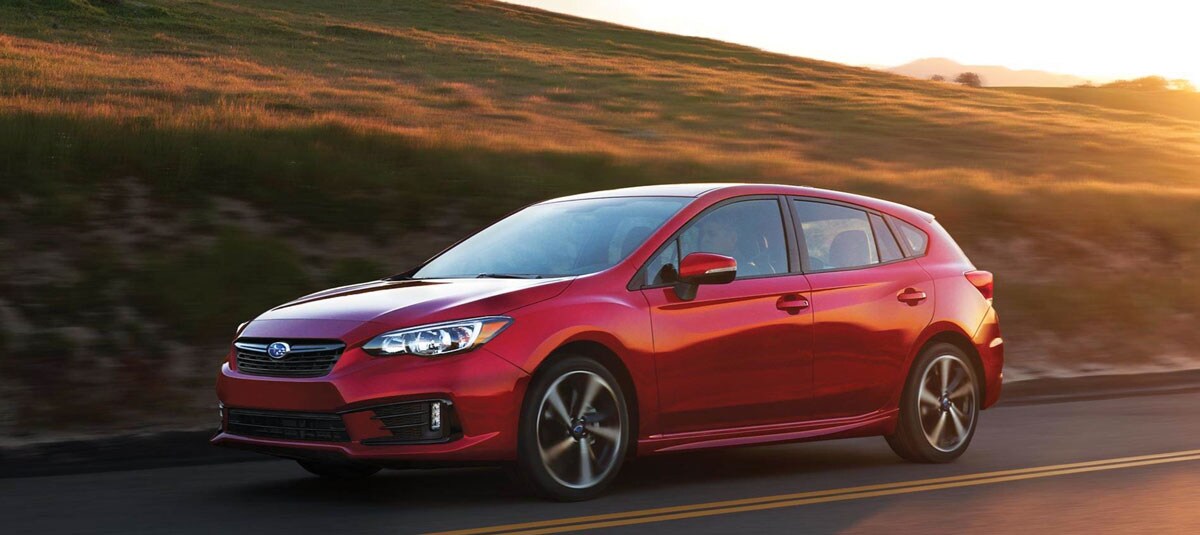 If you are looking to upgrade your vehicle, and you want a compact vehicle option, the Subaru Impreza is a great option. This compact vehicle is a reliable, capable vehicle that can help you get where you need to. You can get where you're going whether it is your morning commute to work or a road trip. Learn more about all the features the 2022 Subaru Impreza has to offer you below.
What's New for 2022?
There are not a lot of changes for the Subaru Impreza for the 2022 model year. For the most part, it is the same as the 2021 model, but it is important to note that on the 2022 model, the Limited trim is not available as a Sedan, it is only available as the Hatchback version.
What else does the 2022 Subaru Impreza have to offer you? Check out all the great features this vehicle has below.
 Performance and Engine Options
How does this vehicle perform for you? Let's check out the engine options and performance here.
The engine in the 2022 Subaru Impreza is a 2.0-liter four-cylinder. This engine produces 152-horsepower and 145 pound-feet of torque. This vehicle comes standard with all-wheel drive. When it comes to a transmission, there is a standard five-speed manual, but there is an available continuously variable automatic transmission available.
This vehicle has plenty of power and capability for you. It offers good fuel economy and handling. The standard all-wheel drive puts it ahead of many competitors. The Subaru Impreza is a great vehicle with a lot to offer you; learn more about some of the other features below.
Exterior
The Subaru Impreza is a compact vehicle. This vehicle ranges from 14.6 to 15.2 feet long, and it can have a weight ranging from 2,976 to 3,150. This vehicle is small enough to be very city-friendly, and it offers you good fuel economy, but it is still plenty comfortable for the driver and passengers.
The look and function of the exterior of your Impreza depends upon the model. This vehicle is available in a Sedan or Hatchback version. It is also available with features like raised roof rails, 18-inch alloy wheels, a power tilt/sliding moonroof, fog lights, folding side mirrors, multi-reflector halogen headlights, a trunk spoiler, and more.
When it comes to styling, the exterior of this vehicle is available in a variety of colors, including Lithium Red Pearl, Ocean Blue Pearl, Crystal Black Silica, Magnetite Gray Metallic, Crimson Red Pearl, Ice Silver Metallic, and more.
 Interior
The interior of the 2022 Impreza has seating for five people in two rows. You can find the Impreza in a Sedan or Hatchback model.  This vehicle has standard cloth upholstery and manually adjustable front seats standard. There are interior options like leather upholstery, a leather-wrapped steering wheel, heated front seats, and a six-way power-adjustable driver's seat.
The Subaru Impreza is a compact vehicle. When this is the Sedan version, this vehicle has a trunk that gives you 12.3 cubic feet of cargo space. In the Hatchback version, this vehicle gives you 20.8 cubic feet of cargo space, and you can fold down those rear seats for up to 55.3 cubic feet of cargo space.
The exact features you get on this vehicle depend on the trim level you choose. There are four trims for the 2022 Impreza. These trims include Base, Premium, Sport, and Limited. The Base is the most affordable option, but it has the least features. The Base model comes standard with the manual transmission and plenty of technology, but you have to upgrade to get the safety technology features. The Limited is the top-of-the-line trim that is only available with the Hatchback version. With the Limited trim, you get features like leather upholstery, adaptive LED lights, blind spot monitoring, and more.
Technology Features
What technology features can be found in the 2022 Subaru Impreza? This vehicle may be compact in size, but it is not short on technology features. Below, you can check out some of these technology features in greater detail.
Touchscreen infotainment - This vehicle comes with a 6.5-inch touchscreen infotainment system, but there is the option to upgrade that to a 8-inch touchscreen. This touchscreen gives you access to apps, music, and more to stay connected and entertained while you are on the road. It is an intuitive and easy-to-use system that works well for you.
Apple CarPlay and Android Auto - The Apple CarPlay and Android Auto features give you the capability to stay connected to your phone through your vehicle. You connect your smartphone to your vehicle through your infotainment system to give you access to music, podcasts, apps, and more.
Bluetooth - Talk on the phone hands-free with the Bluetooth capability in your Subaru Impreza. This will allow you to keep your eyes on the road and hands on the wheel while you are still staying connected to your people. 
Premium stereo - This vehicle also has the option of an eight-speaker Harman Kardon stereo for those that love listening to music and more when they are on the road. 
USB ports - You get two rear USB ports in the Subaru Impreza to help you keep your devices charged. 
Driver Information Display - You also get a 4.2-inch driver information display in your 2022 Impreza to give you a great visual of important driver information.
In the 2022 Impreza, you also get technology features like proximity keyless entry, a push-button start, voice recognition, and a navigation system. This vehicle also offers you some great safety technology which you can learn more about below.
Safety
Safety is also an important part of this vehicle. The 2021 Impreza has received five of five stars as an overall safety rating from the National Highway Traffic Safety Administration. It has also received an overall rating of Good from the Insurance Institute for Highway Safety. This vehicle comes standard with a rearview camera, but it also offers you lots of available safety technologies like those mentioned below.
Adaptive Cruise Control - This safety feature helps you maintain a safe distance between you and the car in front of you when you are driving on the highway. You will set your cruise control, and if you are getting too close to the vehicle in front of you, your car will automatically slow down to maintain a safe distance. 
Forward Collision Warning - With forward collision warning, there are sensors and cameras to check out what is going on in front of you. If your vehicle notices a potential collision, it will alert you of that so that you can work to avoid it. 
Lane Keep Assist - This feature helps you stay in your lane. The lane keep assist feature can detect if you are drifting out of your lane, and if you are, it can make minor steering corrections to keep you in the lane. 
Rear Cross Traffic Alert - Rear cross traffic alert helps you avoid a potential collision when you are backing up. It can be hard to see behind you when you are backing out of a parking space or driveway. This feature alerts you of any vehicles crossing behind you in your path so that you can avoid them.
Those are not the only available safety technologies, you also have features like lane departure warning, automatic emergency braking, a rear-seat reminder, blind spot monitoring, adaptive LED headlights, and automatic high-beam headlights.
Why choose the 2022 Subaru Impreza? This compact car is not short on features. The Impreza is an affordable vehicle option that gives you good performance, fuel economy, technology, safety, and more. Plus, this vehicle is a very reliable one for you. There are a lot of great reasons to choose the Impreza.
If you have any questions about the 2022 Subaru Impreza, you can reach out to us at Granite Subaru. Our experts would be happy to tell you about this or any other Subaru vehicle. We want to help you find the vehicle that fits with your needs and your lifestyle.