2022 Subaru Outback Premium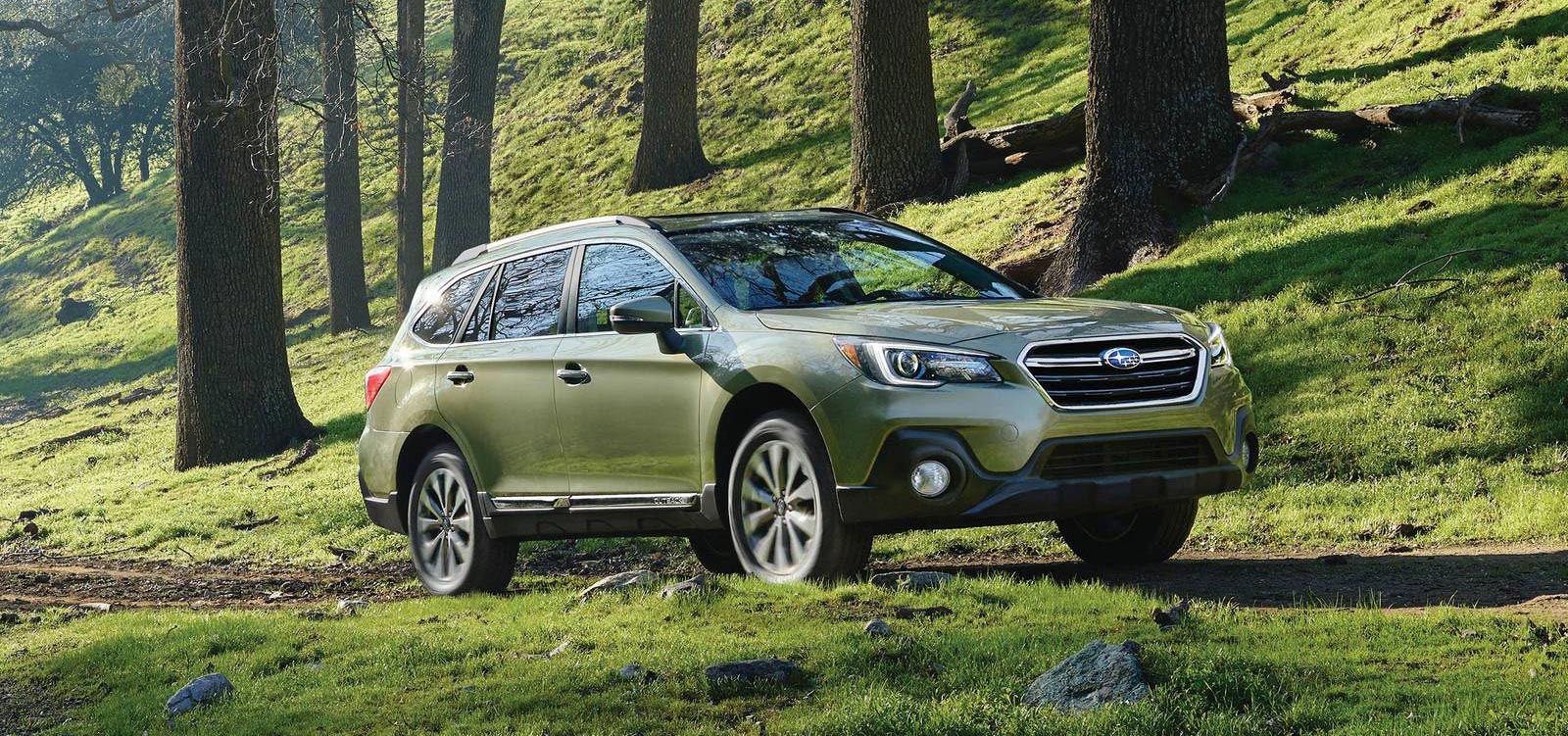 An SUV or crossover vehicle gives you great capability to take on your life. You get cargo capacity, passenger capacity, fuel efficiency, and a city-friendly vehicle all in one. The Subaru Outback is a wagon or midsize SUV. This vehicle has seating for five people in two rows and plenty of great features to take on everyday driving, as well as longer road trips. It could be a great choice for your next vehicle upgrade. 
What's New for 2022? 
For the 2022 model year, the Subaru Outback has added an additional trim option called the Wilderness trim. The Wilderness trim is a more off-road focused trim that offers you some additional performance features and capabilities. 
Below, we will specifically discuss the 2022 Subaru Outback Premium trim and all that it has to offer you. You can check out the performance, interior, exterior, technology, and safety features found on this model below. If you have any questions, you can reach out to us at Granite Subaru. 
Performance and Engine Options
Performance is an essential part of your vehicle; simply put, you need a vehicle that can get you where you need to go. The Subaru Outback Premium offers you a great performance with a capable engine and plenty of features. 
2.5-liter four-cylinder engine - The engine in the 2022 Outback Premium is a 2.5-liter four-cylinder engine. It produces 182-horsepower and 176 pound-feet of torque. The engine is paired with a continuously variable automatic transmission. 
The Outback Premium comes standard with all-wheel drive, and it provides a capable performance. This vehicle is smooth over bumps and provides you with some basic off-road ability with 8.7 inches of ground clearance. You can get a 2,700-pound towing capacity with this model.
When it comes to fuel efficiency, you can expect to get 26 city and 33 highway miles per gallon in the Outback Premium.
This 2.5-liter engine is the only option for the 2022 Outback Premium model, but if you are looking at other Outback models, there is a turbocharged engine and some additional off-road features. 
Exterior
The Subaru Outback Premium measures 15.9 feet in length, and it has a curb weight of 3,657 pounds. You can get the look you want with your Subaru Outback with exterior color choices like Geyser Blue, Crimson Red Pearl, Magnetite Gray Metallic, Crystal Black Silica, Ice Silver Metallic, Cinnamon Brown Pearl, Autumn Green Metallic, Brilliant Bronze Metallic, and more. 
This vehicle comes with 17-inch black aluminum alloy wheels, and you get 8.7 inches of ground clearance with this vehicle. You also get all-season tires with this model. Other exterior features include LED steering responsive headlights, LED fog lights, and body-color folding side mirrors with integrated turn signals. Features like raised roof rails give you additional options for cargo carrying. You can also get added convenience with exterior features like the available hands-free power liftgate that makes it easy to load your cargo, even when your hands are full. 
 Interior
On the inside of the 2022 Outback Premium, you can find comfortable seating for five people. This vehicle has standard cloth upholstery, heated front seats, a 10-way power-adjustable driver's seat, and dual-zone automatic climate control for additional comfort. 
When it comes to cargo space, this vehicle offers you 32.5 cubic feet of cargo space behind the second row of seating, and you can get up to 75.7 cubic feet of cargo space with those rear seats folded down. 
There are two available package options with the Subaru Outback Premium trim that you can learn more about below. 
The first available package for the Outback Premium will cost you $1,400, and it adds features like rear cross traffic alert, blind spot monitoring, lane change assist, a hands-free power liftgate, and a push button start. 
Your second package option gives you everything in the first package, and it adds a navigation system and a moonroof. This second package is $2,995. 
Those were the interior features you can find in this 2022 Outback model, but there are also technology and safety features that will be discussed below. 
Technology Features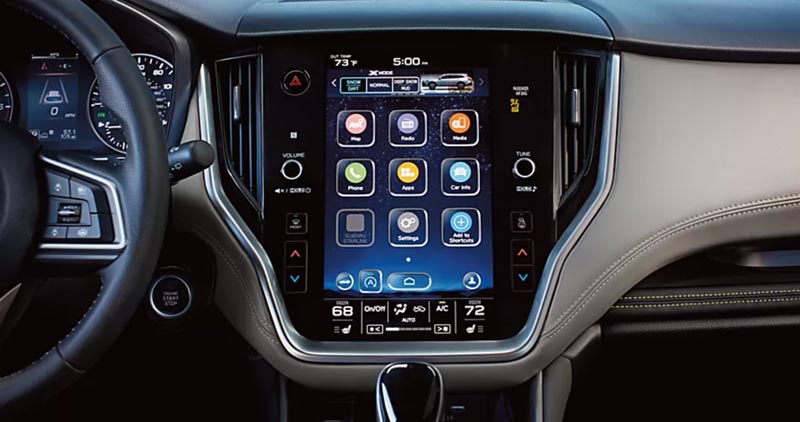 When it comes to technology, the Subaru Outback Premium has a lot to offer you. This vehicle is only one trim level up from the base model, but there are some technology upgrades in this model that are worth getting excited about. Check them out below. 
11.6-inch touchscreen infotainment - The base model of the Outback gives you a 7-inch touchscreen, but the Outback Premium offers you an 11.6-inch touchscreen infotainment system. 
Apple CarPlay and Android Auto - Your 2022 Outback Premium also has Apple CarPlay and Android Auto to help you stay connected to your smartphone while on the go. These features allow you to connect your phone to your vehicle's infotainment system so that you have access to music, apps, phone contacts, and more. 
Bluetooth - You can also talk on the phone while keeping your hands on the wheel with the Bluetooth capability of the 2022 Outback. 
4 USB ports - This SUV model also gives you 4 USB ports to make it easy to keep devices charged and passengers happy. 
Keyless entry - Another feature for added convenience is the keyless entry feature. This feature will unlock your vehicle if you are close to your car with the key fob, meaning you don't have to pull your keys out of your pocket to get into your vehicle. It adds ease to your experience. 
Wi-Fi hotspot - The Wi-Fi hotspot in this SUV can be a great way to keep passengers entertained on the go. It can also turn your vehicle into a mobile office so that you can stay connected wherever you are.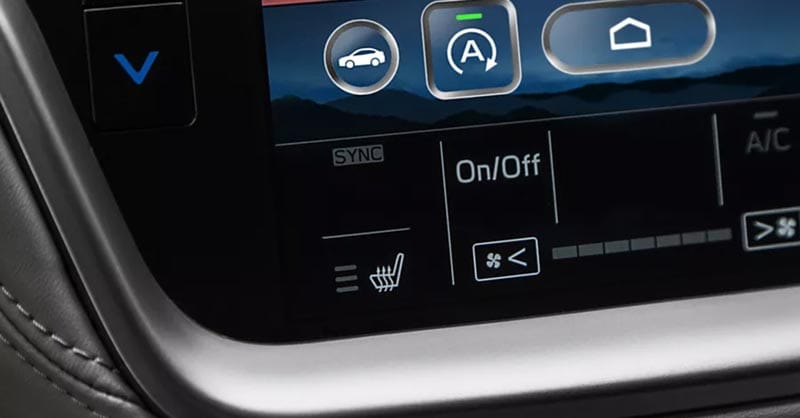 These are the main technology features found in the 2022 Outback Premium. However, as mentioned above, there are some additional package options that can add features like push button start and a navigation system. You also have a lot of great safety technology features to check out below. 
Safety
The Subaru Outback is a vehicle that is safe for you. The 2022 Outback hasn't been fully tested yet, but for the 2021 model, this vehicle has the highest ratings of Good in crash tests and Superior in crash prevention systems. 
This vehicle is built to be safe for you in terms of construction, but it also has a lot of safety technology to help look out for you. Your 2022 Outback Premium gets standard safety features like a rearview camera, adaptive cruise control, forward collision warning, pedestrian detection, automatic high-beams, a head-up display, lane departure warning, lane keep assist, automatic emergency braking, and a rear seat reminder. Learn more about some of these features in more detail below. 
Automatic Emergency Braking - This safety feature uses cameras and sensors to detect if there is a potential front-end collision. If it detects an imminent collision, it will apply the brakes automatically to mitigate it. 
Adaptive Cruise Control - With adaptive cruise control, you can stay a safe distance from the vehicle in front of you automatically. This feature detects the distance and if you are getting too close to the vehicle in front of you, it will slow down your vehicle to maintain that safe distance. 
Lane Keep Assist - This feature pairs with lane departure warning; if the vehicle detects that you are drifting out of your lane unintentionally, it will make minor steering corrections to keep you in your lane. 
Head-Up Display - You can stay safer and keep your eyes on the road with the head-up display in your 2022 Outback. This feature displays important vehicle information on the windshield in your line of sight so that you don't have to look down or look away from the road. 
As mentioned above, there is an optional package that can add additional safety features like blind spot monitoring, lane change assist, and rear cross traffic alert, but even without it, this vehicle has a lot of standard safety technology. 
The 2022 Subaru Outback Premium is a vehicle with a lot to offer you. It has great capability, as well as some amazing features. However, it is only one trim level on the 2022 Outback. There are seven other trim levels, including a few focused even more on off-road performance. If you have any questions about the Subaru Outback Premium or any other Outback models, you can reach out to us at Granite Subaru. Our expert staff would be happy to help you with your next vehicle upgrade.