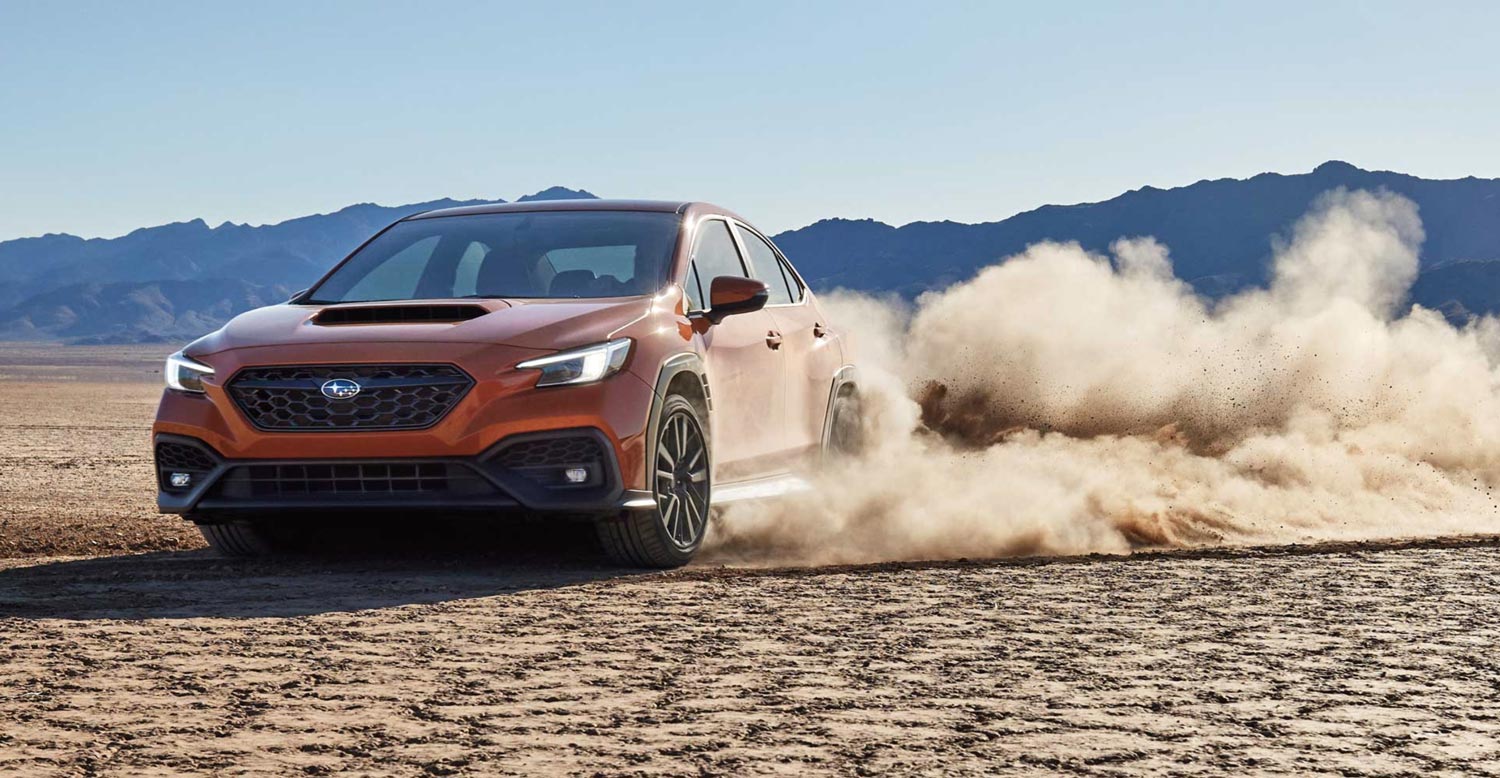 The Subaru WRX is a compact vehicle. This is a city-friendly size, and it is also known to give you a fun performance. The WRX is a performance vehicle that is fun to drive and can be versatile for you. It also has plenty of great features and technology for you. Below, we are going to take a closer look at exactly what the WRX has to offer you, including all the updates for the 2022 WRX model. Check it out below, and reach out to us at Granite Subaru with any questions you may have about this vehicle. 
What's New for 2022?
The Subaru WRX is redesigned for the 2022 model. It has many different updates and feature changes to look out for, starting with an updated exterior in both size and style. This vehicle also has a more powerful turbocharged engine for the 2022 model, which will be exciting for those that love to drive. Also, there will be a WRX STI model that has an even more powerful engine option that will be coming later in 2022. Other changes for the 2022 WRX include a larger and more capable touchscreen infotainment system. As you can see, there are a lot of updates for this vehicle for the 2022 model year, so to learn all about them, read the model overview below. 
Performance and Engine Options
The Subaru WRX is a compact car, but it is a performance-oriented one. It offers you an exciting driving experience with a turbocharged engine and some nice features. Learn more about the performance of this vehicle here.
2.4-inch turbocharged four-cylinder - This vehicle is home to a 2.4-liter turbocharged four-cylinder engine. This engine produces 271-horsepower and 258 pound-feet of torque. 
This engine comes standard with a six-speed manual transmission, but there is an optional continuously variable transmission. There is also an available Subaru Performance Transmission that offers you an 8-speed manual mode that delivers 30% faster upshifts and 50% faster downshifts. This vehicle is also standard with all-wheel drive.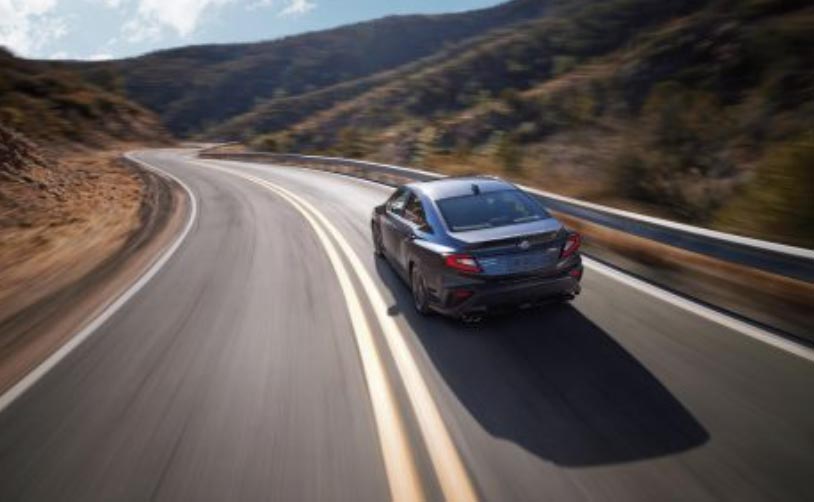 You also get performance features like performance tires, electronically adjustable dampers, and a Drive Mode Select. Overall, the WRX is fun to drive with responsive steering and great performance. It feels powerful and it also is enjoyable to drive and steer.
There is a more powerful STI model for the 2022 WRX that will be available later. This is something that could be worth waiting for, especially for those performance enthusiasts. Rumors say that this model could offer as much as 400-horsepower. 
What other features does the 2022 WRX have to offer you? Check out the rest of the in-depth look at this vehicle below. 
Exterior
For 2022, the exterior of the Subaru WRX has changed. This vehicle has received some changes and updates to the exterior style and function. The wheelbase has increased, and this vehicle is 2.9 inches longer than previous models, as well as being 1.2 inches wider than previous models. The height of this vehicle is just slightly shorter for a slight decrease in passenger headroom, but nothing significant. 
The exterior style of this vehicle has changed for this year, as well. This vehicle has flared fenders, a large front grille, and an athletic stance. It can be found with exterior colors like Solar Orange Pearl and more that really help you make a statement about style. 
Interior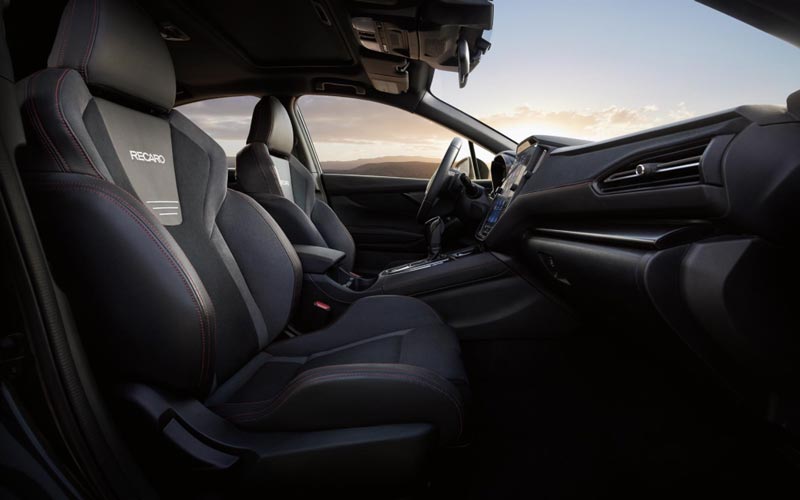 The inside of the Subaru WRX can be found with features that play to its performance like carbon-fiber accents and red contrast stitching. This vehicle also has a flat-bottomed performance steering wheel. In terms of cargo space, the Subaru WRX gives you a 12.5 cubic foot trunk, as well as 60/40 split folding rear seats to give you the ability to load up your vehicle on that road trip. 
The exact interior and exterior features in the Subaru WRX depend on the specific trim level that you choose. This vehicle can be found in five different trims, including the Base, Premium, Limited, GT, and STI. As mentioned above, the STI is the model that gives you a more powerful engine, and it is not available right away. The base model can still be found with a lot of great features and technology, and it will be your most affordable model option. The premium will add features like heated seats and a push-button start. The Limited model will add features like leather upholstery and more. The GT trim is one that is newly available for the 2022 model year, and it adds some performance features for your enjoyment. The GT model gives you features like electronically adjustable dampers, a Drive Mode Select, 18-inch alloy wheels, and Recaro performance sport seats. 
Technology Features
Next, let's take a look at some of the technology that can be found in the 2022 Subaru WRX, including an updated touchscreen for this model year. Check it out!
Touchscreen Infotainment System - For 2022, some of the interior features and technology have been updated on the Subaru WRX. One example of this is the upgraded infotainment. There is a larger 11.6-inch touchscreen infotainment system in the 2022 WRX. This system is user-friendly and intuitive. 
Harman Kardon Sound System - You can also get a premium sound system with the WRX. This sound system is an 11-speaker Harman Kardon system that gives you great audio quality, and is great for listening while on the road.
Apple CarPlay and Android Auto - Using Apple CarPlay or Android Auto, you can connect your smartphone to your vehicle's infotainment system. This technology allows your phone apps, music, contacts, and more to show up on the infotainment system so that you don't have to have your phone in your hands to have access to the technology and information that you want. 
Bluetooth - Talk on the phone hands-free while you are driving to your destination with Bluetooth capability in your Subaru WRX. This capability can keep you and your passengers safer, but it can also keep you connected to the people you need to be connected to. 
Those are just a few of the technology features that can be found in this vehicle. However, the Subaru WRX also has some safety technology features, which you can learn more about below. 
Safety
The Subaru WRX was built to be safe for you, and it does well in different safety tests like those from the National Highway Traffic Safety Administration and the Insurance Institute for Highway Safety. This vehicle also has some available driver assistance features. You can check out some of these available safety features in greater detail below. 
Automatic Emergency Braking - This feature can help prevent or lessen the impact of a front-end collision. It does this by applying the brakes if a front-end collision is detected. This feature reacts quickly to help keep you and your passengers safer. 
Adaptive Cruise Control - Adaptive cruise control is a helpful feature to use when you are on the highway. This feature helps to ensure you maintain a safe distance from the vehicle in front of you. It does this by automatically slowing down your vehicle if you are approaching a vehicle too quickly. It will slow your vehicle down so that you can maintain a preset distance between your car and the vehicle in front of you. 
Lane Departure Warning - This feature uses cameras and sensors to see where you are in your lane when traveling on the highway. It monitors you and your lane and can alert you if you are unintentionally drifting out of your lane. It can give an audible and visual alert for this occurrence. 
Lane Keep Assist - The lane keep assist feature pairs with the lane departure warning feature described above. When the lane departure warning detects you drifting out of your lane, the lane keep assist feature can make minor steering corrections to keep you safely in your lane, which can help you avoid a potential accident or collision. 
These safety features can look out for you and your passengers when you are driving the Subaru WRX. 
Questions about this Subaru or any other Subaru option? You can reach out to us at Granite Subaru. We have an expert staff that can help you find the vehicle that fits perfectly with your lifestyle and your needs. We can also get you set up with a test drive, so reach out to us today.