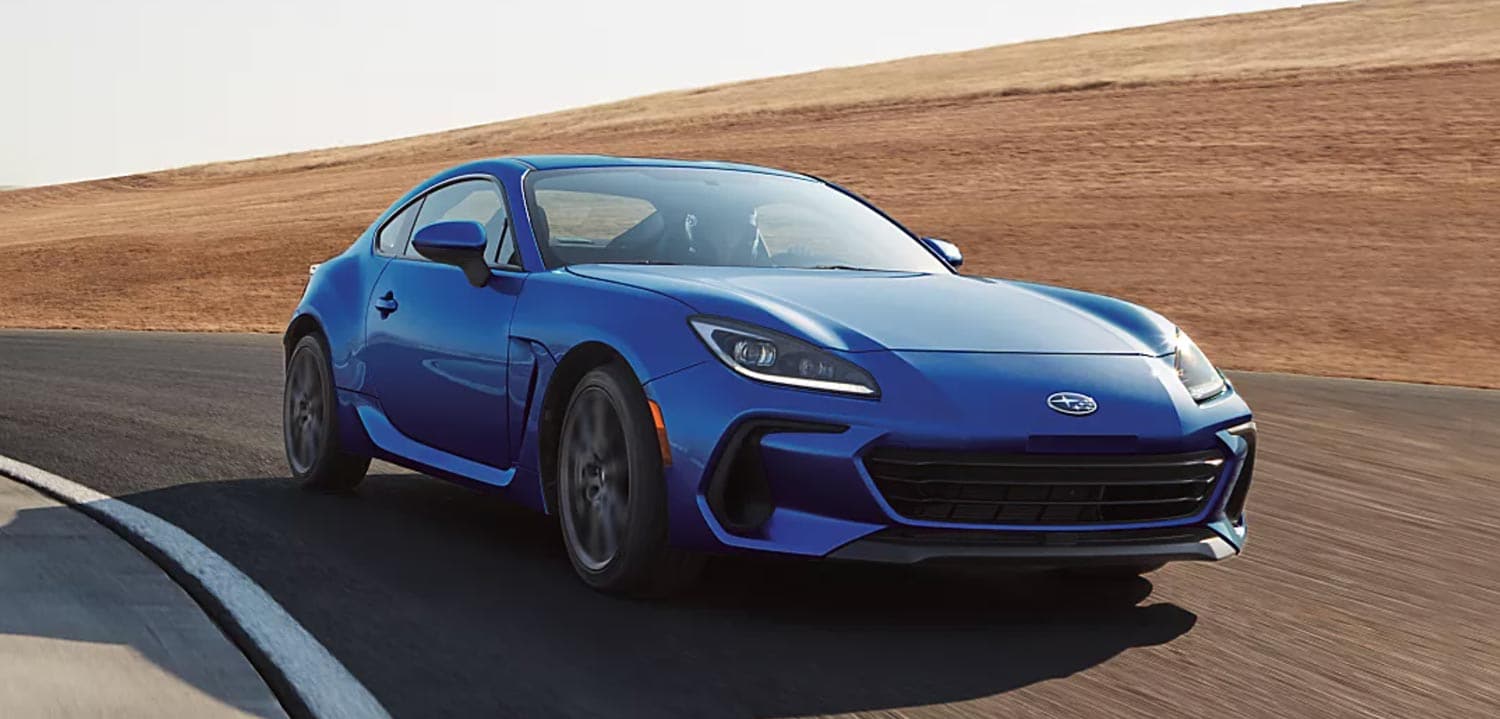 The Subaru BRZ was created as a joint project between Subaru and Toyota (also resulting in the Toyota 86). These 2+2 fastback coupes were produced at Subaru's Gunma assembly plant, and they were marketed around the world to great success. The first generation debuted in 2012, and these cars enjoyed a successful run for nearly a decade. The last model of the Subaru BRZ of the first generation was sold in 2020. After a year off, the BRZ was reintroduced in 2022 with exciting new styling, more powerful performance, improved handling, and new features. Now, the 2023 Subaru BRZ is getting ready to go on sale, and the popular sports car promises to be more exciting than ever. 
Granite Subaru is excited to begin offering the 2023 BRZ, and we invite you to visit the lot to take a test drive so you can see how fun this sports car is to drive. We'll help you explore all the features offered on this flashy coupe so you can find the perfect configuration for your needs. Here's what you'll learn that the 2023 Subaru BRZ has to offer: 
 Performance
The Subaru BRZ is known for its superior performance. It's a fast car that handles well and is just a joy to drive. The 2023 BRZ continues to deliver, and it will delight fans and endear new ones. 
The 2023 BRZ comes with a 2.4-liter naturally aspirated four-cylinder engine that puts out 228 horsepower and 184 lb-ft of torque. It reaches the max torque at lower speeds, a departure from the first generation models that really made you work for that power. Fuel economy is estimated at 20 mpg in the city and 27 mpg on the highway, for a combined 22 mpg.
A six-speed manual transmission is standard on the new BRZ, which will give drivers a feeling of being in command as they shift through speeds. However, a six-speed automatic transmission is available as an option for those who prefer that smoother handling. With the automatic transmission, paddle shifters are mounted below the steering wheel. 
Several mechanical upgrades have also been made to the 2023 BRZ that enhance its performance. A front strut tower brace strengthens the frame to provide a firmer ride with responsive handling, and a double-wishbone suspension is in the rear. Vented disc brakes give you the power to stop quickly. A mechanical Torsen limited-slip differential provides optimum traction when you are traveling at fast speeds or taking sharp turns. Steering is precise, and handling is firm. While the 2023 BRZ is the heaviest of the models yet, it still has a light weight that makes it easy to gain speed and to handle flawlessly. 
The performance in the 2023 BRZ is exceptional. The result is that you'll find that you can't wait to jump behind the wheel, whether you're headed to work or off to the weekend track. 
Exterior Styling
As a boutique model, the Subaru BRZ sells in lower quantities. It's a niche vehicle, and as a result, it isn't going to get a redesign as frequently as some of Subaru's other models. The 2023 model remains largely unchanged from the previous year's model, which did get a major redesign with the introduction of the second generation of the BRZ. 
What you'll see on the 2023 BRZ is some gorgeous exterior styling. The front fascia has an aggressive look, with blistered flares, large headlights, and a stylish grille flanked by large air intakes. Well-placed detailing along the sides of the BRZ give it a lithe, muscular appearance. The wide rear end has dual exhaust tips, stylish tail lights, and a spoiler.
The 2023 BRZ rides on 17-inch alloy in a dark gray finish. However, if you go to the next trim level (there are only two, the Premium and Limited), you get 18-inch wheels with a matte gray finish and sport tires. Both low and high headlights are LED, and they have automatic leveling. Heated exterior mirrors also come standard. 
 Interior Styling
The interior got a design refresh with the second generation, as well, and you'll see those same details throughout the 2023 BRZ. The once linear dash now has swooping curves with a more modern sensibility, and the console has been redesigned to look more like a command center. A lot of knobs and controls are centered around the larger display screen for ease of access to the infotainment system. 
A redesigned gauge cluster also makes a nicer visual display of the car's most important mechanical information. The 7-inch digital dashboard has an integrated speedometer readout. On the left side, there is a programmable meter that can give you the g-meter, amps, and water temperature. When you move into track mode, the tachometer shifts to a linear graph mode with a color display.
All models of the new BRZ come with a black interior with black upholstery with red stitching. Standard models come with a leather-wrapped steering wheel, shift knob, and parking brake boot, with ultrasuede upholstery available only on the higher trim level. The Limited trim also comes with dual-mode heated front seats.
Seating is available for five, though adults may find the rear seat crowded at full capacity. A quad seat configuration is available for improved comfort. The seats are low and heavily bolstered for a comfortable ride. The front seats have height-adjustable headrests. 
The rear seats also fold down to make more storage space. The trunk has 6.3 cubic feet of space. If you fold the rear seats, you'll be able to store extra tires in the trunk for those weekends you want to hit the track. 
Technology and Convenience Features
Most drivers of the Subaru BRZ are going to be too focused on the amazing performance to pay much attention to what's going on inside the cabin. But that may change when you're on a more routine drive, like your commute to work. Fortunately, the 2023 BRZ is loaded with features that make even those boring drives more fun. 
The infotainment system is controlled through an easily accessible 8.0-inch display. HD and satellite radio are both available, as are Apple CarPlay and Android Auto. Bluetooth connectivity is standard, and there are two USB ports for streaming and charging devices. The Limited trim adds two speakers to the audio system to really amplify the sound. 
With the Starlink package, you get services like speed and curfew alerts, a wi-fi hotspot, remote start, remote lock and unlock, and remote climate settings. Keyless entry and push-button start are standard, as is dual-zone automatic climate control. An integration navigation system is also available as an option. 
Cupholders are placed conveniently in the center console, and car seat anchors are available in the back seats. Illuminated visor mirrors are standard in the front. 
Safety Features
The International Institute for Highway Safety named the 2023 Subaru BRZ a Top Safety Pick+ for crash protection - the first time the BRZ has achieved that designation. 
The standard coupe comes with airbags and a rearview camera, and the traction and stability control system has five settings for ultimate control. Many more safety feature options are available when you get the automatic transmission. Then the BRZ gets the EyeSight driver assistance package, which includes adaptive cruise control, sway warning, lane departure warning, lead vehicle start alert, and pre-collision braking. You also get high beam assistance with the automatic transmission option on both trim levels.
The Limited trim adds a few safety features, including blind spot detection, rear cross-traffic alert, and steering-responsive headlights. If you get the automatic transmission on the Limited trim, you also get reverse automatic braking. 
With the BRZ, you'll find that you have all the features to protect you even when you're pushing the sports coupe to its limits. 
Visit Granite Subaru to Learn More about the 2023 BRZ
The 2023 Subaru BRZ is one of the most exciting models to hit the market this year, and Granite Subaru is pleased to offer it to our customers. The 2022 Subaru BRZ arrived to great anticipation, and it sold out within a couple of months. Don't let your opportunity to own one of these popular coupes pass you by! Visit Granite Subaru today to learn how you can order one of these sports cars or become part of a waiting list. 
Our knowledgeable associates will help you explore everything the 2023 BRZ has to offer and show you comparable features on our current, in-stock models. You'll have the chance to try out all the features for yourself when the car arrives, as well as to take a test drive. We'll help you configure the BRZ to get exactly the features you want. You'll end up with a car you love to drive and love to show off.
Our finance specialists will also work with you to find the right terms to fit your budget. Our service center will be there to help you keep your new BRZ in top condition for years to come.
Visit Granite Subaru today to learn more!