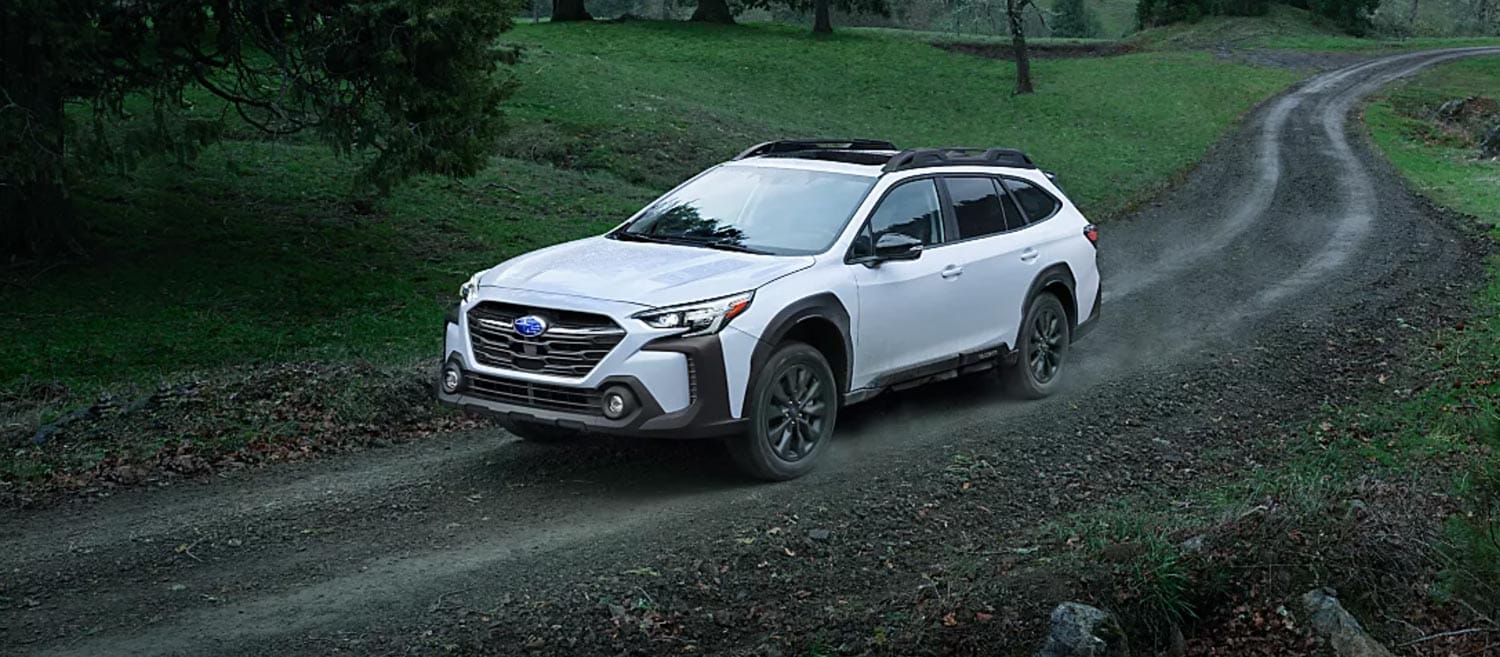 The Subaru Outback is a great option for a midsize SUV or wagon. This vehicle has two rows of seating to seat up to five people. It also offers great cargo capacity and good off-road capability. It is a great choice for an adventure vehicle or even a vehicle for your everyday commute. It offers you reliability and plenty of capability. 
The Outback is an extremely popular vehicle option, and we are going to take a look at the 2023 Subaru Outback below. Reach out to us at Granite Subaru if you have any questions about this vehicle. 
What's New for 2023? 
For the 2023 model, there are some updates to this vehicle. The exterior of the Outback has been updated in terms of lighting and styling. You also have the turbocharged engine option now available on the Onyx trim level. There have also been some updates to the safety and technology in the 2023 model. You can learn more about all the specific features that this vehicle has to offer you below.
Performance and Engine Options
First, let's talk about how the 2023 Subaru Outback performs for you. This vehicle has two different engine options, and it is capable of taking on your daily driving adventures. 
2.5-liter four-cylinder engine - The base engine for the Subaru Outback is a 2.5-liter four-cylinder engine. This engine produces 182-horsepower and 176 pound-feet of torque. 
Turbocharged 2.4-liter four-cylinder engine - Your available engine in the 2023 Outback is a turbocharged 2.4-liter four-cylinder engine that produces 260-horsepower and 277 pound-feet of torque. New for 2023, this engine is now available on the Onyx Edition, if you want the look of the Onyx trim with a leveled-up performance.
Both of these engines are paired with a continuously variable automatic transmission, and all Subaru Outback vehicles give you standard all-wheel drive. You also get great fuel efficiency with the Outback with about 26 city miles per gallon and 33 highway miles per gallon. Also, when the 2023 Outback is properly equipped, it can tow up to 3,500 pounds.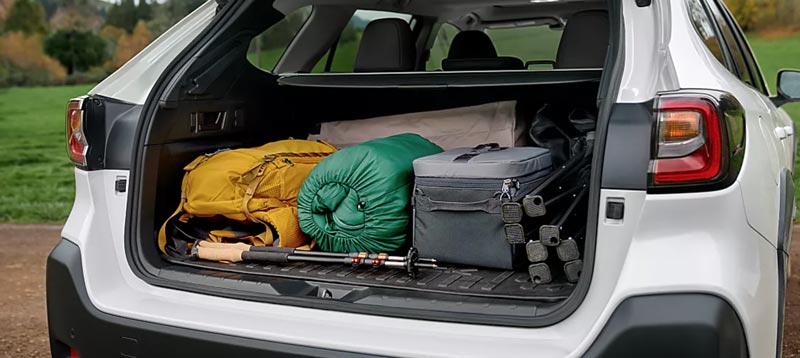 Every Subaru Outback model offers you some off-road capability with the all-wheel drive and good ground clearance. However, the Wilderness trim in the Outback is the specific off-roading model with heavy duty springs and shock absorbers, all-terrain tires, and increased ground clearance at 9.5 inches. Below, you can check out what this vehicle has to offer you other than a great performance. 
Exterior
The Subaru Outback measures 15.9 feet in length and it has a curb weight that ranges from 3,637 to 3,937. You can get exterior colors for this vehicle like Abyss Blue Pearl, Crystal Black Silica, Magnetite Gray Metallic, Crystal White Pearl, and Autumn Green Metallic. 
For the 2023 model, the Subaru Outback has gotten some exterior updates. The front-end styling has been updated with changes like a bigger grille and redesigned LED headlights. This Outback looks more modern than previous models. 
This vehicle also has exterior features like roof rails, all terrain tires, a power moonroof, 18-inch aluminum alloy wheels, LED steering responsive headlights, LED fog lights, and power-folding side mirrors with integrated turn signals. 
 Interior
On the inside of the 2023 Subaru Outback, you can find two rows of seating for five people. The base trim of this vehicle comes with standard cloth seating, but there are available options like leather upholstery, heated front and rear seats, a heated steering wheel, and ventilated front seats. You also have automatic climate control standard in this vehicle and dual-zone automatic climate control available. 
The vehicle also has features like a sound insulation windshield to make your interior quieter. You also have one-touch folding rear seats and an available hands-free power liftgate for easier access to the cargo space. 
In terms of cargo space, the Subaru Outback has a lot to offer you. This vehicle gives you 32.5 cubic feet of cargo space behind the rear seats, and if you fold down those rear seats, you get up to 75.7 cubic feet of space. 
Technology Features
There are also a lot of great technology features that can be found on the inside of this vehicle. You have features to entertain you and your passengers, as well as technology for added convenience. Check out some of those main features below. 
11.6-inch touchscreen infotainment - The 2023 Outback gives you the latest version of the StarLink infotainment system. This system has an 11.6-inch touchscreen that is well designed and easy to use. 
Bluetooth - Talk on the phone hands-free with Bluetooth in your Outback. This feature allows you to talk to friends and family on the phone, while keeping your hands on the wheel so that you stay safer. 
Apple CarPlay and Android Auto - These features allow you to connect your smartphone to your infotainment system, which means that you can have access to phone contacts, music, and apps through your infotainment system. You get access to your important stuff through your vehicle.
Navigation system - You can also get an 11.6-inch multimedia navigation system. This system includes voice-activated navigation and three years free of SiriusXM Travel Link. Also, the navigation system features a location technology called what3words to better find locations.
USB ports - There are two standard USB ports in the Subaru Outback, but you can get an additional two USB ports in other models. 
Harman Kardon stereo - The premium 14-speaker Harman Kardon audio system makes your driving experience an amazing listening experience. You can listen to music, podcasts, and even audiobooks with a clear, quality, premium stereo system like this one. 
Wi-Fi hotspot - You can also get a Wi-Fi hotspot with your Subaru Outback. This can allow you to get internet access on the go for entertainment purposes or even for working on the go. 
Push-button start and keyless entry - These two features add convenience to your day. With keyless entry and push-button start, you don't even have to pull out your keys to enter your vehicle or start your vehicle. Keyless entry will automatically unlock when the keys are in close proximity to the vehicle, and with push-button start, you just need your keys in the vehicle. 
Those are not the only technology features in this vehicle, you also have plenty of safety technology features that you can learn more about below. 
Safety
You also have some upgraded safety technology for the 2023 Subaru Outback. The EyeSight suite of safety features has upgraded software so that these features operate better and more smoothly for you. There is also a wider field of view for the cameras, which gives you better views. 
The EyeSight suite of safety features is standard on every Subaru Outback. This suite of features includes adaptive cruise control, lane keep assist, pre-collision braking, and lane departure warning. You also have standard safety features like a rearview camera, automatic high-beam headlights and a rear seat reminder. 
These features help to look out for you and your passengers and can even work to try to prevent collisions from happening in the first place. Features like adaptive cruise control monitor the distance from the vehicle in front of you and will slow your vehicle down if you are getting too close. Pre-collision braking will automatically apply the brakes if it detects a potential front-end collision. These features are standard on every 2023 Subaru Outback and can really make a difference with safety. 
Also, there is a new automatic emergency steering feature that is found on Outback models that have blind spot detection and rear cross traffic alert. This new automatic emergency steering works with the pre-collision braking system to help you avoid a potential collision.
Other available safety features for your 2023 Outback include rear cross traffic alert, blind spot monitoring, driver drowsiness monitoring, rear collision warning, and a front-view camera. 
As you can see, the 2023 Subaru Outback is a vehicle with a lot going for it. This is a highly anticipated vehicle, and it could be a great option for your next upgrade. There are several different 2023 Outback trims that offer you slightly different features. The Wilderness is the off-road trim, and the Onyx Edition offers you some great exterior styling, as well as a gray two-tone interior with water-repellant StarTex seats. The top of the line Touring model offers all of the great features and technology you could want. If you have any questions about the Subaru Outback or any other Subaru vehicles, you can reach out to us at Granite Subaru.